'Weary' LeBron James carries Cavs in Game 3, but Warriors await
LeBron James used "mind over matter" to will his Cavs to a victory Sunday night. The Cavs will likely reach the Finals. But do they have any hope with this many injuries vs. the Warriors?
CLEVELAND -- We're living in the future. Everyone in NBA circles already has moved past these woeful Conference Finals to the main event -- Cleveland Cavaliers vs. Golden State Warriors in the Finals -- and whether physically limited Cleveland can overcome the odds and give Golden State a series. Aside from a couple of games vs. Memphis in the previous round, nobody has done as much.
The answer was affirmative and negative after Sunday's 114-111 victory gave the Cavs a 3-0 lead in the Eastern Conference Finals. Even on a night where his jumper had once again abandoned him (0 for 10 to start), James' briliance was evident -- 37 points, 18 rebounds, 13 assists and stellar defense. Cramping up for much of the fourth quarter and overtime, James started to head to the bench, then turned around and came back out, refusing to exit as he was forced to do during last year's Finals.
"I asked to come out, but I had a second thought," James said after the game and a long treatment session. "And there was no way I can go. I wouldn't have felt right about the situation, win, los, or draw, if I'd have went to the bench and not being out there for my teammates. So it was mind over matter at that point."
When James reaches that point mentally, almost no force -- and certainly not the Atlanta Hawks -- can stop him. On top of the stats, James hit the go-ahead corner 3-pointer off a Tristan Thompson offensive rebound, and then drove and finished for the final margin of victory.
"He's just one of those guys who wills his way to win. And he preaches that on the court," Cavs guard Iman Shumpert said.
For as well as the supporting cast has played from Matthew Dellavedova to J.R. Smith to Shumpert and Thompson, the key for any Cavs hopes from here on out lies with the man that remade the Cavs. Heavy is the crown, and James understands what he has to do with Kevin Love out for the season and Kyrie Irving on the shelf.
Having James as the crux of your arsenal, however? Turns out that's not bad. Even when James' shot wasn't falling, he continued to attack with abandon, and that forced the Hawks to help down, which opened the jump-pass lanes for James to kick out to shooters. That's most of the Cavs' offense at this point: James penetrates, forces help, and kicks, or powers his way through for a score. It's demand, physical, painful work that results in hard fouls and eventually physical exhaustion. James cramped in the fourth quarter and overtime, which he likened to what happened to him in Game 1 of the Finals last year, though this time, he played through it.
The flip side to James' heroics, however, is this: Golden State is healthy, and about to wrap up the Houston Rockets ' series with time to get rest over the next seven to nine days before the Finals begin. They have all of their starpower available, more playoff experience at this point, and are clicking. (NOTE: They still have not wrapped up the Rockets series yet, with Game 4 still to be played. Anything can happen, yada, yada, yada.)
The Cavs meanwhile are looking to simply "find a way to win" in alikely Finals series in which they will be huge underdogs by any measure, and that only increased the load on James ... who simply isn't physically right right now. (And like the Warriors, they haven't wrapped up this series yet either. Miracles can happen, etc., etc.)
James took a solid 90 minutes after the game to receive treatment after the game before shuffling to the podium. When he was done, he grabbed both rails to lift himself to the floor and not have to bend his legs. He looked like a guy whose body, if not spirit, had been hollowed out.
"I don't want any sympathy," James said insistently while on the podium. "There's no rest for the weary. If I'm putting on a uniform and I'm on the floor, I have to make things happen for our team. It's that simple.

"I'm not the only guy that's limping. I'm not the only guy that's cramping. I'm not the only guy that's hurting. There are a lot of guys out there playing as well, and I'm one of them as well. So I've got to go out and help our team win, no matter where I'm at."
That's not going to stop any time soon. If dealing with hard fouls from DeMarre Carroll , Al Horford , and Mike Scott are taxing, the toll from Andrew Bogut , Draymond Green , and Harrison Barnes is sure to be all the more taxing. There's a limit to what James can withstand. We saw that for the first time this season, as he started to miss time with legit injuries and not just rest. For a man so often compared to an alien or a cyborg, anything but a homo sapien, it was the first real signs of him being human. Once those signs show up, they don't go away again. 
Any team with LeBron James is going to have a chance to succeed. Any team where James is available, he'll carry them as far as he can. He's dragged Dellavedova, Thompson, Shumpert, and J.R. Smith to the door of the Finals, for crying out loud. There's no doubt he'll reach his fifth-straight NBA Finals, no doubt that the fourth win vs. Atlanta is nothing more than a formality at this point. 
"I gave it everything I had in this one tonight," James said.
Beyond his Game 3 heroics, though, is an important and tough question. Can this LeBron, with this much wear and tear, with this many injuries, with this little help, really compete against the best team in the league, the toughest defense in the NBA, the most dominant collection of basketball players remaining in the postseason?
No matter what you believe the answer to that is, you can be sure of one thing. You'll want to watch LeBron James try.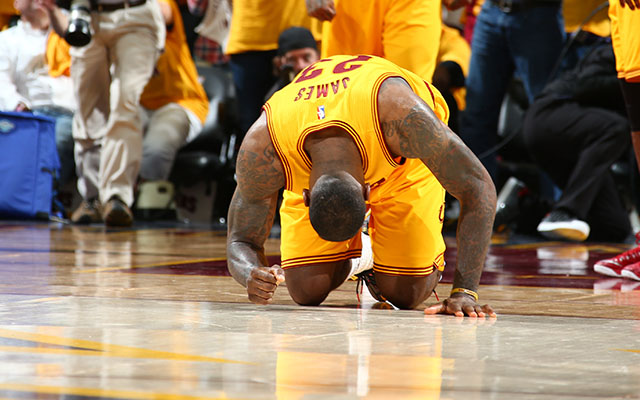 Show Comments
Hide Comments
Thunder fans used the term 'cupcake' in reference to Durant after he left OKC in free agen...

There appeared to be some wishful thinking on the part of Charlotte general manager Rich C...

Thompson is one of the best shooters in the league, but it appears dunking isn't his speci...
Cuban was willing to part ways with employees who leaked ahead of the official announcemen...

Draymond wasn't mad about the move, though. He was mad about the way he heard about it

All-Star forward was sent from the Bulls to the Timberwolves on draft night