Westbrook has 2nd knee surgery, due to 'loose stitch;' out 4-6 weeks
Thunder guard has surgery on same knee as meniscus tear, due to swelling caused by a loose stitch.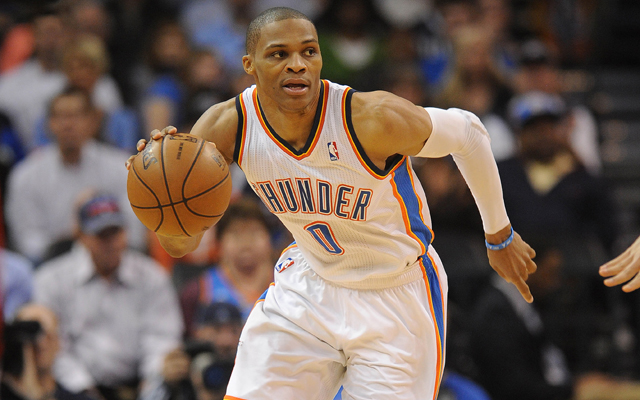 The Oklahoma City Thunder announced on Tuesday that point guard Russell Westbrook, still recovering from surgery last spring to repair a torn meniscus, underwent arthroscopic knee surgery to reduce swelling -- caused by a loose stitch from the first procedure -- and will miss 4-6 weeks for recovery. From the Thunder press release: 
Oklahoma City Thunder guard Russell Westbrook underwent successful arthroscopic surgery on his right knee earlier today, Thunder Executive Vice President and General Manager Sam Presti announced.

"Russell has been incredible in his work and rehabilitation. He has been pain-free and has performed at a high level during practice, but has experienced recent swelling that had not subsided," said Presti. "After careful consideration and recommendations from the medical team, we elected to do the procedure today based on our consulting physician's belief that the swelling would be alleviated, and in turn give Russell the best chance for sustained performance throughout the season and beyond. During the procedure it was determined that the source of swelling was due to a loose stitch, and fortunately we were also able to confirm that the meniscus has healed properly."

Westbrook is expected to miss the first 4-6 weeks of the 2013-14 regular season.
Westbrook injured the knee in the Thunder's playoff series against the Houston Rockets when Rockets guard Patrick Beverly accidentally slammed into his knee. 
At the time, the Thunder said the surgery was successful and had the best possible outcome for Westbrook. 
On June  15th, Westbrook sent video of him being off crutches, and said "I'm back." In early September, Kevin Durant said he expected Westbrook to be back on opening night. On media day, Westbrook said he "wasn't sure" if he would be ready for the start of the season. 
The development will make the Thunder's early schedule extremely difficult, even with promising backup point guard Reggie Jackson available. OKC lost Kevin Martin in free agency and was unable to add any significant free agents. It means more pressure and attention on Kevin Durant, which lead to a lot of trouble for his efficiency in the playoffs as teams loaded up double and triple teams on him. 
Westbrook averaged 23 points, seven assists and five rebounds last season for the Thunder. 
Show Comments
Hide Comments
Butler says he enjoyed playing Rondo this past season, despite their season ending in the first...

Thomas immediately caught fire after losing his front tooth

All-Star guard flew to Washington after Game 6 vs. Bulls to attend his sister's funeral Sa...
The final Game 7 of the first round will tip off at 3:30 p.m. ET

Game 1 of the second-round series between the Celtics and Wizards tips off at 1 p.m. ET on...

The two best point guards in the East go at it in a series sure to be filled with drama.