What can the Miami Heat expect from Dwyane Wade in 2014-15?
Miami Heat star Dwyane Wade has never had a lower perception in this league than how people view him right now. But can he change that this season?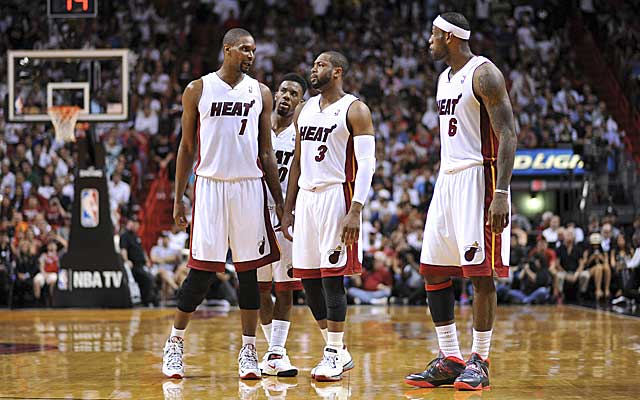 More Offseason Analysis: Coaching changes, news | Free Agency | Draft
The perception of Dwyane Wade in 2014 is a polarizing one. When LeBron James and Chris Bosh joined him with the Miami Heat in 2010, Wade was the linchpin of the entire operation, even though James was the best player. Wade was the incumbent star, providing the role of star and one-time champion capable of bringing James along from his title-less ways into postseason success. It was always going to be Wade's team in the minds of many.
Fast-forward four years, four NBA Finals runs, a couple of knee injuries, various procedures to keep that knee intact, two championships, and LeBron returning to Cleveland, the perception surrounding what Wade is capable of and what he means to the Heat is very different. Wade is a broken-down player. He lost 28 games to minor injuries, and rest last season in an effort to save his best performances for an NBA Finals run. The shooting guard, 32, had the worst playoff run (in terms of efficiency) of the Big Three era on South Beach.
With LeBron gone, Wade will be asked to be more of a staple on offense than the past two seasons, and we're potentially headed toward one last hurrah with his play as a star in this league. While Bosh is expected to be the go-to scorer because of abilities and new five-year contract, Wade's contributions on offense will be just as important, if not more. In a telling rant by team president Pat Riley following the Finals drubbing at the hands of the Spurs, Wade was called out as someone who needs to possibly reinvent the way he plays. 
"For the last 10 years, this has been a Dwyane Wade-driven thing," Riley said. "Now does he have to reinvent himself a little bit? Absolutely."
What does that reinvention include and how realistic is it? Could one of the worst 3-point shooters in NBA history find a way to go the route of Jason Kidd and find greater accuracy from downtown as his hair turns grey? Will Wade come back in better shape than last season (some around the league wondered if he was a little overweight)? Or will enhancing Wade's longevity come with more games played than last season (54), but with fewer minutes per game attached in a Spurs-ian way managing health? 
Wade has reinvented his game over the past few seasons. He's eliminated the 3-point shot. In Wade's first season with LeBron and Bosh by his side, he took 206 attempts from beyond the arc. That's 52 more attempts than he took in the previous three seasons combined. It feels unlikely that he'll be willing or able to turn around a career 28.9 percent with more defensive focus surrounding him. He also hasn't exactly been a bad scorer in terms of efficiency.
In 2012-13, Wade made 52.1 percent of his shots primarily because he had abandoned the 3-point shot (less than one attempt per game). He had learned to be much more of a transition and post-up player over the past couple seasons than when LeBron and Bosh first came to town. That continued in the 2013-14 season with Wade posting up more than at any other point in his career. It's part of the reason he was able to shoot a career-high 54.5 percent. He's been one of the most efficient post scorers over the past two seasons. However, that field goal accuracy has come with a price. 
For Wade, he's had a declining usage rate in every season since 2008-09. That season, he had a career-high usage rate of 36.2 percent (the fourth-highest in NBA history, according to basketball-reference.com). The 27.9 percent usage rate last season was the lowest of his career since his rookie season (25 percent) and only the third time in 11 seasons he's been under 30 percent. Wade was able to pick his spots in the offense as LeBron ran the show. Even with Bosh likely assuming the role as the go-to guy, Wade won't have that same luxury. He'll have to find a way to be effective on a consistent basis, while still shouldering a healthy load.
This won't just be on Wade to figure out. Coach Erik Spoelstra will be designing or tweaking the offensive principles and system that have helped the Heat finish top six in offensive efficiency the past four seasons and top two the past two seasons. Of course, that offense featured the most dynamic offensive player in the league over those four seasons. Spoelstra, Bosh, and Wade will need to find a way to take new pieces like forwards Josh McRoberts and Luol Deng and spread the responsibility of creating good shots.
But what do we expect Wade to do with this increased responsibility, similar to what he once wielded as one of the best players in the NBA? He was one of five players to average at least 19 points, 4.5 rebounds, and 4.5 assists last season, and only he, Kevin Durant, and LeBron James did that while shooting better than 50 percent. But what does that mean in a post-LeBron Miami? Does that mean anything for Wade if he can't provide a similar effectiveness in the postseason to go with it? Or do the Heat no longer get judged by the way of championships or bust in a wide-open Eastern Conference?
It was only about 10 months ago when Wade was offended that Kevin Durant thought his old teammate James Harden should replace Wade in the conversation for top 10 players in the league. In less than a year, we've gotten to a place in which it sounds ridiculous to say Wade can still be in that conversation. Is it an overreaction to Wade's failings in a season that was supposed to succeed because he was saving his best for the playoffs? Or is it an accurate representation of what Wade will be capable of when given a heavier load?
While it's easy to assume the answers are unequivocally against Wade's likelihood to resume playing like a star, the situation is more murky than most want to believe. Wade likely will put up impressive individual numbers and the Heat will be competitive behind a good core and a smart coach in a conference that won't have a clear-cut favorite unless Derrick Rose proves to be healthy or LeBron James proves to be capable of getting Kevin Love as a teammate.
"Miami's going to be a really good team," Durant said at USA Basketball training camp in Las Vegas. "I told somebody that. D-Wade is going to be back, Chris Bosh is in a different role, Luol Deng's a great player, so I think they're going to be really good. the East is going to good. I think it evened the east out a little bit more -- Indiana, Chicago, Cleveland, Miami, Washington, Atlanta, it's a nice crop of teams out there in the East."
In each of the past three years, Wade has had a steady drop-off from regular season to postseason performance. Two of those years resulted in Wade adding to his ring total, thanks to LeBron's ability to carry the burden. Wade and Bosh will need to share that burden, possibly even more than LeBron and Wade needed to figure out a timeshare for it four years ago.
Wade is capable of putting up the numbers to show he's a good player, but individual success won't mean much if it's not showing a direct impact on team success. Only that impact can change the way people perceive Wade in this league, and only that impact carrying into the playoffs can keep the Heat in contention for a fifth straight season.
Show Comments
Hide Comments
Will Iggy stay in Golden State? Does anyone have any idea what to do with Derrick Rose?

Hoiberg was asked about Isaiah Thomas possibly carrying the ball during Game 5

Celtics point guard does not need anyone to hype up his defense
The Bulls had it, they had it ... and ... it's gone

The Bulls found they were without hot water following their Game 5 loss

Wall finished with 20 points and 14 assists in win over the Hawks