What Kevin Love trade means for Minnesota Timberwolves on floor
With Kevin Love reportedly departing to the Minnesota Timberwolves, what does this team look like on the floor with their new parts?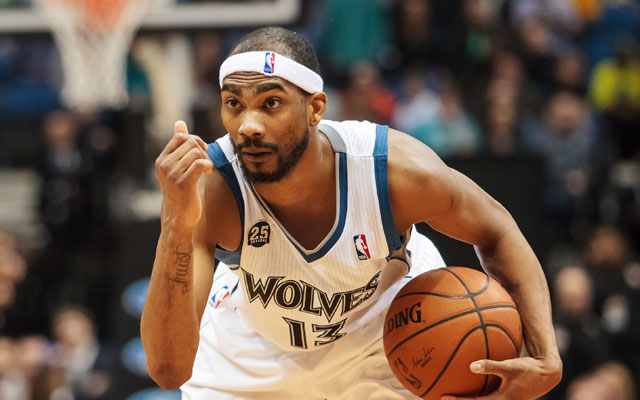 More Offseason Analysis: Coaching changes, news | Free Agency | Draft
The Minnesota Timberwolves are on the verge of trading Kevin Love to the Cleveland Cavaliers, and in the process bringing arguably the most impressive haul we've seen in exchange for a star in some time. With the package of Andrew Wiggins, Anthony Bennett, and a 2015 protected first round pick coming back, the Wolves have gone from a team on the playoff bubble in the West to another rebuilding effort. 
However, this rebuilding effort includes the previous two No. 1 picks, another exciting rookie in Zach LaVine, Ricky Rubio, Gorgui Dieng, and whatever they can mold forward Shabazz Muhammad into. The Wolves also have veterans like Nikola Pekovic, Kevin Martin, Corey Brewer, Chase Budinger, Mo Williams, Luc Richard Mbah a Moute, and J.J. Barea mixed in, although some of those players likely will be moved. There have also been rumors of the Wolves trying to bring Thaddeus Young in from the Philadelphia 76ers.
With what we know of their roster now and the focus it could have with the existing pieces, let's take a look at what the Wolves could look like on the floor after this trade. While it's not really a winning team, it may be just exciting enough to improve upon the franchise's 27th best attendance last season.
The offense:Flip Saunders is back on the sideline as coach after Rick Adelman stepped down and the franchise couldn't bring in other coaching targets. As the Wolves transition from this previous disappointing era into the next era filled with youth and athleticism, Saunders will be running the show in all facets for at least next season. Trying to figure out what that means for this Wolves team and how they'll play is a little tough to nail down.
In Saunders first season with the Wolves back in 1995-96, he took over a team 20 games into the season that finished with the fifth fastest pace in the NBA. Over the next few seasons with a fairly young and athletic core, the Wolves were anywhere from the fourth fastest team in the NBA to the 21st fastest team in the league -- and everywhere in between. There wasn't a set pace for how they were going to play.
In Saunders' first season coaching a young, rebuilding Washington Wizards' squad, his team was 21st in the NBA in pace and sped up to ninth in his second season. With Rubio, LaVine, Wiggins, and other young pieces, it would behoove the Wolves to try to take advantage of their athleticism. When Saunders drafted LaVine and Glenn Robinson III in June, he spoke about accomplishing the goal of making the team more athletic. You don't exactly acquire athleticism to try to make the team slower.
Under Adelman last season, the Wolves were the fourth fastest team in the league. They'll likely try to keep that up with guys like Wiggins and LaVine filling the lanes. Rubio will have plenty of opportunities to push the ball, which will lead to him racking up assists and possibly turnovers as well. Adelman embraced Rubio's flashy style and playmaking, but not in the name of sacrificing making the correct play. Saunders is less likely to stifle Rubio's risk management, which will offer up the opportunity for Rubio's game to grow a bit more.
In the half court, the Wolves will run things through Pekovic on the low block. He's been one of the better scorers in the low post over the past two seasons and he put up solid averages of 16.3 points and 8.8 rebounds in the 2012-13 season in which Love played in just 18 games. Last season, Pekovic averaged 17.5 points and 8.9 rebounds. They'll need him to be a better passer out of the post and they'll need their shooters to actually make shots from outside. Minnesota was 26th in 3-point percentage in 2013-14.
Assuming they're unable to deal Martin, he'll also be a volume scorer when he's on the floor. He'll be part of a slower half court attack, but does have a penchant for leaking out in transition at the sacrifice of the defense. The offensive game for the Wolves will be interesting because they have so many different ways Saunders can take them. Defensively though, we'll get to see how quickly perimeter defenders can develop.
The defense: The Wolves tied with the Atlanta Hawks for 14th in defensive efficiency last season. They didn't foul opponents and they forced a lot of turnovers. It helped counteract a defense that gave up the second highest percentage in the restricted area. The Wolves' defense was feast or famine. They had Rubio and Brewer applying pressure on the perimeter while Love, Pekovic, and Martin nervously awaited the next action. Martin was in a defensive stance about as often as the fans in the stands watching him. 
Rubio's defense was great for most of the season, although his gambling style did burn him in certain match-ups against quick point guards. Brewer's defense was a mess, often over gambling and underperforming on those gambles. This was after he stated before training camp that he wouldn't be such a gambler on defense because of a lack of a shot blocking presence. Pekovic being on the floor wasn't the Pekovic on defense we saw in 2012-13. His pick-and-roll defense was much worse in 2013-14, and he struggled with positioning himself to cut off the basket. 
With Wiggins and LaVine, you're adding more length and athleticism on the wing. LaVine will likely end up being a minus-defender, but he could figure out how to play the passing lanes nicely to help create quick scoring chances off of those gambles. Wiggins is much more likely to develop into a very good wing defender, giving Rubio some help on the perimeter. It's hard to expect him to have consistent success on defense during his first season, but we'll get to see just how legitimate of a defensive presence he is right away.
The Wolves will likely also utilize Dieng more, who had a breakout second half as a rebounder, shot blocker, and a little bit as a scorer. It will be difficult to put him and Pekovic next to each other, especially against teams that stretch the floor. However, the Wolves don't have any pressure to win right now and can experiment with a lot of different combinations to see what works.
Even though the Wolves are likely to extend the decade-long streak of missing the playoffs, the potential will be showcased on both ends of the floor in 2014-15.
Show Comments
Hide Comments
All-Star forward was sent from the Bulls to the Timberwolves on draft night

It's not so much who Boston took, but who it didn't take

Former Bulls star was venting after being traded to the Timberwolves
Phoenix Suns' top pick was a bit off the mark with ceremonial first pitch at Diamondbacks...

Lakers traded Russell to the Nets along with Timofey Mozgov in exchange for Brook Lopez and...

The Lakers introduced their latest high draft pick Friday afternoon