What to Watch For 3.3.13: Knicks-Heat, Thunder-Clippers
A guide to three things to watch for in Sunday's biggest games.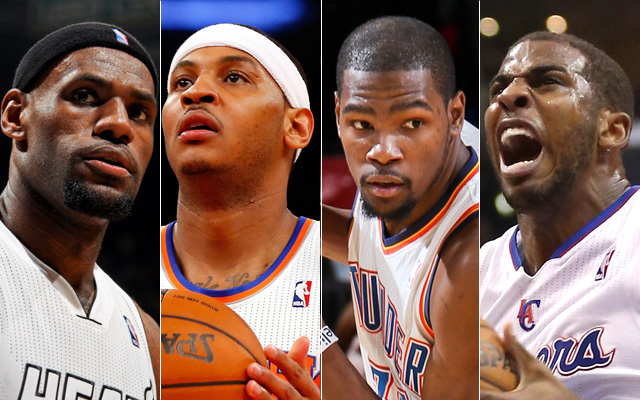 Big slate of games on Sunday as the Miami Heat and New York Knicks square off in a battle of the top two teams in the East and the Oklahoma City Thunder visit the Los Angeles Clippers as two teams that want to stake a claim to the Western Conference crown go at it.
Here's a guide of three things to watch for in each game.
Knicks vs. Heat 1 p.m. ET
1. Perimeter fencing: The Heat's defense has been inconsistent but is trending in the right direction. After giving up a 103 defensive efficiency (points per 100 possessions) in November, they closed it off in January to a stellar 98.6. Then, during LeBron James ' dominant run in February, they slacked off again. They can't seem to put out a consistent effort defensively.
Against the Knicks, they had better shore up their 3-point defense. The Knicks' offense bogs down, unless the 3-ball is falling. When it is, they're suddenly a monster in terms of volume and efficiency.
The same problem exists for the Knicks. The Heat offense is versatile in a number of ways. But when Shane Battier and Ray Allen are knocking them down from deep, there's almost no way to guard them.
2. STAT lines: Very quietly, Amar'e Stoudemire has had a tremendous season, making plays in the post and on the cut. He's having his best season in years, and you have to credit him for getting in shape to contribute after the injury issues of the past two years.
Against the Heat, he's going to have opportunities. With Chris Bosh forced to match up against Tyson Chandler , a problem in its own right, Stoudemire will have a smaller defender on him, be it James, Battier or Udonis Haslem .
Stoudemire needs to be aggressive off the bench and force the issue. The Heat have a team that can get abused inside, but few teams are willing to commit to it. Trusting Stoudemire is a better option than hoping the threes are falling or that the offense is in a sharing mood they've seen far less in every week.
3. Containing Impulses: J.R. Smith can win a game when the shots are falling. He's shooting 40 percent this season. So the Knicks need to be careful with Smith both ways. It's a nationally televised game and, against Allen or Dwyane Wade , he should be able to get loose. If it's falling, Mike Woodson needs to give him the green light for those terrible shots that he can make.
If it's not, he needs to keep the leash tight. It's a difficult line to walk but important for him to watch.
Thunder at Clippers, 3:30 p.m. ET
1. Stretching the Four: Blake Griffin has improved considerably this season on his mid-range jump shots. Serge Ibaka has evolved into a deadly range shooter. Who winds up winning this matchup will go far in putting his team in the victory column. Ibaka cannot be invisible; he has to be a third star for OKC. Griffin is going to score; it just depends on how much he can give.
2. Two-dimensional Offense: The Thunder can fall into the trap of relying on the two stars too much. They've got to get balanced offense and not just have it be Russell Westbrook - Kevin Durant -Westbrook-Durant etc. Whether that's Ibaka as stated above or Kevin Martin getting loose on the perimeter or a step-up game from Reggie Jackson vs. Eric Bledsoe , someone has to make the Thunder more than good looking cardboard.
3. The White Stripe: DeAndre Jordan is the Clippers' best interior force, able to influence the game at both ends with his size and athleticism. But he also gets taken out routinely in the fourth quarter due to his free-throw shooting (among other factors). The Thunder draw a huge number of fouls routinely, to a pretty absurd degree. The Clippers have to figure out a way to make the margin of made FTs smaller than normal for the Thunder.
That means playing sound defense and establishing early a tough, physical game. The officials can get caught in the trap of having too much to call and, so, not calling as much. But the Thunder have to set the tone with physical play early.
Show Comments
Hide Comments
The sign, however, says Jordan never flopped -- which is incorrect, as the film shows

Curry's turnover was a key moment in the Warriors' Game 7 loss last season

Curry is having an impressive postseason campaign, averaging 28.6 points per game
They have consistently posed problems for the Golden Boy, but can they keep it up?

Kerr hasn't coached since Game 2 of the first round against the Trail Blazers

Parker was injured during Game 2 of the Spurs' series vs. the Rockets