Why has Mark Jackson been so successful? He's nice.
Mark Jackson has a successful approach to coaching and it involves not screaming.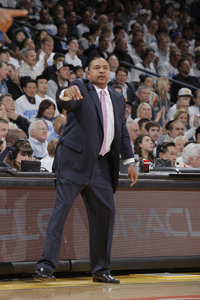 Jackson gets respect.
(Getty Images)
Yahoo! Sports got to the bottom of why the Golden State Warriors have been so receptive to second-year head coach Mark Jackson, who took the job without any coaching experience.
Jackson's Warriors are one of the top teams in the West. Why are they one of the best? It's pretty simple. He respects them, he doesn't berate them, and, well, he's nice. 
Warriors players say that Jackson's understanding of human error, refusal to curse and degrade them, and the team's family atmosphere are the top reasons he's beloved by them. And the team has rewarded its second-year coach this season with a 23-13 record, the franchise's best start since the 1991-92 campaign. The NBA's biggest surprise -- a group Jackson calls "dangerous" with or without Andrew Bogut, who is out indefinitely with an ankle injury -- seeks a season sweep of the Miami Heat on Wednesday night at home.
via Old feud with ex-Knicks bosses helped shape Mark Jackson's coaching philosophy -- Yahoo! Sports.
Players go on to cite the way Jackson "cares" about them and his approachability.
Basically, he's not the same hardass that most NBA coaches are. This might seem like a flawed approach, but bear in mind, the same kind of interpretation of nice as "respectful" has been discussed when it comes to men like Phil Jackson and Red Auerbach. Gregg Popovich toes the line on both sides, willing to lay the hammer down on anyone but respecting the players and not overreacting to simple mistakes. 
There is a delicate balance to be struck, though, and it has to do with personnel. Phil Jackson respected his players and trusted them to take care of themselves and their play. That worked out to the tune of 11 championships. It also, in part, led to the Lakers' complete self-destruction against the Mavericks in 2011. Jackson never disciplined Andrew Bynum, never reined in Lamar Odom's space-headed demeanor, didn't get in Pau Gasol's face until it was too late. There is a risk to be found there. 
But for now, Mark Jackson has the personnel that he needs to be like this. High-caliber character guys who want to win, veterans who know how to conduct themselves and no discernible knuckleheads. As long as that's the case, this is going to work for the forseeable future. As long as they're winning, this approach is great.
Klay Thompson told CBSSports.com this week that the main difference between last year's tank campaign and this year's contention run has been that "there's a real unselfishness to the team, not only offensively, but defensively." Thompson credited Jackson's focus on detail regarding play in the paint and rebounding for the improvement. So Jackson's clearly not going lax on them in practice, even if his overall approach is forgiving. 
And, speaking as someone who thinks the NBA should more often try to incorporate philosophies from the "normal" working world, this makes sense. A good manager or supervisor doesn't scream at you, doesn't demean you or make you feel small. He or she speaks to you honestly and respectfully and makes it clear what he or she expects of you. Everything else is just drama and power play.
If Jackson can make this kind of approach work, all the better -- for him, the Warriors, and the NBA. 
Jared Sullinger wants back in the NBA; he knows his weight will play an important part

Cleveland is one of Rose's biggest suitors, and the Irving situation could lead to an even...

Five years later and Celtics fans continue to throw shade -- Allen later deleted the comme...
Irving has a desire to team up with Butler dating back to June

Apparently, Irving first asked to be traded in June in hopes of joining Jimmy Butler in Ch...

Despite Melo being a good trade piece for the Knicks on paper, he has his sights set on joining...