With Deron Williams scoreless, Nets drop Game 2 in Miami
Brooklyn couldn't overcome the first scoreless game of Deron Williams' playoff career on Thursday.
• 2 min read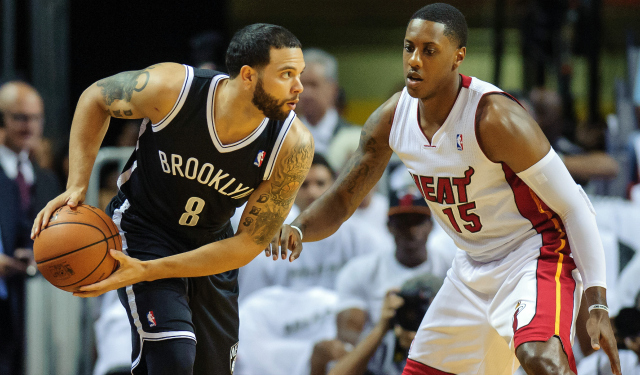 More postseason coverage: Playoff schedule, results | Latest news, notes
Deron Williams is officially an issue. With time ticking down in the fourth quarter of Thursday's Game 2 and the Miami Heat up 94-82, The Brooklyn Nets point guard attacked the basket on the left side and went up for a meaningless layup. Heat big man Chris Bosh forcefully denied him. Miami dribbled out the clock to take a 2-0 second-round series lead, and Williams finished with zero points, shooting 0-for-9 from the field in 36 minutes. It was the first time he'd been held scoreless in his postseason career. When the ESPN broadcast switched to the studio, Bill Simmons sat there and said that the injured Brook Lopez had a better game.
Kevin Garnett had the same thing happen on Tuesday, and his regression is a sadder story. You can chalk that up to age, though; Williams doesn't turn 30 until June. The point guard needed two ankle injections after Game 6 of the Nets' first-round series against the Toronto Raptors, and the way he was moving suggested that he was far from fully healthy. 
Despite the lack of points, Williams did a decent enough job creating for his teammates in the first half — he had four of his six assists by halftime. He was as aggressive as he could be, but just couldn't get himself going. Miami's point guards made Williams' life difficult, and he didn't exhibit the explosion necessary to get by them consistently. 
"They're just doing what they can just to try to keep their body in front as much as possible," Heat head coach Erik Spoelstra said. 
Later in the game, Williams elected not to shoot when given the opportunity on the perimeter. When he was able to get to the basket, he could not finish over the Heat's help defenders. He shot 0-for-4 near the rim.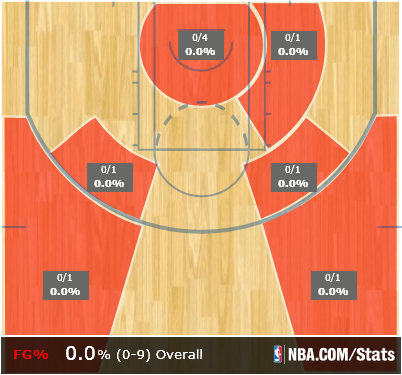 "I thought he had some great looks," Brooklyn head coach Jason Kidd said. "Some were around the rim. But the other thing I thought he did well was he set the tone. He was attacking, getting the ball in the paint."
Kidd said that he expected Williams to make more of his shots in Game 3, but insisted that he played well overall, pointing to the seven rebounds he collected. The coach obviously doesn't have to publicly criticize his floor general, but he must know that his team needs Williams to be better if it wants to win. 
The encouraging thing is that the Nets trailed by just two points halfway through the fourth quarter. Despite Williams' struggles and the fact that sharpshooter Mirza Teletovic was their only effective big man, they had a chance to win. Williams scored 17 points in Game 1 and managed a 23-point game less than a week ago against Toronto, and if he had anything close to that kind of production on Thursday, their prospects in this series might look drastically different. That's not what happened, though, and now he'll try to turn it around for the biggest game of his season on Saturday.   
Show Comments
Hide Comments
LaMarcus Aldridge's unhappiness in San Antonio is the driving force behind the Spurs' recent...

Aldridge is under contract for next season, with a player option for 2018-19

The Timberwolves reportedly are swinging hard to enhance its talented young core
Despite the Wolves being better with him on the floor, Rubio can't escape more trade rumor...

The Celtics are exploring a Kristaps Porzingis trade, but the Knicks are asking for a lot

Phoenix was close to signing the power forward before he picked San Antonio in 2015