With old-man tricks, Grant Hill gives Clippers' bench another boost
Grant Hill came off the bench to help slow down Carmelo Anthony in the fourth quarter Sunday, making the Clippers' 102-88 victory over the Knicks a case study in just how deep and dangerous they can be come playoff time.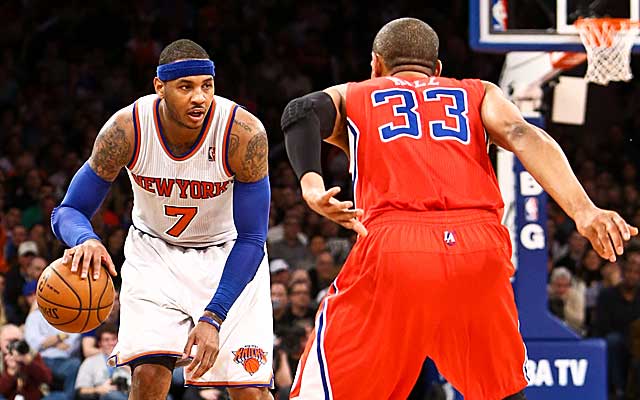 Clippers reserve Grant Hill held Knicks star Carmelo Anthony to just one basket in the fourth quarter. (US Presswire)
NEW YORK -- Grant Hill was peddling away on the exercise bike; not a bad way to spend your Sunday afternoon. Except that Hill's next assignment was much more daunting: After logging just shy of 3 1/2 minutes in the first three quarters, he would be asked to play the entire fourth quarter and slow down Carmelo Anthony.
Melo had 38 points through three quarters, seemingly on his way to his first 50-point game with the Knicks. His latest torrid offensive display had helped the Knicks cut a 13-point deficit to 71-70 heading into the fourth.
Hill is 40 years old, so to say he's been around the block a few times and picked up a few tricks along the way would be like saying Anthony can score a little bit. And that's what Anthony did in the fourth quarter. He scored a little bit -- a very little bit -- as the Clippers finally patched together their full array of talent and depth for a 102-88 victory.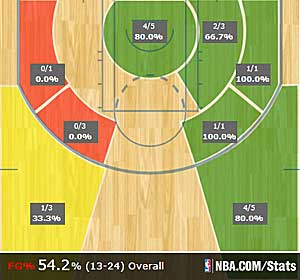 Carmelo Anthony's shots through three quarters.
With Hill logging all 12 minutes in the fourth quarter, much of that time spent picking up Anthony in transition and battling him for position in the post, the Clippers offered a glimpse of just how deep and versatile they can be come playoff time.
"He's a great player," Hill said of Anthony, who managed only four points on 1-for-2 shooting from the field in the fourth to finish with 42 points. "I've got so much respect for him. He's one of my favorite players to watch. You try to do things and make it difficult. And you've got to have selective memory because he hits shots."
Not in the fourth quarter, when Anthony could find enough space to get off only one shot below the foul line (a made jumper) after going 7 for 10 from that area in the first three quarters.
And it leads to a question: If the Clippers are so deep and versatile that they can bring a 40-year-old man off the bench cold in the fourth quarter to shut down one of the most prolific scorers in the NBA, what hope is there for the rest of the league come playoff time?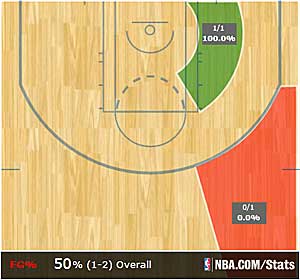 Anthony's shots in the fourth against Grant Hill.
"Most times, our practices when we scrimmage are better than games for us," Clippers guard Chauncey Billups said. "You look at our second unit, they can be starters anywhere; well, not anywhere, but a lot of places. I think that we can wear teams down. There will be teams that can compete with our starting five, but the deeper we go, the better our chances get."
A couple of days ago in Miami marked the first time Billups and Hill have been on the practice floor at the same time. On Sunday, they suited up for a game together for the first time, too.
"Trust me," Hill said, "it's better being on the same side than the other side."
This with a bench that already boasts sixth-man-of-the-year favorite Jamal Crawford (27 points on 12-for-22 shooting Sunday), electrifying backup point guard Eric Bledsoe, a slowly-piecing-himself-back-together Lamar Odom, and on and on. The Clippers' bench outscored the Knicks' bench 48-15 Sunday, and that was pretty much all you needed to know.
"I think we have a chance to be a championship-level team," Hill said.
With Chris Paul back from a bruised kneecap and on a minute-limit along with Billups, the Clippers' embarrassment of roster riches raises an interesting point about their playoff chances. In the postseason, when most teams shorten their circle of trust to seven, eight or maybe nine deep, the Clippers will be stretching the rotation to as many as 11.
"I don't think there's really been a team that can go this deep and trust guys who are the 10th or 11th guy on the team," Billups said. "It may be a situation where some guys may not play for a few games and then come in and win us a game or two late in a series."
Hill called it the most talented team, top to bottom, he's played on.
"If we're playing Golden State, they tend to go small so maybe we'll go small," Hill said. "If we're battling San Antonio, we need D.J. [DeAndre Jordan] a little bit more to go against [Tim] Duncan. A lot of it just depends on the matchups, and I think we're all mature enough and smart enough to understand that. But we're still finding ourselves."
They found something Sunday afternoon, some old-man tricks to slow down one of the game's most dangerous scorers. That's why Paul embraced Hill on the court afterward, and with the nation listening on TV, told him, "You're 40 years old, but you were the difference in the game today."
Next time, it'll be somebody different.
"We've got good, young guys in their prime and we've got vets who've been around and just want to win," Hill said. "We've got a good bunch."
And the deepest, most versatile bunch around.
Show Comments
Hide Comments
Utah couldn't clinch at home, and the Clippers live another day

The Celtics coach appeared to be upset when the chants broke out

Cleveland will host Toronto on Monday
Boston will host Washington on Sunday

Nothing can happen until Cleveland's season is over, however