With Russell Westbrook back, the Grizzlies have problems again
The Thunder came out of the gates with a planned ambush for the Grizzlies. And it was led by the man they so dearly missed last postseason -- Russell Westbrook.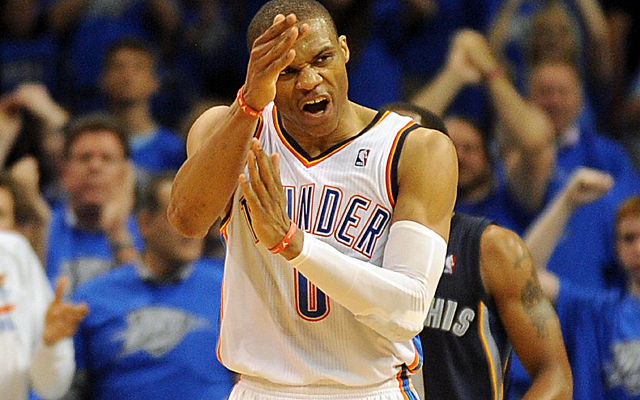 More Playoffs: Schedule | Machine | Previews: East | West | Picks
OKLAHOMA CITY -- Clad in a head-to-toe red color-blocked outfit, Russell Westbrook climbed on to the podium, and eased into his chair.
"Haven't been up here in a while," he muttered quietly to himself. 
The Thunder don't customarily use the podium for players postgame in the regular season, as it's something reserved for the playoffs. It's been a while for everybody on the team, but for Westbrook, it feels like it's been an eternity. He famously was forced to miss the Thunder's last nine playoff games, five of those coming against the Grizzlies in what turned out to be a five-game second-round defeat last year. 
But he's back for this season. And he made his presence felt early and often in Game 1. 
After one quarter, Westbrook buzzed and blurred his way to 10 points on 4 of 5 shooting, plus four rebounds and two assists. And as he tends to do, that just enabled him to go faster and harder. Westbrook's relentless energy set a tone for the Thunder from tipoff, as they ambushed the Grizzlies in the first quarter, holding Memphis to just 5-of-29 shooting after the first 12 minutes. The lead swelled to as many as 25, and 22 by halftime. 
The Grizzlies were able to make quality adjustments at the break, and were aided by an oddly dysfunctional Thunder offense in the third quarter to eventually trim the lead down to two. But Dave Joerger made a tactical choice to ride his five that started the third quarter through the entire period, not subbing until Zach Randolph picked up his fifth foul with 9:52 left in the fourth. Kevin Durant drilled a 3 to take the lead back to 10 with seven minutes left. With a gassed squad, and a rested Westbrook waiting to check back in, the Grizzlies were basically dead men walking. 
"It's about bending and not breaking," Durant said. "We know that teams are going to come out and keep fighting, especially going into the half down. We were up 20 points or so and we knew they would come out and keep fighting. That's what they do."
The importance of Westbrook's presence wasn't found in just his impressive final line -- 23 points, 10 rebounds and five assists -- but more in how he cleared the floor for Durant to be his dynamic, unstoppable self. In the five-game elimination last postseason, the Grizzlies bracketed and swarmed Durant every moment he was on the floor, throwing two, three and sometimes four defenders at him. With no one else to fear, the Grizzlies keyed entirely on Durant. 
"Last year, I put one of our guys, Donte Greene, in a red jersey and just told him to go like heck up and down the floor, you know, acting like Kevin Durant or whatever," Joerger said pregame. "Well, I couldn't pull out two red jerseys yesterday. That's essentially what it is. There's not just one guy to key on."
There were no double-teams, no bracketing, no swarming. Tony Allen was mostly a man on an island against Durant -- and defended him admirably well -- but one-on-one against the world's best scorer doesn't typically end well, even for the most initiated defensive stoppers. Durant, who averaged 28.8 on 42.1 percent shooting in the five games against Memphis last postseason, shook loose for 33 on 13-of-25 shooting, plus seven assists. 
"It felt good," Durant said of having Westbrook back. "He's one of the top-five players in the league, so you've got to be conscience of him on the court. Tonight, he did it all for us. He was running the basketball extremely well, got everybody the ball and scored at a high rate. He makes it a lot easier for everybody, not just myself. Tonight, he wreaked havoc on both ends of the floor."
The Thunder held a 1-0 series lead against Memphis last postseason, but it came with a fleeting feeling. Durant was able to steal it with a game-winner in the closing seconds, while this time around, the Thunder appeared to be the team setting the tone. The Grizzlies' inspired comeback gives them hope to maybe steal Game 2, or at the very least, make the Thunder work for the second round. 
But the readdition of Westbrook means Memphis has problems again. Plural. Which is something they were free of last time around. 
Show Comments
Hide Comments
The former Pacers star understands George's desire to win

Iverson clapped back at Tim Hardaway for his claims that The Answer carried the ball

Riley signed Bosh to a five-year, $118M contract back in 2014
The Grizzlies take on the Spurs on Wednesday night in a pivotal Game 5

It's not all about Stephen Curry and LeBron James being awesome -- we knew that already

Riley says he had a close friend who "talked him off the ledge"