Wizards big man Nene still at least three weeks away, suffered ligament tear in foot
Nene is still at least three weeks away, has torn a ligament in his foot.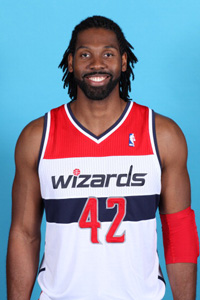 We might see this again. Someday.
(Getty Images)
Nene has not played a single minute for the Washington Wizards this season. The Wizards traded JaVale McGee to Denver for the Brazilian big man last year, and he was expected to anchor the offense alongside John Wall. With Wall still out with a leg injury, the Wizard need Nene back as soon as possible. But he has been sidelined with plantar fasciitis, an extremely painful foot injury that has developed into even more problems. 
And The Washington Post reports it will be at least three weeks before Nene is back on the court. 
Nene, 30, visited Mark S. Myerson, the medical director at the Institute for Foot and Ankle Reconstruction at Mercy Hospital in Baltimore, last week and said he was told that he was "probably three weeks away." When asked to elaborate on whether that meant he would play or begin practicing in three weeks, Nene hedged off a specific timeline, simply explaining how he continues to deal with soreness as a result of plantar fasciitis near the heel of his left foot.

For the first time, Nene spoke at length about how the problem began and the frustration he feels about the injury and with outsiders who don't understand its severity.

"They have no clue," Nene said, adding that he actually tore a ligament in the bottom of his foot and that another is irritated and causing more problems. "They think it's simple pain."
(via Injured Nene faces more time on Wizards' sideline - The Washington Post)
That's all kinds of bad. There's a tear now, and that's a whole different kind of problem. And it's having problems with the other foot now, which is equally as bad. The big problem with plantar fasciitis is that it's extremely painful and only heals with extended rest. You just have to stay off it. Which is nearly impossible when, you know, you're an NBA player. 
If Nene can't get back to full health this season, if he's in and out as he was last season, the Wizards are sunk. There will be no righting the ship. He's too important to what they want to do. The Wizards needed several things to go their way; very few of them have this year. 
It's just three weeks, though. If he can get back on the floor in good order after that, there's plenty of time to save this thing. But they have to get Nene back at at least 80 percent. 
It was a calm Friday in the NBA world ... and then it wasn't

The 7-foot center will reportedly return to San Antonio after opting out his previous deal

Seattle longs for the NBA to return, but still sports a strong basketball following
Rose is reportedly being courted by the Cavs, Lakers and Bucks, among others

With the club reportedly pursuing Derrick Rose and LeBron James vexed, this news hits hard

Silver said personal political views shouldn't matter when it comes to the longstanding tr...