Wizards' Singleton out 6-8 weeks with foot fracture
Washington Wizards' forward Chris Singleton has a Jones fracture in his left foot and will miss six to eight weeks following outpatient surgery.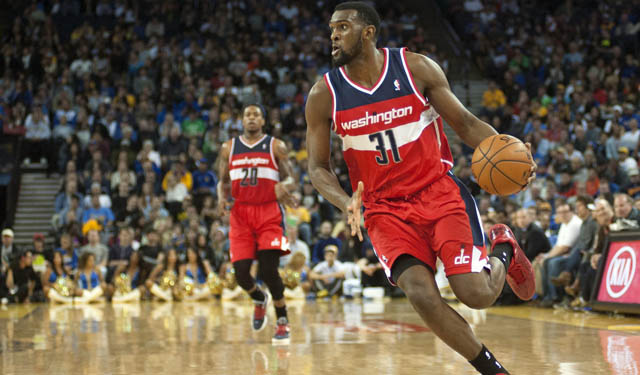 The last thing you want to endure when you're preparing for the start of a new season is an injury that puts you behind everybody else's training. Instead of fighting for time in the rotation and working on getting your game to improve, you end up having to give yourself time to heal, rehab the injury, and then try to work toward catching up to the rest of your teammates who have spent valuable time together on the court preparing for the new year. 
Chris Singleton of the Washington Wizards is entering a very pivotal season of his career, especially if he wants to remain with the Wizards organization. But the start of that season will be put on hold due to a Jones fracture to the fifth metatarsal of his left foot, according to the Wizards. Singleton will have outpatient surgery to repair the fracture and he'll miss six to eight weeks.
Wizards President Ernie Grunfeld announced that forward Chris Singleton will have outpatient surgery today to repair a Jones fracture to the fifth metatarsal of his left foot. He will be out approximately six to eight weeks.

The injury occurred during a voluntary workout at Verizon Center on Tuesday. The Jones fracture was revealed following an X-Ray performed by team doctors and the surgery will be performed by Dr. Marc Connell and Dr. Ed Magur.
The Wizards have until October 31 to decide whether or not to pick up the fourth-year option on Singleton's contract that would pay him $2.4 million in 2014-15. Without the chance to show the team that he belongs on the court, in the rotation, and in the future plans of the Wizards, it could be hard to convince them to commit that money a year from now when his body of work doesn't exactly scream that he needs to be a part of this team's future. 
In his first two seasons with the Wizards, Singleton has averaged 19.1 minutes in 123 games played. He has made only 37.6 percent of his shots and 31.3 percent of his 3-point attempts. He has averaged 4.4 points and 3.4 rebounds. With a career PER of 8.1 and a career true shooting percentage of 44.5 percent, the Wizards could definitely gamble on not picking up his option and hope to re-sign him to a minimum contract if they want to keep him on the roster long term.
The point guard's unhappiness reportedly helped lead to his eventual trade request

Even Floyd Mayweather weighs in on the war of words between the two stars

The three-team deal would have also shipped Kevin Love to Denver
Ball wasn't happy about a foul call, swore at a referee and took his team off the floor

Jared Sullinger wants back in the NBA; he knows his weight will play an important part

Cleveland is one of Rose's biggest suitors, and the Irving situation could lead to an even...