Wolves' Andrei Kirilenko opts out to become unrestricted free agent
Timberwolves forward Andrei Kirilenko has opted out of his contract for 2014, and will be an unrestricted free agent.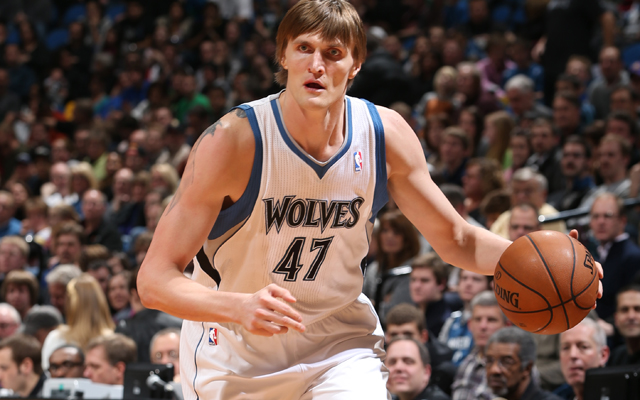 The Minneapolis Star-Tribune confirmed Saturday that Timberwolves forward Andrei Kirilenko will opt out of his $10.2 million guarantee by Minnesota for next season and become a free agent. The Wolves reportedly aren't going to go above that for AK. From the report:
Andrei Kirilenko turned down $10.2 million guaranteed for next season for the right to negotiate, at age 32, a multi-year extension with any NBA team, including the Wolves.

Kirilenko's agent, Marc Fleisher, said by text this morning that his client has decided to become a free agent.

Kirilenko had until today to make up his mind on an option year for next season and he went down to the final day before deciding from the south of France.

The Wolves still could re-sign their starting small forward from last season.

Kirilenko is seeking a three- or four-year extension because he believes this might be the last chance to negotiate the last big contract of his career.

You can bet Flip Saunders won't offer anything more than two years, and at a salary considerably less than $10 million.
So there are two questions. One, will the market bear out a high-money, multiyear deal for a 32-year-old wing player with injury issues but who was also an elite wing on both sides of the ball last season? And two, will the Wolves be willing to match it? A contender would obviously love to have Kirilenko, but it's hard to find those kinds of teams.
However, teams like Dallas and Atlanta, outlined here, will have so much cap room, they can bring in Kirilenko for eight-figures-per-year at three years with a team option for the fourth, and still be in pretty good shape 
Kirilenko could wind up being one of the players to detrmine market value in this upcoming free agency class. We ranked him second among small forwards in our free agent list Friday.
Kirilenko averaged 12.4 points, 5.7 rebounds and 2.8 assists on 51 percent shooting last season in 64 games for the Wolves. 
Show Comments
Hide Comments
It's never too early to start thinking about next year's NBA Draft

Boston took Tatum with the No. 3 pick, which they had after their trade with the 76ers

Someone in New York clearly doesn't want the Knicks to trade their prized unicorn
See who nailed it and who whiffed with our grades for every pick of the 2017 NBA Draft

Full results of all 60 picks of the 2017 NBA Draft

Highlights and lowlights, including several ways the Bulls found to lose