Wolves exploring trade, free agency to improve small forward depth
Minnesota still debating options beyond just promoting Derrick Williams after injury to Chase Budinger.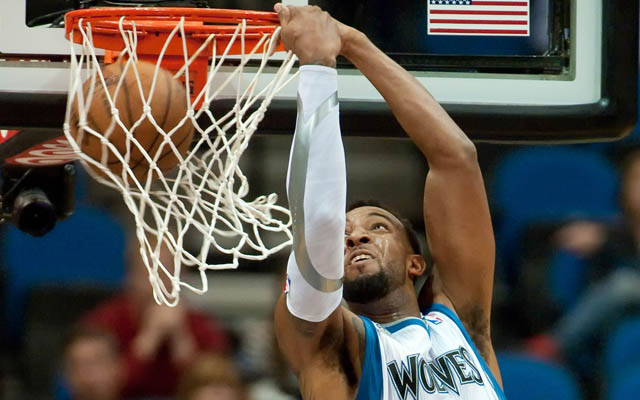 The Minnesota Timberwolves have a roster with some depth, but when Chase Budinger went down with another knee injury, it was at a critical position. The Wolves don't have great options at small forward. Kevin Martin is too small. The big question surrounds Derrick Williams, who lost significant weight this summer in an effort to get his quickness up. He's looked good in preseason, but Rick Adelman is still really unsure of what to do with the former No. 2 overall pick. 
In the meantime, they're openly shopping for some depth at wing, which could mean a trade. From the Minneapolis Star-Tribune: 
This week, after having four preseason games and a week's break to contemplate, Wolves coach Rick Adelman said he and president of basketball operations Flip Saunders are looking at all options — trade, free-agent signing, in-house promotion — to find someone who can back up Corey Brewer at small forward until Budinger returns from another knee surgery.

Does that mean he's already decided that playing slimmed-down Derrick Williams there won't work?

"No, we're trying to play him at both spots and see where we're going," Adelman said. "We're playing other people there. We're just watching. I have to make some decision about who's going to play behind Corey there. Right now, I'm really not sure how we're going there."
via Williams waits for a landing spot with Timberwolves | Star Tribune.
The trade would presumably be a minor one, aimed at acquiring a spot player. There are free agents out there, veteran ones who can come in on a min contract. They have some options.
But really, if under these conditions, Derrick Williams still can't earn the confidence of his coach, isn't this the point where he simply may not be made for this Wolves team? There are a lot of roles Williams' skillset would seem to fit under Adelman, but for whatever reason, it's not working out. 
Either way, the Wolves' roster doesn't seem to be set, but instead looks like there could be some movement this year as the Wolves attempt to stay in contention.
Show Comments
Hide Comments
Green responded that he's 'the modern day Draymond Green'

Our experts predict whether the Jazz can compete with Golden State, along with the rest of...

Breaking down key matchups as the second season reaches the conference semifinal series
Pierce's 19-season run in the NBA ended Sunday as the Clippers bowed out of the playoffs

Utah overcame its relative lack of experience with a balanced, deep and versatile roster

Our experts predict every series in the 2017 NBA playoffs