Wolves owner Glen Taylor still saying he wants Kevin Love to stay
Glen Taylor said that Minnesota won't move its superstar "without getting equal or more value back."
• 1 min read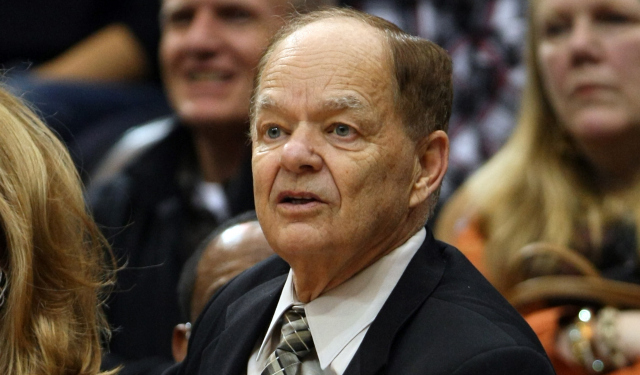 More Offseason Analysis: Coaching changes, news | Free Agency | Draft
Despite the endless chatter about trade discussions and the reports that Kevin Love has zero intention of staying with the Minnesota Timberwolves long-term, owner Glen Taylor told NBA TV that he wants his superstar to stay, via the St. Paul Pioneer Press.
"My preference is that Kevin will come to (training) camp -- and I'm sure he will -- and play with the team," Taylor said.

Love, who can opt out of his contract next July, repeatedly has said all he wants to do is win.

"I say back to Kevin, 'Well, that's all I want, too,' " Taylor said.

…

"My response is that we are going to look at everything that makes sense that would make our team better," Taylor told NBA TV, "but we are not going to move a superb player like that without getting equal or more value back."
NBA TV's Steve Smith said that the Wolves could make a playoff push, and Taylor agreed. This is questionable at best and laughable at worst in the Western Conference. Almost every team in the West has gotten better this summer, and Minnesota hasn't made any major moves. Part of that is probably because of the Love situation -- for the team to develop a new identity, the first huge domino has to fall.
We shouldn't read too much into Taylor's public comments -- what is he supposed to say, that Love is done with the Wolves and they're desperate to move him? That wouldn't be his smartest move. Minnesota is reportedly talking to the Golden State Warriors again, but their offer is not great. Even if we're assuming Love's departure is inevitable, the Wolves might have to drag this out until they're able to get a decent return. Taylor knows this as well as anyone, which is why it wouldn't make sense to say that Love is a goner.
Even Floyd Mayweather weighs in on the war of words between the two stars

The three-team deal would have also shipped Kevin Love to Denver

Ball wasn't happy about a foul call, swore at a referee and took his team off the floor
Jared Sullinger wants back in the NBA; he knows his weight will play an important part

Cleveland is one of Rose's biggest suitors, and the Irving situation could lead to an even...

Five years later and Celtics fans continue to throw shade -- Allen later deleted the comme...