Young Warriors show incredible resolve with bounce back in Game 2
The Warriors shook off their Game 1 collapse and bounced back for a big time Game 2 win.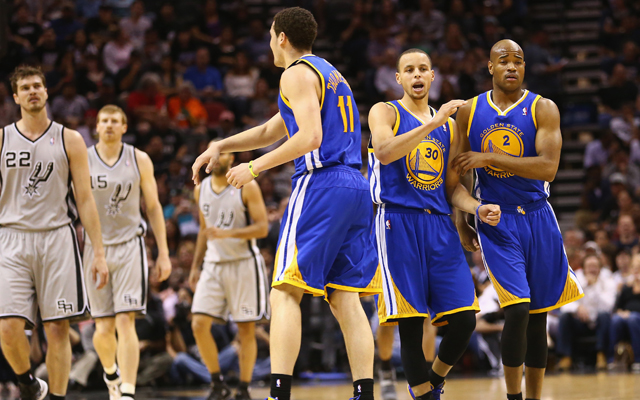 I think the Warriors won Game 2, in Game 1. 
OK, yeah, I need to explain that. 
After blowing a 16-point lead with four minutes to go in Game 1, the young Warriors had every right to be completely rattled. They just watched a 1-0 series lead slip through their fingers because of missed free throws, turnovers, bad defense and generally stupid basketball. 
More on Warriors-Spurs
Related links
But instead of wilting in overtime, the Warriors fought and forced a second overtime. And instead of caving there, they held a one-point lead with 3.9 seconds left. All that sunk them was a miscommunication on the defensive end which left Manu Ginobili wide open for a game-winner. The point was clear though: The Warriors didn't let the past shake them. They didn't dwell on the 16-point collapse. They moved on to the next play, to overtime, then the next overtime. 
And they proved they can play with the Spurs. 
So with all that in their heads, the Warriors had two options: 1) Let that Game 1 loss linger and the thoughts of woulda-coulda-shoulda carry over or 2) put it behind them and play again.
The Warriors chose the second option. 
They showed serious resolve, and impressive resiliency. Mark Jackson said after the Game 1 loss, he just went to Denny's and had a Grand Slam, settled a bet with a couple that couldn't decide if he was Mark Jackson or not, and then went on about his business. He preached (ha) moving on to his team, and he walked the walked. They put Game 1 in the rearview and focused on the new task. 
It wasn't Stephen Curry this time either for the Warriors. Curry was incredibly mediocre, shooting just 7-20 for 22 points, with four assists. He never got going in the second half (though he did hit a clutch scoop shot late), but it was backcourt buddy and Splash Brother, as they're being dubbed, Klay Thompson that picked up the ridiculous shooting responsibilities. 
In the first half, Thompson hit 7-8 from 3 and scored 29 points. He finished 8-9 from 3 for 34 points, one 3 short of typing the playoff record for 3s in a game (held by five players). Behind Thompson's barrage, the Warriors built another lead, and had a mulligan at trying to hold on to it. Could they execute, hang on to the ball and get stops this time around? 
The Spurs cut a 20-point lead to six in the fourth, but the Warriors kept coming back, kept making shots, kept getting stops. Jarrett Jack knocked in three big jumpers. Draymond Green drilled a massive momentum stopping 3. And Curry knocked down free throws to ice it. Most importantly though, the Spurs didn't make much. Manu Ginobili hoisted another ill-advised 3 that airballed, Kawhi Leonard rimmed out a great look from the corner and Tony Parker missed on a couple layups. Those shots that dropped in Game 1 to spark the comeback just weren't there in Game 2. 
The Warriors are learning though. They're growing. They survived a collapse in Game 6 against the Nuggets, and couldn't do the same in Game 1 against San Antonio. But they made the plays this time around. They hit shots, made free throws and took care of the basketball. They didn't serve anything up on a platter for the Spurs, because they're a team that will punish your mistakes. 
There's a flipside to this too, though: The Warriors have to feel a serious tinge of regret knowing they should be up 2-0 headed to Oracle Arena. They're not, and they'll happily take a split, because that's the goal anyway, but a commanding 2-0 lead was within their grasp. They can't dwell on that either. Because really, the Warriors have outplayed the Spurs twice in San Antonio. They were only rewarded with one win, but sometimes that's the way it breaks. 
The Warriors are now 1-30 in their last 31 tries in San Antonio, picking up their first win there since 1997. But they're 1-1 in their last two tries. And that's all that matters. 
Show Comments
Hide Comments
Our experts predict every series in the 2017 NBA playoffs

The series opener between Houston and San Antonio tips on Monday night

The second round series opener between the Cavs and Raps tips on Monday
How to watch the conference semifinal matchup between Golden State and Utah

Check back here for all of the Conference semifinal results from the NBA playoffs

The second round of the 2017 NBA Playoffs continues on Monday