Zach Randolph says he's willing to sacrifice money to stay in Memphis
Grizzlies All-Star Zach Randolph says he wants to retire in Memphis.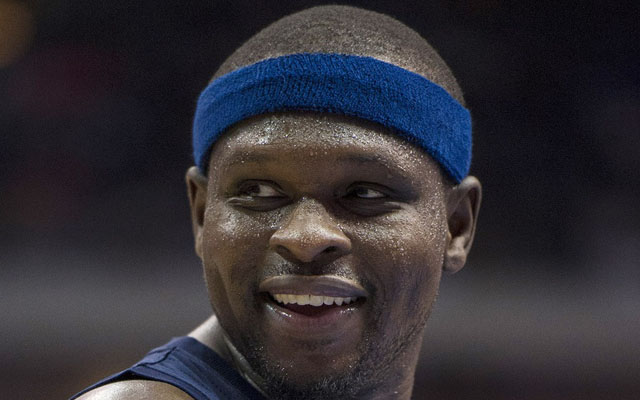 Zach Randolph is the most popular player in Grizzlies history. Marc Gasol is the native son (kind of), Mike Conley is the kid they grew up with, and Tony Allen is the Grindfather. But ZBo is the heart and soul of the team, and the player most fans identify with for his rough-and-tumble style and the way he has committed himself to the community. He has endeared himself to the city and the city to him. 
So in a year where he has a player option, the question becomes whether this marriage will last or if it will be time for Randolph to head on to different, maybe greener pastures. For his part, the All-Star says he wants to stick around and would be willing to sacrifice money to get there. From ESPN: 
Stein: How will you make the decision on what to do this summer contract-wise?

Randolph: I'd like to be here. I'd like to retire here. You never know. If I've got to make some sacrifices to be here, I would. I still can play. I can still help a team out. I want to win a championship. I've made all the money in the world. I just want to win. I don't know yet [about opting in or opting out], but Memphis is my home. If they trade me tomorrow, I'm here. I just bought a new house. My daughters go to school [in Memphis]. That's my home.
via Five questions for Zach Randolph - ESPN.
Randolph has a player option worth more than $16 million signed under the old CBA. Typically speaking, players want security on contracts at this point in their career. Offering Randolph a four-year deal at a discount ensures him more money overall and the ability to stay in Memphis. A four-year, $32 million deal would give him a payday and give the Grizzlies some financial room (which they're going to need to re-sign forward Ed Davis). 
That would pay him until he's 36 and you can't imagine Randolph playing much longer than that. Are the Grizzlies going to want $8 million on the books for a 35-year-old Randolph?
And that's where the other part of this equation comes in. There have been rumors of the Grizzlies shopping Randolph since the new ownership took over last fall. They've been cost-conscious and future-focused in that time. Sure, they would love to have Randolph back but it might have to be at a discount far greater than Randolph is willing to take. At some point, Randolph will do what he has to for his future.
In other words, there's a chance Randolph might not be in Memphis by the end of this season, much less three years from now. It's great that Randolph loves Memphis and wants to stay. It's just not up to him alone. It takes two to tango, and no one has been able to figure out what music the new front office is dancing to.
Warriors, who are not leaning on taxpayers for the arena, plan to pay back the fee after 30...

In a documentary short, Redick explains part of the reason he left the Clippers for the 76...

The Cavs are reportedly nearing a deal with Rose, but the Lakers will try to persuade him to...
The former NBA All-Star launched a successful second career overseas

Tom Thibodeau confirmed locking up Wiggins is the next step for Minnesota after a busy sum...

Rose may soon be off the market. Will he play for the Cavs, or will it be the Lakers ... or...