LOS ANGELES -- Through all the chaos -- the 3-pointers missed and made in the final seconds, Kobe Bryant's contested, game-winning attempt getting a stunning assist from Ron Artest on its way into playoff history -- one image will be forever burned into my memory.
This is the moment I will remember about Lakers 103, Suns 101, in Game 5 of the Western Conference finals Thursday night:
Steve Nash standing under the basket seconds after the buzzer, standing and encouraging his teammates at the end of a thrilling, heart-wrenching scene at Staples Center.
"Get off the court," Nash said to Channing Frye. This was before half the building had even processed what just happened -- and probably before even Artest himself had realized what he had done, which was save the season for the Lakers.
Let those words sink in. Get off the court.
This wasn't in the postgame news conference, in the locker room 10 minutes later, on the team bus or on the chartered flight. Before Artest's game-winning, series-changing, championship-defense-saving shot had come to its final resting place on the floor under the basket, Nash was already on his way back to Phoenix, where the Suns will face their next foe -- elimination -- with a 3-2 deficit in the best-of-7 series.
"Steve was saying, 'Look man, hey, it's over,' " Frye said in the locker room. " 'We're done. Get off the court. Don't dwell on it.' ... He's been in this situation before."
Victim of a lifetime's worth of playoff heartache, Nash was already on to the next one. It is why he is one of the best basketball players in the world, one of the most sympathetic and heart-wrenching figures in the sport. The only MVP never to get to the Finals, all the blood and broken bones and heart-stabbing daggers from the San Antonio Spurs over the years, and now this.
Get ... off ... the ... court.
"Everything's OK," Nash said in the interview room. " ... Maybe we deserved this game, and maybe we didn't. We lost, and they held home court. We'll go back and do the same and we'll come back here for Game 7."
In a series of conflicting styles, the last possession with 3.5 seconds left couldn't possibly have presented a more thorough contrast of playoff fates colliding. It was a basketball accident, a six-man pileup of short- and long-term history, no other way to describe it.
There was Bryant, accepting the inbounds pass near the sideline, in front of the Hollywood seats at Staples, and rising up to take aim at what would've been his seventh game-winning shot this season. Another brushstroke in a career of brilliance, another shot for the ages from a basketball player born for moments like this.
He uncoiled like a python, and whenever he rises up with a playoff game on the line with that body language, I see No. 23 in red and black -- because no one I've ever seen has resembled him as much as Bryant, or maybe ever will. Trying to stop him were Nash, on the losing end of so many of these, and Grant Hill, who once was the "Next Michael Jordan," but now at 37 was reaching his arms into the kind of playoff moment he had never touched before.
The fourth, fifth and sixth participants brought their own karma to the moment. Jason Richardson had just tied the game with a banked 3-pointer on the Suns' third opportunity of their final possession, thanks to an offensive rebound by Frye -- who had infamously started the series 1 for 20 from the field. J-Rich watched Bryant's shot sputter toward the rim and misjudged it; he thought it would make it there. It didn't.
And so finally, there was Artest, whose star-crossed season with the Lakers had taken a terrible turn on the previous possession when he missed a foul-line jumper, got the rebound, and missed an ill-advised 3-pointer early in the shot clock with the Lakers clinging to a 101-98 lead.
After those bonehead shots, which made Artest 1 for 8 from the field, Phil Jackson admitted, "I don't know why I left him in the game. I actually questioned it myself when I put him out there on the floor, and there he was. Made the key play."
Yes, he did. Ron Artest did -- a lost cause after the brawl at The Palace, a symbol of what was wrong with the NBA. His addition to the Lakers as a free agent last summer gave him one more chance to reclaim his basketball career, to cleanse his reputation. He was brought to the Lakers for toughness and defense, at the risk of his personality not fitting into the cult that is the Lakers.
And yet no other sequence of events in the final seconds could've better captured Artest's erratic existence as a basketball player. This was him. It's who he has always been.
They could play millions of basketball games with tens of millions of players, and there will never be a confluence of karma like this. When some machinery was rumbling in Staples Center during Artest's postgame press conference, and he asked, "Is that an earthquake or something?" -- well, who wouldn't have believed it?
I'll believe anything now.
"There's certain things that happen that you can't plan for," Derek Fisher said. "Sometimes the ball bounces funny, or a guy shoots an air ball and that changes your ability to get a rebound."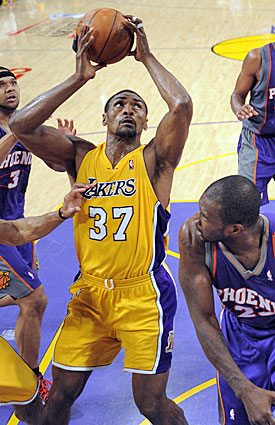 Bryant's shot never made it to the rim because of Hill, who has finally gotten past the first round for the first time in his 15-year career. "He stuck his hand in there at the last second and forced me to double-pump," Bryant said. "And once I released the ball, I saw Ron sneaking in. I just hoped he got it off in time."
As Bryant's shot floated harmlessly short, Artest noticed from the opposite wing, where Jackson had probably put him so he would be as far away from the ball as possible. But Artest had the instincts to swoop in rather than stand and watch, as so many have stood and watched Bryant's shots soar through the night with a playoff game on the line.
"I thought Kobe got fouled on the shot," Artest said. "So I just kind of figured it was going to be short. It looked like he got hit on his arm a little bit, so I figured it was going to be short. And it was a little short."
It was the only chance this game had of going to overtime. A standard miss off the rim, and the Suns probably would've been in position to get the rebound. "Worst-case scenario," Frye said.
As Artest darted toward the rim, throwing his weight around, Richardson got caught trying to find the player he was supposed to be boxing out. But Artest's path to the rim changed with the flight of the ball, and Richardson didn't see it in time -- didn't get enough body on Artest.
"When I turned, he was already heading over there," Richardson said. "Once the ball was in the air, I thought the ball was going to hit the rim. But it came up short."
The Suns had come back from an 18-point deficit in the third quarter, an 11-point deficit in the fourth. Artest had missed those two bad shots -- the crowd at Staples shouting in unison, "No!" -- and Richardson had made his, and yet it came down to this:
An air ball from the most clutch player in the game, forced by a player drafted in 1994, followed by a missed boxout by the guy who had just tied the game with a 3-pointer off the backboard.
Finally, there was Artest, right on cue -- his strange basketball life meeting playoff history under the basket at Staples. Almost benched by Jackson for the final possession, his basketball career in ruins six years ago, he caught the ball and put it in before the buzzer sounded and made me afraid of what I might see next.
"It's just amazing when you go through all this preparation and all this stuff, and it just comes down to fundamental things," Bryant said. "They wound up making a 3-pointer because we didn't box out, and they end up losing the game because they didn't box out."
In the Suns locker room, where Nash had carried his message about not dwelling on this, about not giving up, Amar'e Stoudemire sat in the corner with an ice pack around each knee and ankle, his head in his hands.
"I didn't think it was actually happening," Stoudemire said.
Alvin Gentry, who, yes, had vomited on the bench during the game, was somehow able to smile in the hallway outside as he recounted his tale of eating bad avocadoes for lunch. Team president Steve Kerr and senior VP David Griffin sat in the visiting coaches' office, running all of this back in their minds. They can do that. The players can't.
Down the hall in the interview room, Bryant was asked if this was the kind of outcome that could demoralize a team.
"Not that team," Bryant said. "I think their team will bounce right back. They're a loosey-goosey bunch. They'll just go out and play. I don't think that will bother than at all."
They'll play Game 6 on Saturday night in Phoenix, and the one thing we know is that nothing like this could possibly happen again.
Right?