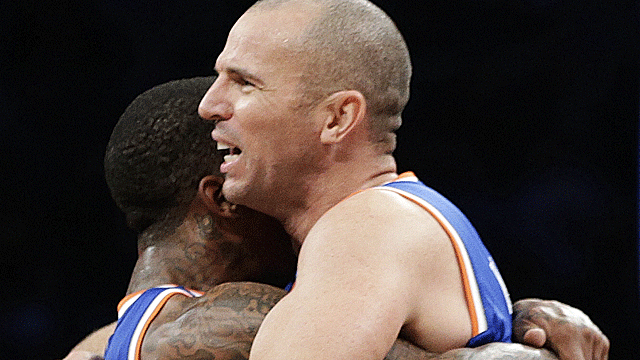 NEW YORK -- As the horn sounded and the curtain went down on another episode of basketball theater between the Knicks and Nets, a 39-year-old man stood near the 3-point line and drove his fist toward the herring bone-patterned floor at the Barclays Center. And in the locker room afterward, it was Jason Kidd who had a question he wanted answered.
"Did I look like Tiger Woods?" Kidd asked. "I've been working on that on the golf course."
He's been working on some other things, too.
Even as he walked out of the showers and into the visiting locker room Tuesday night, Kidd was still directing traffic -- still making plays. Confronted by a crowd of media that filled two-thirds of the room -- all waiting for Kidd, Carmelo Anthony or both -- Kidd made a U-turn and went back to the shower area.
"C'mon, Melo!" he shouted. "Hurry up!"
Kidd has been around enough NBA locker rooms to know what we with the recorders and notebooks want, and to know that two interview subjects at the same time are better for crowd control and the division of labor. There was Kidd, still calling plays after 18 years -- in a white towel, about an hour after driving a 3-point dagger straight through his former team.
"I feel that I have a lot to give to the game," Kidd said after his 3-pointer with 24.1 seconds left delivered a 100-97 victory against his former Nets in Brooklyn. "And it's fun to be around these guys."
Believe me, the pleasure is all theirs.
Across the locker room, Tyson Chandler was offering up a slightly different version of the circumstances surrounding Kidd's decision to join the Knicks than the one he gave last week in Miami, when New York (16-5) beat the defending champion Heat by 20 without Anthony. Then, Chandler had spoken of how Kidd -- "the light-skinned brother," he called him -- joining him in New York to chase a championship felt like "Dallas all over again."
"The opportunity is here," Chandler remembered telling his former Dallas teammate when decision time was approaching in July.
What Chandler meant was, the opportunity was in New York for Kidd. But the impact Kidd has made on the Knicks after the first quarter of this season suggests otherwise. The opportunity was for the Knicks to be touched and transformed by Kidd, not the other way around.
"We can make a run at this thing," Chandler said.
That's Kidd's influence talking. Kidd's stature and know-how and resume.
This was a revenge game for the Knicks, in a rivalry that had never really felt like one before. Separated by only a few subway stops now, the Knicks and Nets last met on Nov. 26 in the make-up game for the Hurricane Sandy postponement. With Kidd out of the lineup with an injury, the Nets beat the Knicks 96-89 behind a spirited home crowd pulling for the home team. It was the kind of home-court advantage the Nets had rarely enjoyed since Kidd left Jersey.
Oh, how things were different Tuesday night in Round 2. For one, Kidd played -- which, with 24 seconds on the clock in a tie game, wound up mattering a great deal. Also, the sellout crowd of 17,732 at Barclays had the sound of a 60-40 pro-Knicks crowd. At least.
"I thought the chant of MVP was very deep for Melo," Kidd said, "which, on the road, is spectacular."
As a Net, Kidd used to get so much joy out of beating and demoralizing the Knicks at Madison Square Garden. Toward the end in Jersey, he played to crickets in East Rutherford -- a helpless feeling that stayed with him.
"It was quiet," Kidd said. "But I think it's great for the city to have two teams, to have two good teams. So the rivalry will be around for a long time."
Spoken like an old point guard who has been around longer than most, who has adapted his game and swallowed some pride and found a way to not only instruct and inspire, but to also affect winning on the floor in tangible ways. And when it came time for Anthony -- whose MVP candidacy is in full force, by the way -- to get double-teamed in the final minute, he passed out of it to Raymond Felton despite his 45 points and God-given right as the anointed center of the Knicks' universe to take the last shot any time he wants.
That is when Kidd's craftiness and fearlessness, his realization that to stay in the NBA he'd need a jump shot, paid off for him and for the Knicks. Somehow, the fact that Kidd missed the free throw resulting from his veteran (or questionable, depending on your perspective) tactic in drawing a foul on Jerry Stackhouse didn't detract from the moment.
"When they doubled Melo, we had practiced that somebody's gonna get a wide-open look, and Ray made a great pass," Kidd said. "I talked to Ray about it a little bit and told him, 'If there's any trouble, I'll be open.'"
He was. And it was the tireless work that he started putting in during his next-to-last full season in Jersey with shooting coach Bob Thate that came through for him in a moment so clutch that Kidd couldn't help but break out his Tiger fist-pump when it was over.
"That might be the biggest excitement or the biggest celebration that you'll get out of me," Kidd said.
His teammates should be the ones celebrating, because Kidd's influence on the Knicks has been surreal. They have the best record in the East heading into Thursday night's home game against the utterly dysfunctional Lakers at Madison Square Garden, and how they're winning can be traced directly to one of the most natural leaders and winners who has ever played.
Think about it. Kidd can't guard anyone anymore, yet his understanding of angles and team defense has contributed to the Knicks being one of the stingiest defensive teams in the league. He can't beat anyone off the dribble, either, yet his presence on the practice floor and in the fray in crucial, late-game moments has gotten the ball moving and pulled the Knicks out of their former Melo-centric ways. Nowhere has Kidd's influence been more profound than in the way it has struck Anthony's game.
Anthony has built a nine-year reputation as a prolific scorer who couldn't win, whose high-post game and mastery of isolation made him prone to offense-killing spats of heroism. Enter Kidd, who has the clout, resume and yes, still the ability to promise Anthony he'll get the ball without having to fight for it -- and do it with the kind of credibility that Anthony can trust.
"I just try to make the game easy," Kidd said. "With Melo, I've been working with him every day, telling him that he doesn't have to fight to get the ball. Just relax."
It reminds Kidd of his time with a certain German scoring machine named Dirk Nowitzki, to whom Kidd used to say, "Dirk, you don't have to fight to get the ball. I'll get you the ball."
Kidd made six 3-pointers Tuesday night, giving him 1,912 in his glorious career -- third-most of anyone who's ever played. But for 47 minutes, 36 seconds, he made sure Anthony got the ball when he needed it without having to fight for it. That's smart. That's what was needed.
And in the end, with only those 24 seconds left and the most important shot of the game about to float toward the rim, Kidd was there to take it -- and make it. His leadership and reassurance of Anthony, his long hours in the gym with a shooting coach back in Jersey, his absolute refusal to be escorted out of basketball on anyone's terms but his -- it all came together with a 3-pointer and then a fist pump straight into the court at Barclays.
When Kidd was finished directing traffic in the locker room and having his own questions answered, he was asked if there as any extra emotion with this one, the 1,332nd regular-season game of his career. It had come, after all, against his former team in its new basketball palace in Brooklyn -- and on Kidd's shooting stroke, right through the heart of this wonderful new basketball rivalry for the city.
"Nah," Kidd said. "I'm too old for that."
Too old for that, maybe. But not for this. Not for basketball, and certainly not for winning.