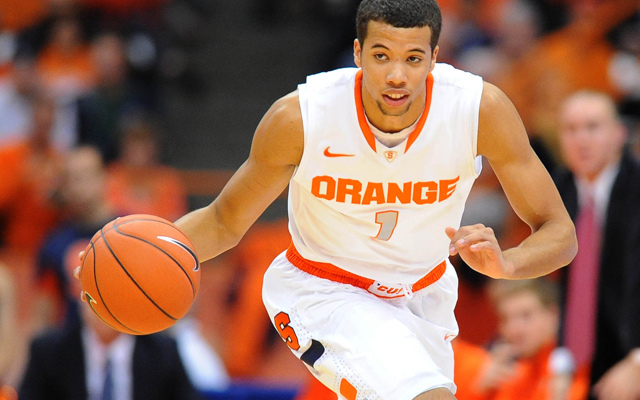 We're more than a month into the college basketball eason and that means we've had a chance to see most of the freshmen in a college setting.
More on 2013 NBA Draft
Related links
It also means there are plenty of changes from our preseason mock draft, starting with Syracuse sophomore point guard Michael Carter-Williams and Oklahoma State freshman guard Marcus Smart making significant jumps. We love UCLA freshman wing Shabazz Muhammad, but just not as much as others when it comes to his NBA draft stock.
We've also got plenty of new names that have earned a spot -- including those from outside the United States.
The top pick is as wide-open as ever, as we chronicled earlier in December after seeing the majority of these guys play in-person -- and also talking to more than 35 NBA executives in our travels. Cody Zeller remains our choice for the No. 1 pick come June, but he has no shortage of competition.
It's a weak draft, especially at the top -- which is disappointing. However, the good news is there's quality depth and not much disparity.
Here's our latest NBA Mock Draft:
2012-13 NBA Mock Draft
#
Round 1
Previous
#
Round 2
Previous
1
Cody Zeller, 7-0, 240, C, Soph.,
Indiana
1
31
Gorgui Dieng, 6-11, 245, C, Jr.,
Louisville
32
2
Nerlens Noel, 6-10, 228, C, Fr.,
Kentucky
2
32
Pierre Jackson, 5-10, 180, PG, Sr.,
Baylor
NR
3
Alex Poythress, 6-7, 239, PF, Fr.,
Kentucky
5
33
Jamaal Franklin, 6-5, 195, SG, Jr.,
San Diego State
30
4
Ben McLemore, 6-5, 195, SG, Fr.,
Kansas
15
34
Jackie Carmichael, 6-9, 240, PF, Sr.,
Illinois State
NR
5
Alex Len, 7-1, 225, C, Soph.,
Maryland
11
35
Myck Kabongo, 6-1, 180, PG, Soph.,
Texas
53
6
Rudy Gobert, 7-0, 230, PF/C, 20,
France
4
36
Sergey Karasev, 6-7, 205, SF, 19,
Russia
56
7
Anthony Bennett, 6-8, 240, PF, Fr.,
UNLV
17
37
Deshaun Thomas, 6-7, 215, SF/PF,
Jr., Ohio State
35
8
Shabazz Muhammad, 6-6, 225, SG, Fr.,
UCLA
6
38
Andre Roberson, 6-7, 210, BF, Jr.,
Colorado
27
9
Michael Carter-Williams, 6-6, 185, PG/SG,
Soph., Syracuse
33
39
Nemanja Nedovic, 6-4, 190, PG,
21, Serbia
NR
10
Archie Goodwin, 6-4, 198, SG, Fr.,
Kentucky
12
40
Patric Young, 6-9, 249, PF/C, Jr.,
Florida
36
11
Isaiah Austin, 7-1, 220, C, Fr.,
Baylor
7
41
Alex Abrines, 6-5, 190, SG, 19,
Spain
23
12
Mason Plumlee, 6-10, 235, PF, Sr.,
Duke
24
42
Michael Snaer, 6-5, 202, SG, Sr.,
Florida State
46
13
James Michael McAdoo, 6-9, 230, PF, Soph.,
North Carolina
3
43
Brandon Paul, 6-4, 200, SG, Sr.,
Illinois
NR
14
Tony Mitchell, 6-8, 235, PF, Soph.,
North Texas
8
44
Ray McCallum, 6-2, 185, PG, Jr.,
Detroit
NR
15
Dario Saric, 6-10, 225, SF, 20,
Croatia
14
45
Erik Murphy, 6-10, 238, PF, Sr.,
Florida
52
16
Otto Porter, 6-8, 205, SF, Soph.,
Georgetown
18
46
Tim Hardaway Jr., 6-6, 185, SG, Jr.,
Michigan
NR
17
C.J. McCollum, 6-3, 185, SG, Sr.,
Lehigh
26
47
Rodney Williams, 6-7, 200, SF, Sr.,
Minnesota
NR
18
Marcus Smart, 6-4, 225, SG/PG, Fr.,
Oklahoma State
47
48
Erick Green, 6-3, 185, PG, Sr.,
Virginia Tech
NR
19
B.J. Young, 6-3, 180, SG/PG, Soph.,
Arkansas
20
49
Mike Moser, 6-8, 210, PF, Jr.,
UNLV
43
20
Jeff Withey, 7-0, 235, C, Sr.,
Kansas
21
50
Christian Watford, 6-9, 232, PF/SF,
Sr., Indiana
40
21
Steven Adams, 7-0, 250, C, Fr.,
Pittsburgh
13
51
Alex Oriakhi, 6-9, 255, PF, Sr.,
Missouri
58
22
Willie Cauley-Stein, 7-0, 220, C, Fr.,
Kentucky
22
52
Elias Harris, 6-8, 240, PF, Sr.,
Gonzaga
NR
23
Le'Bryan Nash, 6-7, 230, SF, Soph.,
Oklahoma State
16
53
Will Clyburn, 6-7, 205, SF, Sr.,
Iowa State
NR
24
Isaiah Canaan, 6-1, 195, PG/SG, Sr.,
Murray State
25
54
Augusto Lima, 6-10, 230, PF, 21,
Brazil
NR
25
C.J. Leslie, 6-9, 200, PF, Jr.,
N.C. State
19
55
Matthew Dellavedova, 6-4, 190, PG,
Sr., St. Mary's
NR
26
Doug McDermott, 6-8, 225, PF, Jr.,
Creighton
38
56
Kenny Boynton, 6-2, 1890, SG, Sr.,
Florida
NR
27
Trey Burke, 6-0, 190, PG, Soph.,
Michigan
39
57
Elijah Johnson, 6-4, 195, PG, Sr.,
Kansas
NR
28
Phil Pressey, 5-11, 175, PG, Jr.,
Missouri
44
58
Colton Iverson, 6-10, 260, C, Sr.,
Colorado State
NR
29
Lorenzo Brown, 6-5, 185, PG, Jr.,
N.C. State
10
59
Trevor Mbakwe, 6-8, 245, PF, Sr.,
Minnesota
45
30
Adonis Thomas, 6-7, 240, SF, Soph.,
Memphis
9
60
Artem Pustovyi, 7-2, 215, C, 20,
Ukraine
NR