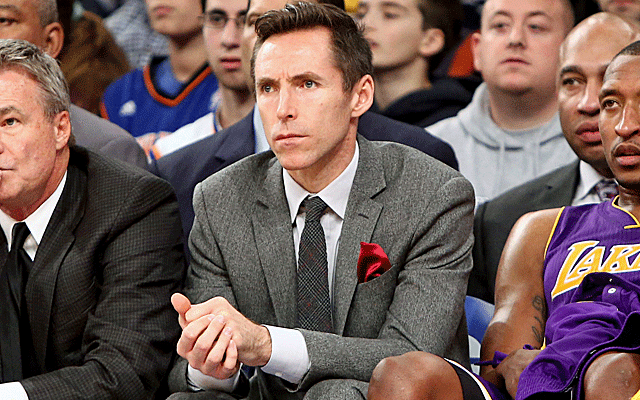 NEW YORK -- Kobe Bryant climbed gingerly down from the interview table, muttering to himself about his back being "all jacked up." It's no wonder, with the weight of the Lakers squarely on his shoulders.
He'd been flat on his back during timeouts with a heat pack trying to soothe the spasms. This is what happens when a 34-year-old tries to be Steve Nash. Imagine how Nash himself will feel once he comes back from a broken bone in his leg. Nash, after all, is 38.
Dwight Howard is only 27, and he's not doing so hot, either. Pau Gasol, 32, could only watch the Knicks have their way with the Lakers from the bench with his sore knees.
"It's kind of a perfect storm of, 'Look at this roster, how great it should be, and why aren't they great?'" Nash said in the locker room after the Knicks beat the Lakers 116-107 on Thursday night. "Nothing's gone our way for us. But if we keep battling, maybe this adversity will pay off a lot for us later in the year."
Nash expects to be able to practice next week and actually play in a game sometime after that. He'll do that in a system and for a coach he knows like the back of his hand, but with teammates he's logged a grand total of a game-and-a-half with -- and that was under a different coach with a different style.
"I hope I can help when I come back," Nash said.
You can only sell success or hope in the NBA, and at 9-14 with four straight losses, hope is all the Lakers have. When Jim Buss impetuously decided five games was enough for Mike Brown, the Lakers had time. And now, they are running out of that, too.
"It's not as bleak as it seems," said Brown's replacement, Mike D'Antoni. "But we've got to get better."
The basketball gods couldn't have arranged a more unflattering prism through which to view the ugliness that is the Lakers on Thursday night. Here was D'Antoni, the mocking, sing-songy chants of his name raining down on him at Madison Square Garden, back in the building he fled last March when his message was no longer getting through. Up and down the court went Carmelo Anthony, making shot after uncontested shot and attacking the unprotected rim with abandon. He had 22 of the Knicks' 41 points in the first quarter, missing only one of his nine shots and delivering a cold plate of comeuppance to the coach who favored an undrafted point guard from Harvard over him.
This was a blistering showcase from Melo, served up with the kind of gusto and self-confidence that Anthony never was able to find when D'Antoni roamed the other end of the Garden sideline. The Lakers and D'Antoni's defense would never stop him on this night. Only a third-quarter spill when Anthony turned his left ankle would put an end to this vicious display of angry scoring -- the kind of teeth-gritting, vindictive display you see in basketball from only two human beings: Carmelo Anthony and Kobe Bryant.
"Last year was very tough for him because he was criticized a lot for shooting and playing the way he likes to play," Bryant said. "And then the whole Linsanity thing happened and everybody said, 'Well, they're better off without Melo,' and all this nonsense. You guys are guilty of it. You guys really put the hammer on him. And as a result, he kind of got a little gun shy and a little self-conscious about things. And I just asked him, 'What the hell are you doing? To hell with them; you have to do what you do best.' And I think the organization put pieces around him that allowed him to do that. And now, you guys all celebrate him for doing what he's always done. It's funny. God bless you guys."
It was a sliver of humor from Bryant during desperate times for the Lakers, who hit rock bottom again after a listless loss in Cleveland on Tuesday. The good and bad thing about the NBA is that there's always a game tomorrow, and for the Lakers, that's in Washington against the lowly Wizards Friday night.
"At this point, I wish we had the Washington Generals on our schedule," Bryant said.
It's "not fair" to judge the Lakers or D'Antoni without Nash and Gasol, and with Howard still trying to regain his form after returning from back surgery, Bryant said. But what's fair to wonder is how Nash and Gasol are going to help the Lakers' defense, which is disjointed, disconnected and utterly uninspired. And also, how long Bryant can continue to fruitlessly carry the load in his 17th season, with a jacked-up back and little help.
"What I'll try to do is try to do more by doing less," Bryant said. "Just try to be a point guard in a sense and try to draw some more attention and try to get guys some open looks. Hopefully, they knock them down and we get the ball moving a little bit and push the tempo a little bit."
Wondering where the Lakers are going to find point-guard help until Nash emerges as the Lakers' savior? There's your answer. Bryant and the Lakers are searching far and wide for those.
After the Cleveland loss, Bryant spoke with Magic Johnson about topics he wouldn't divulge. When he goes to the immortals like Magic or Michael Jordan for pearls of wisdom, he said, "That's sacred. That's going to the mountaintop and talking to the Buddhas."
On the Lakers' day off in New York Wednesday, Bryant brought his family to see the Rockettes at Radio City, and strolled through Manhattan to get away. D'Antoni stayed in with his wife and son and ate a home-cooked meal. Howard went uptown, to the Apollo Theater in Harlem, and rubbed the Tree of Hope.
As reporters entered the visiting locker room Thursday night, none other than the Rev. Jesse Jackson was seated next to Bryant, chatting him up. Jackson made the rounds, holding court with Howard and Metta World Peace.
Wait, did the Lakers hire Phil Jackson, after all, and I missed it?
All this soul-searching resulted in a 26-point deficit in the second quarter as the Knicks ambushed the Lakers with 58 points in the first 17 minutes. The Lakers can try to talk themselves into anything they want, but it was a deficit they stemmed only because Anthony was in the locker room getting his ankle examined for the final quarter-and-a-half instead of terrorizing D'Antoni. His barrage stopping at 30 points in 23 minutes robbed us of the kind of scoring masterpiece we've seen so many times from Bryant, including his arena-record 61-point game in 2009. This time, Bryant wasn't here to put on a show, but to sink deeper into a state of embarrassment.
"It's been a crazy year," Bryant said. "Stability has been the thing that has been missing. We had Mike Brown with a new system and then he's gone, and then Bernie [Bickerstaff] is in with no system and then it's D'Antoni and we don't know if he's bringing a whole new coaching staff. It's been crazy.
"The spirit is just not there," he said. "You're not playing with any type of enthusiasm, and a lot of that has to do with uncertainty and a lot of that has to do with the stability that I was just talking about. It'll come."
On one hand, it's fool's gold to think that Nash will be able to step in whenever he comes back and fix it all. Nash won't slow down Tony Parker or Chris Paul or Russell Westbrook, and he's not going to fix the defensive rotations -- or lack thereof -- that Howard was again (correctly) harping on Thursday morning after the Lakers' shootaround at the New York Athletic Club on Central Park South.
"We have to help each other," Howard said. "Just because I'm a good defensive player doesn't mean that I can do it all by myself. Everybody has to help on defense. You can't just expect me to be everywhere at all times."
But it's also true that Nash, even at 38, will help the defense by helping the offense. He will give Howard, who wanders aimlessly on the offensive end, a purpose as an unguardable finisher on pick-and-rolls and lobs. Better shots will lead to more makes, which will lead to fewer runouts for the opponent. As D'Antoni proved last year with Jeremy Lin, his way can generate megawatts of success almost overnight.
If you don't think a point guard matters in D'Antoni's offense, look at the Knicks team that beat the Lakers the last time they were here in February: Lin scored 38 at the height of Linsanity, and the Knicks beat a Lakers team that went on to win 41 games in the lockout-shortened season with Bill Walker and Jared Jeffries in the starting lineup and Mike Bibby coming off the bench. Think about that. Lin didn't need a training camp or regular practice schedule to do that, and he's not even Nash. Not even close.
The question isn't whether Nash will help. He indisputably will. The question is whether the Lakers have more problems than he can fix, and also, whether they're running out of time and whether their point guard by default, the 34-year-old Bryant, can hold up under the brunt of it all. Jacked-up back and all, Bryant logged 44 minutes Thursday night and scored 31 points, which was only good enough to drop the Lakers to 1-10 when he scores 30 or more.
"If I come back and we take off, by no means am I the savior," Nash said. "And if we struggle, it's not going to be on me. It's a team sport, and we've all got to work. If people want to judge us when I come back, that's fine. I'm not bothered by it. I just want to focus on trying to help the team as much as I can and let the chips fall where they may."
This was perhaps as bad as the Lakers are going to look, considering the contrast to a Knicks team rolling at 17-5, seemingly repudiating everything D'Antoni is about by improving to 35-11 and 20-1 at home since Mike Woodson took his job.
"We're treading water," Nash said. "We're doing our best to find that little bit of understanding and connectivity. And hopefully we'll find that soon, because we're losing ground."
At least he seems to know what he's getting himself into.