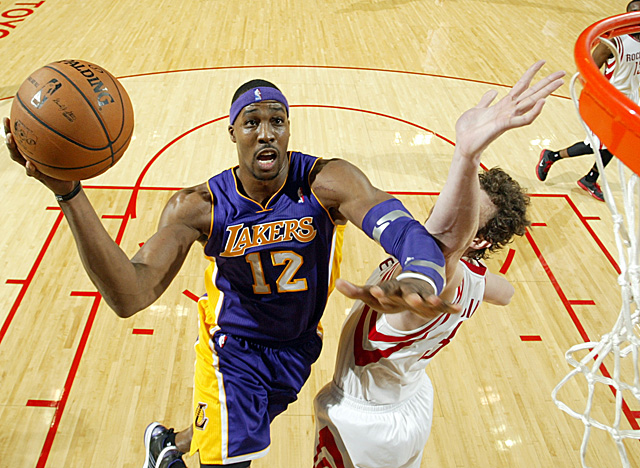 The story that consumed us for months, Dwight Howard's clumsy escape from Orlando, has had time to create ripple effects that span the NBA. In short, an unsightly blemish on the entire basketball industry has become a Dwightmare for none other than Dwight himself.
The smiling, talented, likeable Howard somehow managed to destroy his image last season on a level not seen since LeBron James left Cleveland. The deconstruction of Dwight, dragging on for months through the Magic's stubbornness but also due to Howard's indecision, was worse than LeBron's exit on some levels.
But once Howard finally landed in Los Angeles, the opportunity was there for him to rebuild. James, after all, managed to emerge from the darkness of his nationally televised "Decision" to take his talents to South Beach. He won back fans by winning a championship and by doing it without such arrogance. In the end, Howard was traded -- and not to his first choice. And as long as it took to damage his Q rating, the opportunity was there for Howard to rehabilitate it in Hollywood.
More on NBA
Analysis

Related links
More NBA coverage
The problem, as Howard has learned, is that you can't script a superstar's arrival in supposedly greener pastures any better than you can script the hostage crisis that unfolds on the way out of town -- whether that town is Orlando, Cleveland or in the case of Carmelo Anthony, Denver.
Look at Anthony. He arrived in New York to a savior's welcome, only to learn that his ego and shot selection had to mesh with the star who got there first, Amar'e Stoudemire -- not to mention a coach who didn't believe in hero ball and an undrafted point guard from Harvard who came out of nowhere and made people doubt whether Anthony was all he was cracked up to be. Only now, after running off both Mike D'Antoni and Jeremy Lin, has Anthony begun to thrive in his new home -- in what Kobe Bryant on Thursday night called "an environment where they celebrate and encourage him to be who he is."
Which brings us back to Howard, who is very much still stuck in limbo, to say the least. Howard only got half his wish; he escaped Orlando, but did not get to team up with the point guard and city he believed were the best fits for him, Deron Williams and Brooklyn. Instead, he got Steve Nash and LA, the best of consolation prizes if not for the broken leg that has shelved Nash for all but 50 minutes of this miserable season.
Add to it the Lakers' coaching change and the fact that Howard came back sooner than seemed humanly possible from back surgery and is still working to get his conditioning, explosiveness and mobility back, and you have the perfect storm for what can go wrong when a superstar free-agent-to-be wants out and gets at least part of his wish.
"I've been out for six months and you guys expect me to go from not playing for six months and having back surgery to coming out and being high-flying and doing all these things," Howard said Thursday. "I'm not there. I'm not in terrific shape and it takes a while. You try not playing for six months and having back surgery. It's not something easy, so I'm still working through that."
This, at the Lakers' shootaround on Central Park South before getting schooled by the Knicks, was a window into how miserable Howard is with the Lakers. Nobody was accusing him of loafing, of not being resilient enough. Nobody was insinuating anything, but Howard took it that way.
"I wasn't supposed to be playing until January and I'm playing now," Howard said. "What do you expect?"
You watch the Lakers without 40 percent of their starting lineup in the absence of Nash and Pau Gasol, and you understand why they're struggling. You watch Howard not get to the rim to even contest shots he used to swat into the fifth row, and it's obvious he's not there yet, physically. But something else jumps out at you the way Howard's freakish athletic ability used to: While LA may be nicer than Orlando for a variety of reasons, Howard's basketball surroundings are not.
This, apparently, is what happens when you plop a three-time NBA Defensive Player of the Year -- the most potent defensive force in the game -- in the middle of a team with no defensive scheme or identity. You get layup drills, finger-pointing and discontent. And you realize that as much as Howard wanted to flee Orlando, perhaps nobody -- not even Howard himself -- realized all that he was fleeing.
Say what you want about the talent the Magic put around Howard, but there, he was surrounded by shooters and specialists who made the game easier for him -- from Jason Richardson to Ryan Anderson to J.J. Redick. On the other side of the floor, without the established defensive culture and coaching of Stan Van Gundy, Howard looks lost. In Orlando, he rarely had to look over his shoulder and wonder whether a teammate was rotating over to cover for him when he ventured to contest or block a shot. It was second nature. It takes years to build habits like these, to create a defensive identity that wins.
"I can't contest a shot and get the rebound and block out my man," Howard said. "All that stuff, it takes a whole team to do that. If people don't understand that, that's not on me. We have to do it as a team. ... We have to play defense, and that's something that you just can't talk about."
So in the wide-ranging fallout from the past three superstar power plays -- those of LeBron, Carmelo and Dwight -- the landscape looks like this: James suffered through some tough times, but got his championship in Year 2 with the Heat. Anthony, notwithstanding a sprained ankle suffered in a nasty spill sustained while eviscerating the Lakers on Thursday, has found winning and happiness. Williams didn't get Howard in Brooklyn, but he got Joe Johnson and complete control over a team that has reinvented itself and, when Brook Lopez is healthy, looks like a top-five team in the East.
Howard? He has just completed a demoralizing first quarter of his first season with a new team, and couldn't be more frustrated. It's par for the course, you might say. So as the basketball world waits to see if things will turn around for Howard in LA, here's a look back at the first six weeks of the 2012-13 regular season in our Quarterly Report:
MVP: Kevin Durant, Thunder
The defending Western Conference champs haven't missed a beat in the wake of the James Harden trade, and Kevin Durant's production and leadership are the biggest reasons for it. LeBron James is playing off the charts as usual, and he remains the game's best all-around player. But the team aspect of his MVP case doesn't measure up to Durant's through the first quarter of the season. Bryant continues to amaze at 34, with statistical production that doesn't seem humanly possible. But as we've already covered, his team stinks.
MVP dark horse: Carmelo Anthony, Knicks
We must remember that with every MVP candidacy must come a good storyline; whether that's right, wrong or irrelevant, that's the way it goes. And by leading the Knicks to the best start in the East with a game that has expanded well beyond isolation scoring, Anthony is the undisputed early leader of the MVP narrative. In some cases -- especially in New York -- the narrative can overwhelm sheer numbers and other facts. Melo's coach, Mike Woodson, respected teammates Tyson Chandler and Jason Kidd, and pal Bryant already are feverishly beating the drums of his MVP candidacy. Get used to it.
Rookie of the year: Damian Lillard, Trail Blazers
Rookie of the Month for November, Damian Lillard leads all first-year players in scoring (18.4 points per game), minutes (37.8) and assists (6.4). There's nobody close in terms of overall impact.
Rookie dark horse: Anthony Davis, Hornets
Anthony Davis, the No. 1 pick, still must be reckoned with and could revive his candidacy once he gets back on the floor after missing 13 of the Hornets' first 20 games.
Biggest surprise: Golden State Warriors
Yes, interesting, competent basketball has returned to the Bay Area. It certainly helps that Stephen Curry's ankles are holding up, but the biggest difference in these Dubs is that they've adopted their coach's confidence and swagger. Woodson has the early lead, but Mark Jackson is shimmy-shaking his way into the Coach of the Year conversation. Jackson has raised Golden State's effort and effectiveness on the defensive end and, more important, transformed them from a poor rebounding team to the best in the league on the defensive boards with a defensive rebounding rate of more than 75 percent. Going into Miami and beating the Heat on Wednesday night was impressive. If Andrew Bogut makes it back onto the floor any time soon, this Warriors team will be even more dangerous -- and more fun to watch.
Biggest letdown (other than Lakers): Toronto Raptors
What, you weren't expecting the Raptors to be title contenders? Neither was I. But they've certainly gone sideways in their plan to climb back into contention. Last season was a year for coach Dwane Casey to try to change the culture to one where defense was not only emphasized, but also executed. And he had to do that with a lack of defensive-minded players, virtually no training camp and limited practice time due to the lockout-compressed schedule. A year later, the Raptors remain among the worst in the league in defensive efficiency, defensive rebounding rate, opponent field-goal percentage and opponent 3-point percentage -- pretty much every category that correlates with defense. So the pressure is mounting on Bryan Colangelo, who summoned his senior advisor, Wayne Embry, to Toronto this week to join him in meeting with ownership to discuss the direction of the team. The meeting went well, according to a person briefed on the talks. But while any trade scenarios that might involve Andrea Bargnani and/or Jose Calderon are on hold while Bargnani and starting point guard Kyle Lowry are hurt, the Raptors clearly need to find a spark before another season gets away from them.
Biggest floppers: Brooklyn Nets
So says the league office, which has cited Reggie Evans and Gerald Wallace a league-high twice each for the lost art of taking dives. Coincidentally, the Nets were victimized by the flop when the Knicks' Kidd stuck his leg out, drew contact and took a well-choreographed spill on the 3-pointer that beat them Tuesday night.
Biggest malcontent: Kevin Love, Timberwolves
It is quite an accomplishment to capture this dubious honor in a league where every locker room has at least one unhappy camper -- especially when you are an All-Star and Olympian and would be an MVP candidate on a better team. But Kevin Love's uneasiness with Minnesota's decision to save the five-year max for Ricky Rubio and failure to put a winning roster around him -- which came spewing forth like a volcano this week in a Yahoo Sports story -- earns Love the first-quarter title of most disgruntled. So he has that going for him, which is nice. The problem with Love's stance is that you can't write off the Timberwolves until they log some games with Rubio back running the show. They looked like a playoff team with him last season and a lottery team without him.
Are they for real: Atlanta Hawks
They lost their best player and are somehow better off without him. So yes, for now, the Hawks are for real. Lou Williams has provided steady scoring off the bench, Kyle Korver is spreading the floor and Josh Smith is flourishing with a wider canvas in the absence of Joe Johnson. The question for the Hawks as the trade deadline approaches is whether they can persuade Smith to stay in Atlanta or will have to trade him for fear of losing him in free agency. So the Hawks' expiration date could very well be Feb. 21.
Are they for real, part II: Los Angeles Clippers
It still feels weird talking about the Clippers and championship contenders in the same sentence, but yes, these are not your father's, uncle's, older brother's or even Clipper Darrell's Clippers. They're athletic, deep, they defend, they're elite at the all-important point guard position and intimidating at the basket with an ever-improving DeAndre Jordan. When healthy, Chauncey Billups has a chance to play a Jason Kidd-like role in the Clips' quest to surprise the Spurs and Thunder in the West.
Time to push the reset button (other than Lakers): Phoenix Suns
It's painful to watch the Suns try to resuscitate the D'Antoni-Nash-Stoudemire era without D'Antoni, Nash or Stoudemire. Add Michael Beasley to the mix on a new three-year, $18 million contract, and voila! Train wreck. Phoenix is stuck between eras, stuck between veterans and youth. And it isn't helping the outlook when lottery pick Kendall Marshall is in the D-League shooting 32 percent from the field and 20 percent from 3-point range while averaging nearly four turnovers per game in five games with Bakersfield. Owner Robert Sarver has stated that Alvin Gentry will finish the last season on his contract as coach, and you know this isn't the usual kiss-of-death-before-the-firing stuff because Sarver isn't going to pay two head coaches for another trip to the lottery. League sources continue to believe the Suns are headed for a major reset. It's only a matter of when and how widespread.
Time to push the panic button (other than Lakers): Washington Wizards
With John Wall out indefinitely and Nene in and out of the lineup with injuries, it's not surprising that the Wizards are 3-16. But should they be this pitiful? They wouldn't be if they weren't paying Emeka Okafor and Trevor Ariza nearly $21 million to average a combined 15.4 points and shoot 40 percent from the field. What's worse, they owe the aforementioned Okafor and Ariza a combined $22.3 million next season. The Wizards are 91-240 (.275) since their last winning season in 2007-08. It's no wonder owner Ted Leonsis has been blogging lately about the economy, independent films and the return of Justin Bieber to the Verizon Center slated for August. (If you don't have anything nice to say ...) The only question for the Wizards is whether it's time to push the panic button or flush the toilet.
Best coaching job: Mike Woodson, Knicks
Woody is 35-11 (.761) and 20-1 at home since taking over for Mike D'Antoni. That's pretty much all I got -- and all I need.
Worst coaching job: Mike D'Antoni, Lakers
See above. Also, see the smoldering carcass that used to be the Lakers. It's perfectly understandable and predictable that the Lakers would struggle while making a 180-degree change in offensive philosophy five games into the season, and while switching to D'Antoni's system without Nash -- and lately, without Gasol. It isn't fair to judge D'Antoni or the Lakers until they're at full strength and have some reasonable time period to get on the same page. But the Lakers' body language and defensive rotations have been pitiful under D'Antoni, and they're running out of time. Unless they turn it around soon, the Lakers will be well on their way to wasting one of the few elite seasons Bryant has left.
Biggest trade chip: Pau Gasol, Lakers
Despite the seemingly bad fit, a healthy Pau Gasol isn't as ill-suited to the D'Antoni style as he would seem to be. Nash may very well be good and creative enough to get both Howard and Gasol easy opportunities, and the Lakers want to give him a chance to do that when he comes back. But time's a-wastin', and if the Lakers have any hope of salvaging this season, there's little else they can do on the trade market other than move Gasol for pieces that fit better -- even if that means getting the short end of the deal.