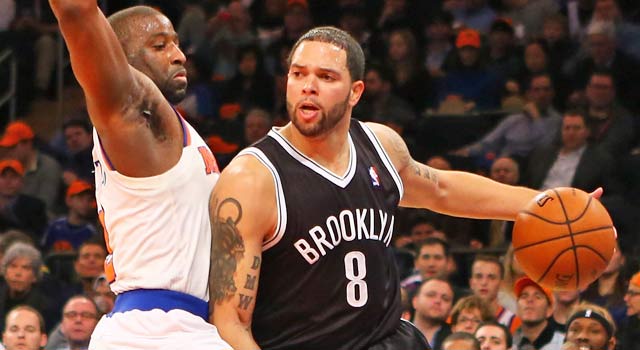 NEW YORK -- Deron Williams' words carry weight, in case you didn't already know. He surely does. Thus, the Nets' point guard must've been the least surprised person in the building that the media vultures were gathered four-deep around coach Avery Johnson Wednesday night, and then around Williams himself.
Williams opened the floodgates earlier this week when he commented on how Jerry Sloan's offensive system in Utah was a better fit for him than what Johnson has devised for the Nets. You didn't need too sharp of a pencil to connect the dots on that one. A slumping star and leader of a slumping team who pines for the good old days in his prior uniform is, by association, sending an ominous message to his new coach.
After the Nets' eighth loss in 10 games Wednesday night -- 100-86 to the rival Knicks, amid mocking, sing-songy chants of, "Broook-lyyyn ..." from the Madison Square Garden crowd -- Williams chose his words carefully. He said the Nets' struggles are on "us as players," and added, "It's not anybody's fault," meaning it's not Johnson's fault. Having gotten that out of the way, D-Will went on to lobby for all of the things that happen to bad teams that are supposed to be good: changes, team meetings and the formation of a search party to go find the Nets' toughness and confidence, which are both gone.
"We've got to change some things," Williams said. "We've got to get better. ... It's like we lost a little bit of our toughness, so we've got to get that back."
That was obvious in Round 3 of the so-called "Battle of the Boroughs," which wasn't much of a battle because Tyson Chandler was rolling to the basket for uncontested dunks all night and the Nets weren't bothering to guard the rim or the 3-point line. It was obvious from the way the Nets broke off their offensive sets in the third quarter, if they ran them at all. A team built to play grind-it-out, halfcourt offense launched 25 shots from behind the 3-point line Wednesday night, including seven in the third quarter alone (six of which missed the mark).
"We're not running our sets right, or we're not completing them," Joe Johnson said. "It's been killing us."
So after a promising start that delivered coach-of-the-month honors to Johnson in November, the Nets are lost -- "out of sorts," as one observer put it. They have a rare three-day break to sort it out in the video room or the practice court before they dig themselves an even deeper hole -- a hole that would cost Johnson, coach of November or not, his job.
"These times are the times that dictate what type of team you're going to be for the whole year," Johnson said. "... With that type of accountability and pressure, you've got to be able to function in those situations."
There are those who believe that Williams knew exactly what he was doing when he spoke of how he yearns for the Utah offense -- for the pick-and-roll freedom under Sloan, whose early retirement, you may recall, was prompted by a disagreement with Williams. Now, Williams was laying the foundation for change again. The words sparked a better shooting performance from Williams, who was 7-for-12 and had 16 points and 10 assists, but did nothing for the morale of those around him.
With the belief in the organization that the Nets have enough talent to be a top team in the East -- straight from the top, straight from Mikhail Prokhorov -- it's easy to see that this will land at Avery Johnson's feet if it doesn't get fixed. The coach always goes before the unhappy star in this sport, and that's especially true with the Nets, whose multi-billion-dollar business plan all hinged on acquiring him from the Jazz against his will and then persuading him to stay.
Before the season, Prokhorov was asked what would make this a successful season, and he matter-of-factly said that a trip to the conference finals would do the trick. So the bar has been set. There's a lot of time to reach it, but not a lot of time for Johnson to prove that he's the coach to get them there.
When asked what needed to change, Williams said, "Our fight, our energy, our intensity, how we come out and approach the game, I think. We have to come out mentally ready to compete for 48 minutes -- not 36 minutes, not 24 minutes, for a full 48 minutes."
A lack of mental preparation, a flawed approach -- those are critiques that go directly to coaching. So does this: Joe Johnson, still struggling to get comfortable playing alongside Williams and vice versa, pointed out that the first thing Avery Johnson brought up in the locker room at halftime was "our third-quarter start and second-half play. And it was still a letdown." The Nets were outscored 48-38 after halftime, allowed 22 points in the paint and shot 3 for 13 from 3-point range.
"We had a gameplan that we tried to execute tonight, and it wasn't working," Williams said. "We weren't doing the things that we needed to. We weren't getting help in the right spots. The rotations were slow. We just let guys drive right to the basket without any help. That's not how we like to play."
The Nets have time to fix this. Johnson is fond of saying the division and conference will be "a dogfight all season," and it's his job to make sure this Brooklyn dog is in the hunt.
But while there's no question who takes the fall if this tailspin doesn't end, it's worth pointing out that the guy making all the headlines should be culpable, too. Williams' decline the past two years has made the old conversation about who's a better point guard, he or Chris Paul, a moot point. When a team is settling for low-percentage shots, not running the offense and losing its toughness and its confidence, then yes, some of that is on the coach. But a lot of it is on the point guard, too. All of those things remain in his job description. He's simply not doing them.
"I think we need to talk as a group and figure things out," Williams said.
A good suggestion. But with no more excuses about not having any talent around him, some of that figuring and a lot of that leadership has to come from Deron Williams.
"We had two five-game winning streaks and it seemed like we were rolling pretty well," he said. "And then it kind of hit a snag and we can't figure out how to get our confidence back as a group."
Whether Williams knows it or not, that's partly on him and partly on the coach. And we all know which one will be gone if it doesn't happen.