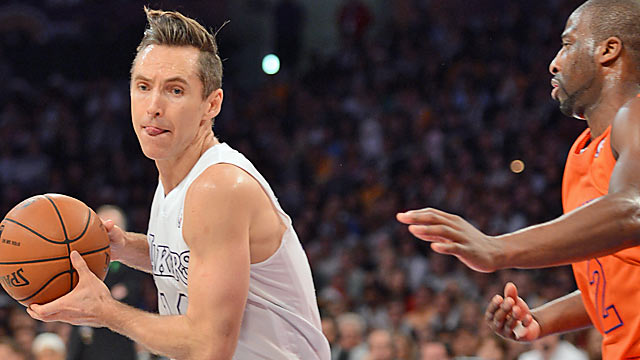 LOS ANGELES -- The imagery at Steve Nash's locker was impossible to miss. The Lakers' point guard fumbled with his dress shirt, pulling it over his head in the hopes of completing the high-degree-of-difficulty move without undoing and removing the tie.
Success, in a way. As Nash prepared for the postgame interviews, his crimson tie was as crooked as his hair, a button on his white shirt was undone, and his jacket collar was all bent out of shape. If the Lakers had waited all this time for Nash to return from a leg injury to put on fashion shows after games, they'd be in trouble. But quite obviously --- and fortunately for them -- Nash's 48-minute shift was over.
"This is a mess, but we'll have to deal with that," Nash said, unable to pull his ensemble together before the questions started coming at him.
He might as well have been talking about the Lakers, who were even more out of sorts than Nash's attire when he finally returned to the floor -- to the cocoon of Mike D'Antoni's offense -- three days earlier at Golden State. When it comes to the ensemble cast of teammates Nash has been called upon to massage and manage and get marching to his beat, one of the most creative and dynamic playmakers of our generation has made it look even easier than getting dressed.
More on Knicks-Lakers
Related links
More NBA coverage
"A point guard like him who has that respect, a lot of it is the credibility of doing it for a lot of years," D'Antoni said after the Lakers beat the Knicks 100-94 Tuesday afternoon for their fifth straight win. "He just puts everything in perspective and calms everybody down and gives you a chance to win every night. He keeps your energy up on defense because you're not fighting yourself on the other end and you're not being demoralized by things happening there. Everybody's getting the ball, there's a flow, and it feeds and it builds. It's a like a little snowball that keeps getting bigger."
Is Nash the little snowball who can finally get the Lakers rolling downhill toward their championship destiny -- past their shameful 1-4 start, past the struggles since D'Antoni replaced Mike Brown, and through more cohesive, seasoned opponents like San Antonio and Oklahoma City? Let's not get ahead of ourselves; the Lakers still aren't even the best team that plays at Staples Center. But with Nash controlling the final minutes of their Christmas Day showdown against the Knicks, who managed only 94 points against a Lakers defense that remains flawed but at least appears interested, it stands to reason that Tuesday may have been the day they waved at the .500 mark and said good-bye for the rest of the season.
"I expected to get this thing turned around at some point," said Kobe Bryant, who went shot-for-shot and point-for-point with Carmelo Anthony in an electrifying offensive show that gave way to Nash's patience, brilliance and command in the closing minutes.
The matchup of the league's top two scorers delivered everything you wanted in a showcase game; 34 points each for Bryant and Anthony, a thrilling display of muscle and professional shot-making that was actually worthy of the NBA's now overhyped, overdone Christmas Day show, which encompasses a third of the league. But after Bryant and Anthony traded baskets to make it 87-84 Lakers with 6:39 left, neither had a field goal the rest of the way.
This was Nash's time, and the Lakers on Tuesday became Nash's team. Over the final seven minutes, Nash scored or assisted on 12 of the Lakers' last 15 points, and he did it liberally and without bias. A jumper for Kobe, dunk for Dwight Howard, two trips to the foul line for Howard, a jumper for Nash himself. Then a trip to the line for Gasol on a post feed from Nash, followed by Nash's inbounds pass that Gasol took and drove all the way to the rim for a dunk and a 99-94 lead with 12 seconds left.
"The players are unfamiliar, but the situation is similar," said Nash, who finished with 16 points, 11 assists, six rebounds, one crooked tie and a flipped-up jacket collar that nobody will remember. "We're trying to feel each other out and figure that out. ... I try to be aggressive in those situations and try to make a play for my teammates or free myself up for a shot to take pressure off my teammates. I think we still are trying to find that understanding and that kind of know-how that a veteran, or at least a seasoned team has. But while it comes, we've done a good job of keeping it simple."
The hero-ball, superstar showmanship -- unapologetic greatness, if you will -- that neither Anthony nor D'Antoni could figure out how to blend with a playmaking point guard (Jeremy Lin) in the most lethal offensive system in basketball in New York last season? Nash needed two games to do that here. Bryant uncorked 41 shots Saturday night in Golden State, and the Lakers won behind Nash's 12 points, nine assists and one turnover in 38 minutes. Bryant scored 34 on 14-for-24 shooting Tuesday against the Knicks, and it was Nash calming everyone down, prodding the defense with his playmaking curiosity and making it all work somehow.
"It allows me to do what I do naturally, which is put the ball in the hole," Bryant said. "At the end of games, I've had to bring the ball up, initiate the action and get it back. Now, I'm in a position where I can put a lot of pressure on the defense because I'm in a striking position. So now when Dwight's rolling to the rim or Pau's rolling to the rim, I'm on that back side and he has a choice. So it just puts everybody in positions to do what they do best. He's [Nash] the best at organizing offenses, I'm the best at scoring, Dwight does what he does, Pau does what he does. It just fits."
Nash said he's tried to instill a sense of desperation in his short time back, and somehow one of the coolest customers in point guard history has sold it in the locker room. It's five straight wins for the Lakers now as they've climbed back to .500 (14-14), something that was never a December goal of theirs back in July when Mitch Kupchak rejuvenated a dull, worn-out team by maneuvering for Nash and Howard.
"It's been a difficult transition," Nash said. "We have to find a way to continue this transition and improve throughout the season, and at the same time win enough games to put ourselves in the best possible position."
No one is more relieved than D'Antoni, whose beliefs and philosophy were reduced to piñatas for the punditry during a tailspin that started with a home loss to Howard's former team, the Magic, and included a four-game losing streak that touched both the title-hungry (Oklahoma City) and the lottery-bound (Cleveland). Asked if the Lakers have turned the corner, D'Antoni said, "I don't know if NBA coaches ever relax. But I do think we have a chance to win every night."
Later, outside the coach's office at Staples Center, D'Antoni spoke of the agonizing wait not only for Nash to return, but also Gasol, whose adjustment to the D'Antoni system has been a struggle, to put it kindly.
"You have a vision and you think that you can get there and we just had to hold on and take the criticism that comes with it -- and rightly so," D'Antoni said. "I'm OK with that. But once we got not only Steve but also Pau, I thought, 'Get 'em back, we'll be fine.'"
So the challenge for Nash continues to evolve, sort of like putting your pants on one leg at a time. He controlled this game for the Lakers, outshined two of the NBA's brightest stars in the most important moments of the game and got the Lakers back to square one with 54 games to go.
"We need to get on a roll and improve as a team," Nash said. "But while we're improving and figuring things out, we need to win some games."
When the Lakers were stumbling and embarrassing themselves, it was Bryant who was fond of pointing out that it would have to be the guys who've won with the Lakers -- he, Gasol and Metta World Peace, who shined with 20 points off the bench -- to pull them out of it. Now, it is easy to see it will be the guy who just got here. It will be Nash who will get the Lakers wherever it is they are going.
And so I asked D'Antoni about that outside the coach's office, about Nash controlling the game in the moments that Bryant has controlled for 17 years for the Lakers. Bryant will be controlling "a lot of the game," the coach said.
"We'll be coming to him," D'Antoni said. "He's too good. Now if something else is working we might exploit that. But he'll be the man with the ball."
As long as he's getting it from Nash, that should be fine.