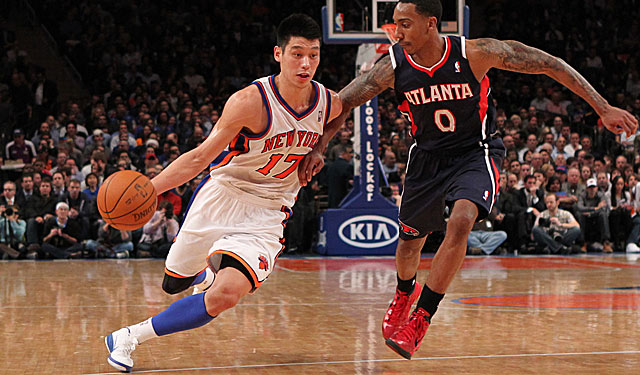 On Feb. 4, 2012, New York Knicks coach Mike D'Antoni gestured to a little-known, undrafted point guard from Harvard and told him to go play. And play, he did, rescuing the Knicks from despair with 25 points and seven assists in a 99-92 victory over the Nets. That accomplishment, it turned out, was only a prelude of what was to come.
More on Top 10 stories
Related content
More from Eye on
What ensued didn't seem real or possible at the time, and doesn't seem to have been either of those things when looking back on it. Jeremy Lin led the Knicks to eight wins in his first nine starts, putting up scoring and assist numbers that heretofore only Hall of Famers had managed. What was more absurd? The New York tabloid back pages proclaiming Lin's third start to be, "Kobe vs. Jeremy?" Or Lin actually justifying the hype with 38 points against the Lakers in a 92-85 victory? It's hard to say whether that was the highlight, or Lin's game-winning shot in Toronto, or his 28 points and 14 assists in 45 minutes against the defending-champion Mavs.
The exploits of a 23-year-old, Taiwanese-American point guard who'd been released by three previous NBA teams inspired discussion about the imperfect science of scouting and mostly intelligent debate about race. And just like that, with the same suddenness that characterized its onslaught, Linsanity was over.
Lin came crashing down with a 1-for-11, eight-turnover performance in a blowout loss to eventual champion Miami. In a blink, the once-soaring Knicks had lost six straight, and D'Antoni -- whose job Lin had so improbably saved -- abruptly resigned amid his inability to blend the selfless, electrifying play of Lin with the star power of Carmelo Anthony.
In a turn of events as unexpected as Linsanity itself, Lin signed a three-year, $25 million offer sheet with the Rockets -- an offer that the Knicks decided not to match. The next game he would play at Madison Square Garden would be in a visiting uniform. It was final, irrefutable proof that what we'd witnessed was, appropriately enough, Linsanity. Thanks for the memories, and R.I.P.