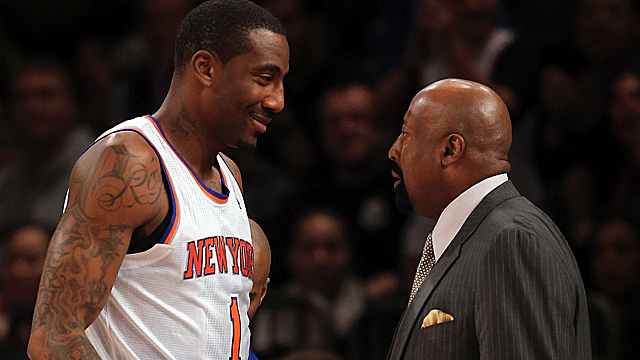 NEW YORK -- This was a very different environment, a different Knicks team than the one Amar'e Stoudemire joined in 2010. Somehow, the ovation he heard when he checked into the game Tuesday night after nine months away from the court meant more to him than when he first got here -- more than when he arrived as the only superstar willing to embrace the challenges and opportunities that this place presents.
"Almost shed a tear walking out on the court," Stoudemire said after making his season debut with an understandably rusty six points in 17 minutes in a 105-100 loss to the Portland Trail Blazers. "It was a phenomenal feeling. I haven't quite felt like that before in my career. It was great to see the fans were patient for me and waited for me to return."
Having taken on the challenge of restoring the Knicks to prominence and respectability two years ago, Stoudemire is too smart and seasoned not to know that patience wears thin. The team he rejoined Tuesday night, on the first day of a new year, is not the ramshackle operation that had been criss-crossing the intersection of irrelevance and ineptitude for a decade. This Knicks team played most of the first two months of the season without him like a team that has a chance to seriously contend for a championship.
Now comes Stoudemire with a new challenge, even more daunting than the one he embraced two years ago. Here comes Stoudemire trying to fit back in, trying to find his niche on a team that decidedly belongs to someone else.
His 16 minutes, 41 seconds were alternately an experiment and a preview of what could potentially go so right and so wrong once Stoudemire gets back to full strength and is physically prepared for the workload he's accustomed to. The missed defensive assignments and missed shots were to be expected. The two dunks and a reverse layup in the second half -- one in transition, two of them off pick-and-rolls, including one on an assist from the new sheriff in town, Carmelo Anthony -- were a tease for what might be here if the Knicks' two biggest stars can figure out how to play together.
It was Anthony who carried the day, who tried to carry the Knicks back from a 19-point deficit with a brilliant 45-point, seven-rebound, four-assist performance. It was Anthony who launched the 3-point attempt that would've tied the game at 103 with 15.9 seconds left, as Stoudemire sat on the bench and watched. And it was every Knick who played -- not just Stoudemire -- who contributed to a troubling trend. The Knicks, who for six weeks were an elite defensive team, have become an average defensive team at best. There is a reason they have lost five of their last eight games, and the 16 minutes, 41 seconds that Stoudemire logged in his season debut Tuesday night was not one of them.
"I don't think he can take he blame," Tyson Chandler said on his way out of the locker room. "Because at the end of the day, we have to do things as a team and we have to make sure we lift each other up. I think he's going to be an important factor in this."
Not, however, if the Knicks don't find a way to recapture their defensive identity. If they don't, there is little chance they'll be able to deflect the focus away from Stoudemire's return and his impact on this season that was supposed to be special. They have been poor defensively since the middle of December, allowing at least 100 points in each of their five losses since Dec. 15. If the trend continues, the fingers will point at someone who's had nothing to do with it. The blame will fall on Stoudemire, who just got here and desperately wants to help.
"I didn't want to interrupt anything at all," Stoudemire said. "Those guys have been playing well all season. So however coach feels my role fits, then that's when I'm going to get to play. If he needs me, I'm there. If not and those guys are playing well, then we'll take that as well."
The Knicks couldn't ask for a less disruptive, more positive approach from a multi-year All-Star -- the only one who dared accept the burden of uplifting the Knicks in 2010 -- than what they've gotten from Stoudemire. Coach Mike Woodson did the right thing here, bringing him off the bench and easing him back in slowly. As for when Stoudemire might warrant or deserve his rightful place in the starting lineup, Woodson said, "We'll figure that out as we go along."
Let one thing be clear: No pressure, no disruption will come from Stoudemire. The pro that New York got two years ago when he filled the free-agent vacuum left when LeBron James chose South Beach over Madison Square Garden is the same pro who checked into his first game of the season with 3:31 left in the first quarter Tuesday night.
After a long session at his locker that overlapped with Stoudemire's, Anthony was asked on his way out how he -- the clear leader of this Knicks team, the team that Amar'e tried to rejoin on New Year's Day -- could help ease the pressure on his teammate. Anthony and Stoudemire are friends, and they spoke privately and at length during the summer about being on the same page, about leading together.
"First of all, it's just a matter of us -- me and him --- not listening to what everybody has to say," Anthony told CBSSports.com. "We need each other. We can carry this team. We're both leaders of this basketball team, of this organization. And at the end of the day, we need to just stay positive and play basketball. ... We're not even looking at most of the B.S. people have to say."
What they should be looking at is how the Knicks can't stop anybody from scoring right now, how they've gone from being an elite defensive team to about the league average when it comes to pace-adjusted points allowed. And if the struggles continue and the temptation is to blame Stoudemire, it should be noted that this trend took hold long before he got up off the bench on New Year's Day, felt the butterflies rumbling in his stomach and checked in to a standing ovation in the building that used to be exclusively his.
How did this happen?
"That's the question that we've all got to ask ourselves," Chandler said. "We know we've been there and now we've got to get back there."
With Stoudemire at the ready, burning to help any way he can even though he knows he'll get blamed if it doesn't work out.