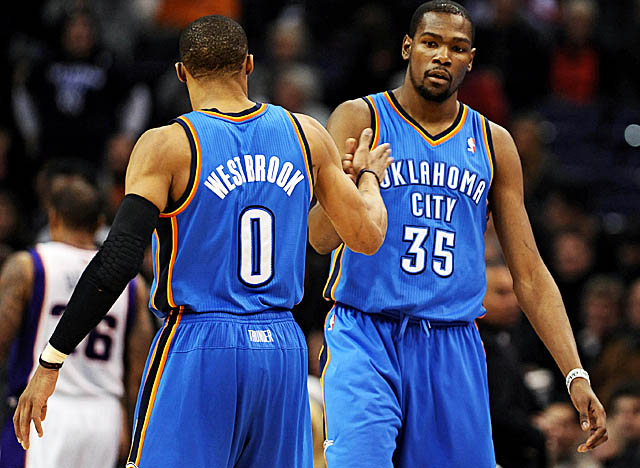 After months where the top teams were all right there, we've got a little bit of separation.
Oklahoma City is far and away the best team, and it's because of one factor: consistency. The youngest contending team in the league, driven by two stars under the age of 26 have gone out and been the most consistent team in a league that strives for that quality every night. Example: After getting adjusted in the first month of the season, losing four games in November, the Thunder have only lost four games since then.
More on NBA
Related links
More NBA coverage
Yes, the Clippers had that long winning streak, but when they lose, they lose to strange teams for strange reasons. The Thunder's biggest blip was losing to Washington in a bizarre game that saw the best offense sputter for 11 minutes.
Meanwhile, Denver jumps a whopping nine spots. Why? The Nuggets' overall body of work has become very consistent over the past two months. They figured out how to win close games and games when things didn't go smoothly, like against Cleveland and Orlando. Being at home helps, but just as the schedule didn't make their ranking softer at the start, it doesn't make it harder now that it's evening out.
San Antonio is usually the model of consistency, but injuries have put bumps in that road. They're close, but not quite there.
And the biggest reason the defending champion Heat are down at No. 4? They have no consistency, and if they don't start to figure that part out soon, we're going to have major questions about their ability to defend their title.
And with those questions hovering, here are the rest of this week's Power Rankings.