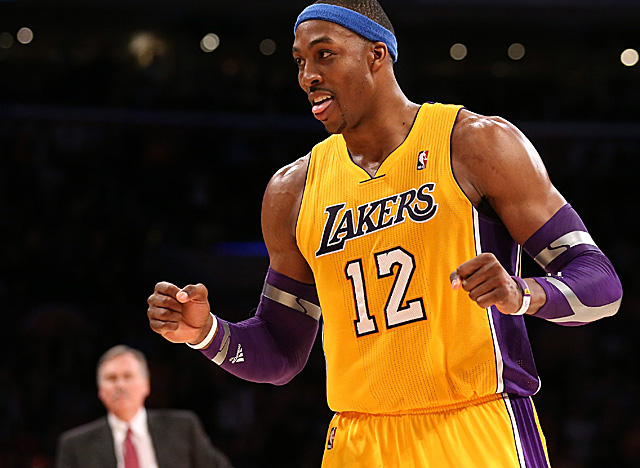 Through this season of epic failure in Los Angeles, with the injuries and inability to stamp the Lakers with his greatness, Dwight Howard walks ever so delicately up to a line that was not so much crossed as obliterated a year ago. He has been careful not to cross it this time, not to allow his image and name to be dragged down any lower than they were on his way out of Orlando.
Despite the inglorious start to a seven-game road trip in Phoenix on Wednesday night, punctuated by another thunderclap that was Howard's ailing right shoulder popping again, the Lakers have played better -- have finally showed some cohesion, some purpose, some fight. But the goal now is simply securing the eighth playoff spot in the West, something that would come as more of a relief than an accomplishment. As the calendar whizzes toward Howard's impending free agency on July 1, it isn't his image that has taken the hit this time. It's his stature in the game, his influence.
If Howard is one of the greats of his time, how could he be associated with a team that's six games under .500 as we hit February? A team with two other Hall of Famers, Kobe Bryant and Steve Nash? A team that has hung 16 championship banners?
More on Los Angeles Lakers
Related links
More NBA coverage
In his eight-year career, Howard has now suffered three losing seasons. By comparison, LeBron James has endured only one, as a rookie. For Kevin Durant, it was his first two seasons, and he's been winning ever since. For all his playoff failures, Carmelo Anthony has never presided over a losing season. When a player of this stature takes a step back in the prime of his career, it undoubtedly will result in some serious soul searching. And Howard, once again, happens to be positioned for just such an activity with his collectively bargained right to choose where he supplies his services.
Yes, just when you thought the Dwightmare was over, it pulls you back in.
While he struggles physically after back surgery and now with his shoulder and searches stylistically for a way to fit in with the Lakers, Howard has taken steps to ensure there will not be a repeat of last season's mind-numbing drama. He's grown vigilant against leaks, against media reports that claim to portray his feelings when he has not divulged them. He's stopped talking about his long-term future as a Laker, put the brakes on the free-agent and trade talk, and put the focus where it should be: on a team he was supposed to elevate, and that was supposed to elevate him.
"A lot of times last year, stories would come out and I would have no clue what was going on and I'm being talked about like I'm doing all this bad stuff and I'm just sitting at home finding stuff out just like everybody else," Howard told CBSSports.com this week. "I don't want it to be that way. I'm going to enjoy my opportunity here to play, to be back on the court. I'm just going to continue to be who I am and get back to being the player that I am and not let anything take away from who I am throughout all the drama and all that stuff, and still be the same person."
Howard said he has not had any conversations with his agent, Dan Fegan, or other advisors about his future with the Lakers beyond this season or about any desire to be traded.
"I'm here to win; I want to win," Howard said. "I want to continue to play basketball. I don't want to talk about being traded. I don't want to talk about anything except what I can do to help this team win."
Having lived through the absurdity of his clumsy exit from Orlando, Howard realizes his silence on committing to the Lakers beyond this season speaks volumes. Earlier in the season, Howard spoke candidly about wanting to be the franchise cornerstone after Bryant retires, but in recent weeks he's avoided all such talk. It's been a curious change that has not gone unnoticed in the Lakers' locker room or in the front office.
"I understand how people feel about it, but right now my only concern is winning," Howard said. "I don't want [it to be] like last season, to say something about anything -- about a team or whatever it may be -- and have people assume that I want to do this or I want to do that. Instead of making anybody assume anything, my focus is just on us winning and playing basketball. That's it."
Howard avoiding the free-agent elephant in the room has some officials in the Lakers organization nervous about the future. They gave up Andrew Bynum for Howard and pushed their league-high payroll to $29 million above the luxury-tax line with Howard, Bryant, Nash and Pau Gasol. They fired coach Mike Brown five games into the season in a panicky overreaction and hitched Howard's future to a new coach, Mike D'Antoni, who does not believe in playing through a center in the low post. In fact, D'Antoni has openly discussed his view that the postup -- which Howard believes is his livelihood -- is the least efficient play in basketball.
D'Antoni may be right about that, especially with Howard, who is not nearly as effective an offensive force on postups as he is on cuts to the basket or pick-and-rolls -- two staples of the D'Antoni system. But when July 1 rolls around, it's not going to matter what I think, what D'Antoni thinks or what the numbers say. The only opinion that will matter will be Howard's.
While those who still pine for Phil Jackson aren't sold, the Lakers' improved play of late has signaled to rival executives in the West that they won't spiral out of the playoffs and into total disarray. "There's no problem," one Western Conference GM said. "They're playing better and they're going to make the playoffs."
But even if they do, Howard's future will be about so much more than that.
First, there's the money. It's always about the money, except when it's not. And for Howard, a 27-year-old superstar who will get two more max contracts, the edge the Lakers have under the rules to give Howard a five-year deal and larger annual increases as compared to the four-year deal he can get as a free agent or via a sign-and-trade is not a significant factor. Think about it: What would you prefer? A five-year deal that would deliver you to the free-agent market again at age 32? Or a four-year deal from the team of your choice that would make you a free agent as early as age 30, with an opt-out after the third year? It probably behooves Howard to choose Option B.
An equalizer, of course, would be for the Lakers to give Howard a five-year deal with an opt-out after three, and that's where the other factors come into play. Where does Howard really want to be?
There are other teams waiting patiently with cap space who will be in a position to offer Howard an alternative. First, Dallas, where Mark Cuban has been planning for just this sort of opportunity to pounce on a superstar of Howard's stature. The Mavs not only have a big-spending owner, but a smart-spending one with an organizational culture that oozes winning. Cuban, the most outspoken and omnipresent owner in the sport, would protect Howard and attract whatever part of the spotlight he doesn't want or can't handle. They also have a coach, Rick Carlisle, who is not averse to playing through a true center at both ends of the floor. If Tyson Chandler could propel the Mavs to a championship, what could Howard do there?
Then there is Atlanta, where Howard grew up. The Hawks are projected to have the most cap space in the league this summer, enough to lure Howard and re-sign his AAU pal Josh Smith to the max deal that he's seeking or add another star instead. The Hawks don't exactly have championship written all over them, but GM Danny Ferry has a track record of building a title contender around a dominant superstar in Cleveland with You Know Who.
Of course, there are any number of teams that would be willing to give up a small fortune of assets to acquire Howard before the Feb. 21 trade deadline. The Mavs' entire roster (other than Dirk Nowitzki, because what would be the point) is a trade machine's dream. Brooklyn was Howard's first choice during last season's Dwight-a-thon, and Brook Lopez is now a trade-eligible All-Star. The thought of a bidding war between Cuban and Mikhail Prokhorov is the stuff that Dwightmares are made of.
This scenario assumes Howard's brand wouldn't be damaged further by fleeing LA, a place most NBA stars would bend over backwards to call home. If Howard couldn't make it work in Orlando and can't make it work in LA, then as one Western Conference executive put it, "There's something wrong with you."
It also assumes the Lakers will panic and deal Howard rather than face the prospect of losing him and getting no assets in return. I find this notion far-fetched. So does someone else whose opinion matters more.
What if Howard leaves, I asked Bryant this week?
"Then he does," Bryant said. "The organization will always figure itself out. It always has."
In Orlando, Cleveland, Denver and Utah, you can't take chances on losing a franchise player because the odds are overwhelming you'll never be able to replace him with cap space. Not the case with the Lakers, who can get anybody they want whenever they please as long as they have the room -- which they will in 2014, when an avalanche of superstars hits the market, including all three of Miami's top stars and Anthony.
In the end, the Lakers may have to change things to make Howard more comfortable, acquire players with his backing or accommodate his whims in other ways that aren't too painful -- you know, just the garden variety superstar suck-up drill. But they also know that their surroundings and who they are carry weight for a 27-year-old athlete desperate to start winning championships and interested in building his brand beyond basketball. Howard wants it all, and LA isn't a bad place to go about attaining it.
For these reasons and others, Bryant isn't worried the next chapter in the Lakers' bizarre season will be a repeat of the Dwight drama from a year ago.
"It's a different situation," Bryant said. "Who the hell wants to go through that twice, you know what I'm saying? I think as people we learn from our experiences, we learn from those situations, how he handled the situation, how the Magic handled the situation. I think the organization here, and Dwight and his agent so far, I think they all learned from that. I don't see that repeating itself."
From a player who has played every minute of his 17 seasons for the same franchise, but who was never averse to playing the trade-me card, Bryant is not alarmed that Howard hasn't proclaimed his intentions to stay.
"He doesn't have to," Bryant said. "It's his right. It also shouldn't be a big deal. As players, you have the liberty to become a free agent. It's just part of what it is. Ever since the LeBron situation or the Dwight situation, every time a player is a free agent it's kind of like this big ordeal that's looming over the organization."
And couldn't that happen here, with Dwight and the Lakers?
"If he leaves, if that's what he decides to do," Bryant said. "But this season, that's not going to be the case."