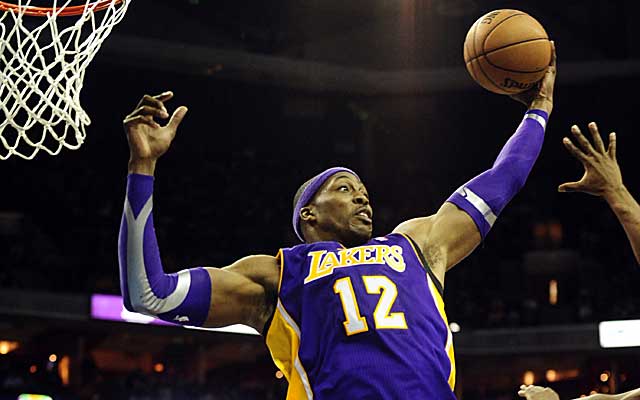 HOUSTON -- The smiles were hard to come by Friday for Dwight Howard, once the thousand-watt light bulb of the NBA.
He briefly managed a grin when discussing his Center Center for Centers," a YouTube bit about a fictional training center where centers -- banished from the All-Star ballot –- are trained to become point guards, and thus given the ability to become "productive members of the NBA," Howard said.
But that was all the fun and games for Howard, whose jovial presence in the sport has been muted by two solid years of uncertainty about his future. Last year in Orlando, the Dwightmare was in full force, consuming All-Star weekend with speculation over where Howard would be traded after he'd made it clear he wanted no part of staying with the Magic. A blockbuster trade that sent Howard to L.A. -- the kind of glitzy market he craved, in an environment shrouded in championships –- has not made him happy.
Howard said Friday that Lakers GM Mitch Kupchak has told him he does not want to trade the free agent-to-be. It's the same message Kupchak delivered in a recent interview with Newsday and the same message he's given Howard's agent, Dan Fegan, in recent weeks.
However, CBSSports.com has learned that the Lakers have engaged in preliminary trade discussions with an unlikely trade partner regarding Howard: their fierce rival, the Boston Celtics. The centerpieces of the possible deal, which hasn't gained any traction, would be Howard and Rajon Rondo.
The imagination runs rampant with the tantalizing possibilities.
Other significant pieces would have to be involved, since Rondo's $11 million salary is substantially less than Howard's $19.5 million. If the Lakers dealt Howard for an All-Star point guard who is out for the rest of the season following ACL surgery, they'd effectively be throwing in the towel on this miserable, underachieving season and looking to next year.
The Celtics would be going all-in for a quick rebuild centered around Howard, with the hopes they could find a point guard in the draft or in free agency to capably run their offense – which they've managed to do in Rondo's absence anyway. Celtics president Danny Ainge has flirted with several trade possibilities for Rondo over the years, and the point guard's hyper-competitive drive and strong personality have proved difficult for coach Doc Rivers to manage.
There are at least two significant impediments to a Howard-Rondo deal. First, as Howard said Friday, the Lakers continue to insist they won't trade him, which sources say is the impression the Celtics have gotten, too. Second, Celtics president Danny Ainge would not trade Rondo without an assurance that Howard would re-sign with Boston as a free agent this summer, a league source said. Howard has shown no inclination to commit to anyone, including the Lakers, until the season is over.
Since the league source familiar with the discussions characterized them as preliminary, it's possible that the talks could be tabled until after the season. In that case, Howard would have to agree to a sign-and-trade to the Celtics that would only yield him a four-year deal as opposed to the five years the Lakers could offer him (or the Celtics, if he were traded there by Feb. 21 and subsequently re-signed). The Celtics could only acquire Howard in a sign-and-trade if they eschewed their full mid-level and remained below the so-called luxury-tax apron, a threshold $4 million above the tax line that was added in the 2011 collective bargaining agreement.
While the discussions have yet to progress, if nothing else, they open a potential avenue open for the Lakers to minimize the chances of losing Howard as a free agent and getting nothing in return. In other words, a fallback plan.
Would a trade to the Celtics make Howard happy, something he admitted Friday he has only experienced "at certain points" with the Lakers this season? At this point, it's difficult to fathom what, exactly, would make Howard happy. All we know is that Howard is determined not to commit to anyone before the season is over, including the Lakers, because he wants to avoid the distractions and circus atmosphere that consumed his final months in Orlando.
"I'm not going to deal with it," Howard said. "I had to deal with it all last year; I'm not going to do it again."
Also, league sources say several other teams intrigue Howard as possible destinations. The Nets, his first choice last season, remain a viable option -- but only via a trade before Feb. 21 since the Nets are well above the tax apron. The third team on Howard's original list, the Mavericks, have plenty of cap room and tradable contracts. The Rockets, hosts for this All-Star weekend, have become more attractive, sources say.
"I like their team," Howard said of the Rockets. "They're a great team. They're young, they play together, they're scrappy. … It's fun to watch them. They're one of the teams that we can tell that in a few years is going to be really good."
During his long, clumsy exit from Orlando, Howard was in a place where he'd spent his entire career. He knew the landscape, his role in the community and what the future would be like. After a tumultuous seven months with the Lakers, I asked him what factors would weigh into his free-agent decision this time.
"I've got to do what makes me happy," Howard said. "That's it."
Asked what makes him happy, and what has made him happy in the past, Howard said, "Having fun on the court. That's what makes me happy."
Howard remains far from 100 percent after back surgery last spring, and continues to deal with a torn labrum in his right shoulder and the frayed egos and competing agendas on a struggling Lakers team. So he didn't have to answer the next question, about whether he's having as much fun as he used to. But he did answer it, honestly.
"At the present time, no," he said. "Hopefully it gets better."
Asked if he's still the best center in the NBA, Howard said, "Yes. Even at 75 percent."
But while Howard's health and happiness are still wavering, there's no doubt about the percentage chance he'll address whether he plans to stay in L.A. or leave this summer. That would be zero, presenting the kind of uncertainty that the Lakers have to at least contemplate with the trade deadline six days away.
"The only thing that matters right now is the present," Howard said. "There's no need for me to talk about what happens at the end of the season. There's no need to go back and forth about it. I just feel like at the end of the year, that's when I should have my opportunity to make my own decision. I shouldn't be pressured or criticized for waiting until the end of the year.
"Nobody can control what happens at the end of the year," Howard said.
Not yet, anyway.