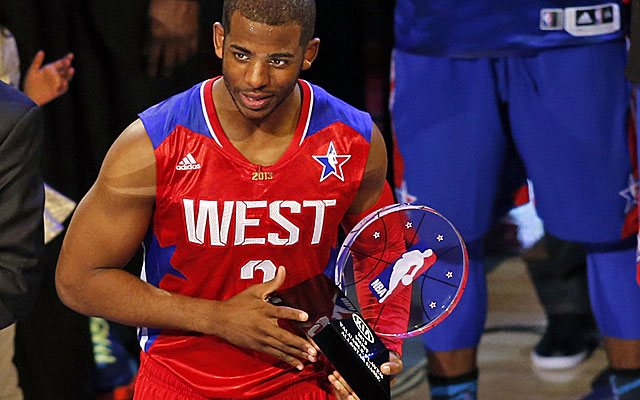 HOUSTON -- Through all the dunks and between-the-legs passes and other forms of aerial artistry on display in the 2013 NBA All-Star Game on Sunday night, the best moment had nothing to do with any of that.
On Michael Jordan's 50th birthday, the moment that said it all about who will carry the sport forward, into the next half century, happened far from the basket -- far from the backboard-mounted mics and cameras, far from the voracious appetite of YouTube.
After essentially sealing the West's 143-138 victory with a silky-smooth 3-pointer with 1:57 left, Chris Paul raced the other way in pursuit of an East fast break. Chasing down Joakim Noah from behind, Paul had another steal on his mind. It would've been his fifth, to go along with his MVP-worthy 20 points and 15 assists.
More on NBA All-Star Game
Related links
More NBA coverage
He got a mouthful of elbow instead, an inadvertent uppercut from Noah on the break. Paul stopped, removed his mouthpiece, massaged his chin and shook it off. Noah passed to Paul George for a 3-pointer, and Paul simply put his mouthpiece back in and called for the inbounds pass. Always chasing, always coming back for more.
On Paul's 3-pointer, Noah had crouched into a defensive stance on the perimeter, palms out in front of him as if to say, "Let's go." The ball on a string, magically dancing on his fingertips, Paul pulled up and lofted it over the 7-footer. There are some guys you don't mess with.
"Part of me wanted to try some moves and go by him," Paul said. "I love his defense; like his energy and stuff like that. And he's one of the best -- if not the best -- big-man defenders, especially on ball screens. He just backed up, so I figured I'd shoot it. Don't waste any time."
Chris Paul, for one, did not come to Houston to waste anyone's time -- least of all, his own. He showed up prepared, determined, and wanting to win at all costs. Just like any other day.
"I watch basketball all day, every day," Paul said. "My son, my wife, we sit there ... I'm on this thing called Synergy, day in and day out, watching basketball."
There it was, the MVP of the All-Star Game -- one of the thousand-watt basketball stars on Earth -- talking about spending his free time breaking down clips on Synergy, like a garden-variety geek. Like a lowly blogger or columnist. He was telling West coach Gregg Popovich what the East would be running, because he's seen it all before.
"As you get older, you have to start playing with your mind more than all the athleticism," Paul said. "I'm far away from dunking on people. That's not my game. So I have to play with my mind."
And so on this All-Star weekend, one steeped in reflection over Jordan's 50th birthday milestone, we got to enjoy one of the foremost students and ruthless competitors of the sport -- a star whose smile will disarm you and whose relentless drive should never be underestimated.
Jordan carried the NBA to the masses, put it on display to the world with his supreme talents and killer instincts, an incomparable drive to be the best and destroy anyone in his path. Now, on the All-Star court, only Kobe Bryant, Tim Duncan and Kevin Garnett remained from the tail end of Jordan's run of six championships. But the fretting about who would carry the game forward in the post-Jordan era is long gone.
Chris Paul will. And LeBron James. And Kevin Durant, Carmelo Anthony, Blake Griffin and Kyrie Irving. Yes, Kyrie Irving, who served notice of his own arrival this weekend with a captivating performance in the Friday night skills competition and a 3-point contest title on Saturday night. Irving was on the floor with LeBron, Anthony, Dwyane Wade and the other megastars in the fourth quarter Sunday night, having earned the right to be there.
"What he's doing right now and what he's going to do in the future," James said of Irving, "it's going to be crazy. He belongs here."
Griffin, who once looked constrained to a career as a mere provider of dunk highlights, has developed a level of seriousness about his game and preparation that has put loftier accomplishments within reach. As Paul kept feeding Griffin for dunks, you had a Synergy geek passing to a 23-year-old freak of nature who cares so much about nutrition and fitness that he has embarked on a 100-day Paleo Diet challenge with his manager, Atlanta-based Lorne Clark. For the uninitiated, that means he's cut out sugar, processed foods, dairy and all grains except rice.
"It's just kind of like a dedication thing," Griffin said. "I just wanted to see if I could do it."
Synergy addiction? Sugar boycotts? Who are these guys?
Even Anthony, once seemingly on a path to be a one-dimensional scorer who'd never win anything, has changed his act. Melo has taken his leadership role with the Knicks and his responsibility as one of the faces of the NBA with far more seriousness than his reputation ever suggested he could.
Of course, there's Dwight Howard, lofting 3-pointers with his torn labrum and then making one in the game before putting finger guns in his imaginary holster, Russell Westbrook-style. Popovich pulled Howard immediately after that, and Howard never came back into the game -- not that he was ever really in it in the first place. Not that he has been all season.
As we look ahead to the next 50 years, with players so young they can't even see Jordan's shadow, we can't have it all. Some guys in this game get it -- Chris Paul gets it -- and there are more than enough of them to mute the foolishness of those who don't.
"If you have love for the game, the game will pay you back," James said. "You don't ever try to cut corners to be successful. You can't do it. You can't do it in this league, because the game will not give back to you if you try to cut corners and cheat the game.
"MJ loved the game at a high level. And the guys that he played against -- Patrick Ewing and Shaq and Penny Hardaway and Isiah Thomas and Scottie [Pippen] and all those guys, man -- they all loved the game and you saw that. And that's what we have, as well. We have guys that really love the game and we carry what we do at a high level."
After his press conference, Paul emerged in a hallway at Toyota Center and was ushered toward a room where it was his job now to take pictures with his MVP trophy.
"Pretty special," he said. "It's something I've never done."
Well-wishers were there, Clippers executives and NBA officials and security guards and the like. Paul had time for a few hugs, and someone told him, "There's nobody -- nobody -- in the world like you."
"Whatever," Paul said with a smile -- that smile. "Thank you so much."
No. Thank you. Thank you for caring.