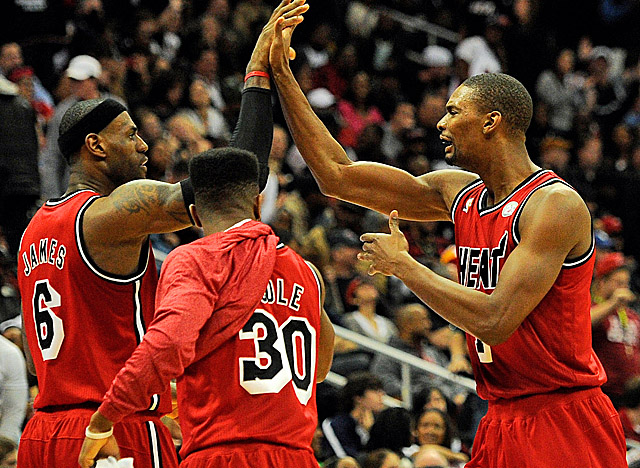 There are always very distinct tiers of teams in the NBA. In the NFL and in baseball, there is some level of blending from playoff team to fringe contender to elite contender. It's a gray area. But the lines are drawn very firmly in the NBA.
However, it's been a while since we've had one team that's risen so far above the rest. Miami is that team. It's not just the streak -- a run that's been aided partly by luck and the schedule. It's the play that's enabled the streak, especially the Heat's ability to turn on their defense and watch opponents melt into puddles.
More on NBA
Related links
More NBA coverage
Miami has won 27 in a row and as easy as it is to get caught up in that, that hype doesn't change how much further above the fray the Heat have risen. As the season marches toward the playoffs, Miami seems invincible.
New York, Indiana, Oklahoma City, San Antonio -- all seem mortal by comparison.
Come April 20, drawing up a plan for how to beat the Heat four games out of seven with anything short of guerrilla tactics will prove taxing.
The Spurs and the Thunder are great teams. Are they great enough to survive the West? We'll have to see.
Beyond that, are the Clippers on the same tier as San Antonio and OKC, or are they imitation contenders a la the Pacers and Knicks? That's one of the biggest questions left to answer this season.
One thing's for sure. The Lakers look less and less like a special team with a bad record and its own level of potential and more like just another team. Who would have thought that in September?
Go figure. Just don't spend too much time trying to figure out how to undo the Heat. You might hurt yourself.
Here are this week's Power Rankings.