Back in October, it was written in this space that Kevin Durant would be the NBA's Most Valuable Player this season. Nothing against Durant, who is plenty valuable, but that's not going to happen.
What you do when you analyze basketball in this era is outthink yourself as you ponder how someone, somewhere could have a better season than LeBron James. (Perhaps this is how, say, Michael Jordan only won the award five times.)
Surely, a Durant or a Carmelo Anthony or a Chris Paul could do enough to justify whatever definition of "most valuable" readily applied. LeBron couldn't be far and away the best player on the planet again, could he?
Oh, yes he could. Oh, yes he is.
Coming off his first championship and second Olympic gold medal, James' encore performance amounted to one of the most statistically and tangibly dominant seasons in NBA history. And thus, he will earn his fourth MVP award, joining a rare group of historic greats to garner that many: Wilt Chamberlain and Bill Russell (four each); Jordan (five); and Kareem Abdul-Jabbar (six).
Membership in the 50-40-90 club (50 percent from the field, 40 from 3-point range, 90 from the free-throw line) is all the rage now. How about 57 percent from the field, 40 from 3-point range and his usual 75 from the free-throw line? With season averages of 26.8 points, 8.0 rebounds and 7.2 assists, James supplemented his sublime shooting percentage with numbers that have been attained by only four other players in league history: Oscar Robertson, John Havlicek, Larry Bird and Jordan.
I don't know about you, but I'm sold. Everyone else voting for this award should be, too.
But in case you need more, I give you the team accomplishments for which James was largely responsible. To a large degree, after all, the league's greatest individual honor has much to do with team success.
The Heat's 65 wins heading into the season finale are the most by a defending champion since the 1997-98 Bulls. They posted, of course, the second-longest winning streak in league history (27 games), during which James was utterly brilliant. And in the NBA's dreaded second night of a back-to-back, when fatigue and travel logistics often make for hideous, inattentive effort, the Heat finished the season 15-1.
If the team with the best home record in the league (the Nuggets) can't beat LeBron in Denver on the second night of a back-to-back -- and Miami's fifth game in seven nights -- after the Heat got in at 4 a.m. from L.A., as happened on Nov. 15, then who can?
For Durant's part, he also had a brilliant season and there was really nothing more he could have done to stake his MVP claim. Unfortunately for him, this was a race for second place. Taking on more playmaking responsibility with the departure of James Harden, Durant achieved career highs in rebounds, assists and steals while scoring more efficiently. He'll finish a close second to Anthony in the scoring race and also will lead the league in minutes played while joining the aforementioned and elite 50-40-90 club for the first time in his career.
It was truly a toss-up between Paul and Anthony for third, but I went with CP3 based on the somewhat subjective notion that he did more for his team -- a notion backed up by some geeky stats. Melo buckled down on both ends of the floor and helped the Knicks lock up the No. 2 seed in the East despite being without Amar'e Stoudemire for most of the season. But more than Melo's offensive dominance, Paul's fingerprints were all over the Clippers' first-ever division title. When on the floor, Paul's offense was responsible for 10.2 percent of the Clippers' wins (compared to 7.5 percent for Anthony); he assisted on 46.2 percent of his team's baskets; and incredibly, he accounted for 10.6 percent of the available defensive rebounds -- as a point guard -- while continuing to be one of the league's most impactful defenders and unquestioned leaders.
My fifth vote came down to Kobe Bryant and Tim Duncan, both extremely deserving. I'm human, and Bryant's heroic, ultimately painful drive for a playoff spot swayed me -- along with the incomparable workload and determination that pushed the Lakers to the brink of a postseason berth while ultimately dooming his season. His 47 points, eight rebounds, five assists, four blocks and three steals at Portland last Wednesday -- in a game the Lakers had to have to keep their playoff hopes alive -- was one of his great achievements and one I won't soon forget.
My MVP ballot: 1. James; 2. Durant; 3. Paul; 4. Anthony; 5. Bryant
Preseason prediction: Durant
Rookie of the Year: Damian Lillard, Trail Blazers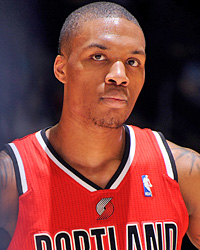 I wish I had had the gumption to take Lillard over
Anthony Davis
as my preseason ROY selection, but I have no qualms about anointing him now. Nobody should. Toiling away in a lost season in Portland, Lillard produced eye-popping stats and poise well beyond his years.
In the rest of the injury-riddled field, I gave the Pistons' Andre Drummond the nod over Davis. In a comparable number of games, Drummond produced a higher true-shooting percentage (accounting for 2-pointers and 3-pointers), a higher defensive-rebounding rate and a virtually identical player-efficiency rating, according to Hoopdata.com. Plus, his 5.5 combined steals, blocks and charges drawn per 40 minutes were second only to Milwaukee's Larry Sanders among players appearing in 40 or more games.
My ballot: 1. Lillard; 2. Drummond; 3. Davis
Preseason prediction: Davis
Defensive Player of the Year: Joakim Noah, Bulls
More than any other facet of the game, individual defense translates to team success. Bad teams have players with great offensive numbers all the time; somebody has to score the points. But team defense correlates more closely to winning than individual offense, and there's usually an individual most responsible for that team defensive success.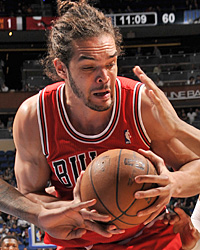 Therefore, I focused my search for Defensive Player of the Year among the top defensive teams in the NBA, on a pace-adjusted basis. Heading down the stretch of the regular season, only six teams have allowed fewer than 100 points per 100 possessions: Indiana, Memphis, San Antonio, Oklahoma City, Boston and Chicago.
Determining who is most responsible for that success is by far the most difficult job in the postseason awards voting. For the Pacers, is it Roy Hibbert or Paul George? For Memphis, Marc Gasol or Tony Allen? For Boston, Kevin Garnett or Avery Bradley? Among the others, Duncan, Serge Ibaka or Noah?
Annually, James has to be in this conversation because of the versatility he has to guard four, and possibly five positions and because of the havoc he creates in forcing turnovers. And this year, the Bucks' Sanders deserves mention simply because of the aforementioned and league-high 5.6 steals, blocks and charges taken per 40 minutes -- not to mention his league-leading 4.4 blocks per 40 minutes. Dwight Howard would be a no-brainer to win this award every year but this one, when he struggled physically for long stretches after returning from back surgery.
With such a deep field of deserving candidates, the limiting factor I used was possessions guarded. According to Synergy Sports Technology, Bradley (470), Allen (577) and Garnett (667) didn't make the cut. The most effective and versatile defender of the remaining candidates was Noah, who defended 1,068 possessions and allowed .776 points per possession. Though this was second to Gasol (.758) among my finalists, Noah was more consistent across various play types -- he guarded 196 spot-up jumpers, for example, and allowed only .777 points per possession -- and also had a higher defensive-rebounding rate than Gasol (22.5 compared to 18.6) and more blocks per 40 minutes (2.36 vs. 1.93). As you can see, the margin was razor-thin.
It was equally close in determining who got the third vote on my ballot. In parsing the accomplishments of teammates Hibbert and George, the determining factors were George's higher defensive-rebounding rate (19.4 vs. 16.9), the fact that he guarded the opponent's best wing player on a nightly basis and also handled a wide variety of play types with equal aplomb.
My ballot: 1. Noah; 2. Gasol; 3. George
Preseason prediction: Howard
Sixth Man of the Year: Jarrett Jack, Warriors
Another razor-thin decision in which beauty is in the eye of the beholder. J.R. Smith and Jamal Crawford both gave their teams instant scoring off the bench, but Jack gave the Warriors healthy helpings of everything.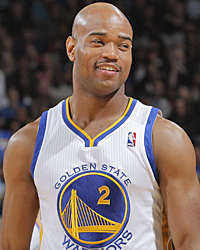 Jack is fifth in scoring average among reserves (12.9 points per game), but also gave Golden State 5.6 assists per game (second only to
Andre Miller
among reserves) and had 24 games with seven or more assists -- twice as many as second-place
J.J. Redick
among backups. Jack shot 45 percent from the field, 41 percent from 3-point range and became the first reserve since starts were first tracked in 1970-71 to produce three games with at least 25 points and 10 assists off the bench. (He also had 30 games with at least 10 points and five assists, also the most for a backup in more than four decades.)
Smith was a fixture in the Knicks' success, taking on the dominant ball-handling and scoring roles with the second unit and averaging a league-high 18.1 points per game among reserves. But what J.R. giveth, J.R. taketh away; he was by far the worst defender among my sixth-man finalists, and that's saying something when the beloved but defensively indifferent Crawford is in the mix. (According to Synergy, to be fair, JCrossover actually wasn't a terrible defender this season, allowing a respectable .817 points per possession.)
Overall, I couldn't pass on the opportunity to champion the cause of a role player who comes off the bench to handle multiple tasks besides scoring, and handles all of them well.
My ballot: 1. Jack; 2. Smith; 3. Crawford
Preseason prediction: Jason Terry, Celtics
Most Improved Player: Jrue Holiday, 76ers
The award for most improved is fraught with interpretations and perspectives, and it's difficult to focus in on exactly what we're rewarding. An increase in opportunity, a jump in production or both?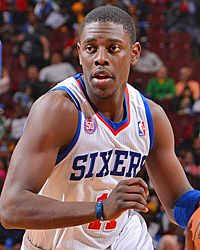 Mostly, both -- but in my mind, you must not confuse the two. For example, Harden's numbers in every significant statistical category went off the charts this season, but we already knew Harden was good with the potential to be great. The key for him was going from Oklahoma City's bench to Houston's starting lineup and, voila, an all-NBA performer was born. (He's also a former lottery pick, so he's following the proper career arc, and thus lacks the out-of-nowhere quality that a serious contender for this award should have.)
The same can be said, in a different way, about Orlando's Nikola Vucevic, who for a while there was known as the best player who was part of the Dwight Howard trade. Vucevic went from being a nondescript reserve on a playoff team in Philadelphia to, until a couple of nights ago, a guy who had more double-doubles than Howard. (Vucevic has 45, third in the league behind David Lee and Howard.) Of course he went from 15 starts and 16 minutes per game in Philly to 76 starts and 33 minutes on the lottery-bound Magic. In other words, his rise in production is directly related to his increased opportunity. But Vucevic still gets the nod in the No. 3 spot on my ballot because, when given an opportunity, you still have to put in the work and do something with it -- which he clearly has.
Sanders, who will get a lot of consideration for top defensive player, gets the nod on my ballot in the No. 2 slot for MIP. Sanders' opportunities increased, but his production increased more -- and he has given Ibaka a run for his money for the league lead in blocked shots while evolving into a sturdy rim protector and more mature, team-oriented player.
But in the end, no one raised his game and reputation among his peers more than the Sixers' Holiday, who blossomed into an All-Star in his fourth season. Holiday carried the load for the Andrew Bynum-less Sixers, and his formidable jump in production wasn't simply tied to more starts or minutes. Holiday started 51 games as a rookie and started every game he played the past two seasons, but this year his scoring average went up by a third (to 17.5 points per game) and his assists nearly doubled (to 8.1 per game). This award was designed for precisely the kind of season Holiday has had.
My ballot: 1. Holiday; 2. Sanders; 3. Vucevic
Preseason prediction: Raymond Felton, Knicks
Coach of the Year: Erik Spoelstra, Heat
Miami is the most talented team in the league, surely a mitigating factor in Spoelstra's candidacy. But when you line the facts up, they're overwhelming: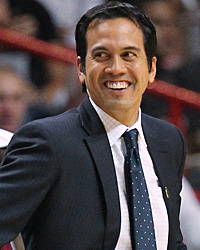 • Miami (65-16) has the third-best record among defending champions in league history and is the 16th team in league history to win 65 or more games (if the Heat win Wednesday night, they will be the 13th team to win 66 or more).
• They're 36-2 since Feb. 2, including 18-1 on the road. This includes, of course, their 27-game winning streak, the second longest in NBA history.
• Speaking of The Streak, the Heat found themselves trailing by 13 at Boston and 27 at Cleveland, and instead of folding, they kept playing and kept winning.
• They have the best record in the league vs. Western Conference teams (25-5).
• They have a league-high .700 winning percentage against teams with a .500 record or better and swept Oklahoma City, San Antonio and Denver -- the teams with the three best winning percentages after Miami.
• Their worst month of the season was January, when they were 8-5, and they've lost exactly one game in each of the past three months.
Is it all due to talent? A lot of it is, but not all of it. Miami is 11-2 without Dwyane Wade, 7-0 without Chris Bosh, 4-1 without LeBron and 4-1 without Wade and LeBron -- including a March 31 victory in the finale of a four-game road trip in San Antonio, where they were previously 2-22. They're 2-0 without all three of the Big Three.
With great talent comes an enormous coaching burden, and Spoelstra has navigated it almost flawlessly. Other than a mini-championship hangover early in the season, the Heat have been engaged from wire-to-wire -- especially on the road, where they have the league's best record at 29-12.
What George Karl has done in Denver has been nothing short of inspiring, and the Nuggets will be a tough out in the playoffs even without Danilo Gallinari. But their league-best 37-3 record at home doesn't eclipse their 19-22 record on the road.
Tom Thibodeau gets the third vote on my ballot simply because he kept the Bulls playing at a high level without Derrick Rose and after the departure of significant role players last summer. (Also, the Bulls were 9-3 against Miami, New York and Brooklyn). Frank Vogel did amazing work with the Pacers in the absence of Danny Granger -- and yes, the Pacers were 3-1 against Chicago -- but that's too small of a sample size to sway my vote. Plus, Granger is not Rose.
A credible case can, and will be made for Karl, Vogel, Gregg Popovich, Mike Woodson, Lionel Hollins and Mark Jackson. I just don't see a résumé any stronger than Spoelstra's. You can't win without talent, but how much coaching goes into blending that talent has been an overrated part of Spoelstra's job description for three years. This is the year he finally gets his due.
My ballot: 1. Spoelstra; 2. Karl; 3. Thibodeau
Preseason prediction: Tyrone Corbin, Jazz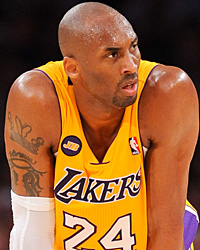 First-team All-NBA
G: Chris Paul, Clippers
G: Kobe Bryant, Lakers
F: LeBron James, Heat
F: Kevin Durant, Thunder
C: Tim Duncan, Spurs
Why: Having one of the best seasons of his 17-year career at age 34, and playing at an elite level until he could barely walk off the court, cemented Bryant's spot on my top five. Duncan was equally brilliant at 36, and while he doesn't play center consistently anymore, he makes it in that spot thanks to Howard's subpar season -- and deservedly so, by the way.
Second-team All-NBA
G: Tony Parker, Spurs
G: Russell Westbrook, Thunder
F: Carmelo Anthony, Knicks
F: Blake Griffin, Clippers
C: Brook Lopez, Nets
Why: Only question here was whether Curry and/or Harden would edge out Westbrook.
Third-team All-NBA
G: Stephen Curry, Warriors
G: James Harden, Rockets
F: LaMarcus Aldridge, Trail Blazers
F: David Lee, Warriors
C: Dwight Howard, Lakers
Why: What, no Wade? This is an excruciating call at the guard spots when you have two openings for Wade, Curry and Harden. The only distinguishing factor among them was defense, where Harden and Curry fell short. But Harden's impact on the Rockets and Curry's elite outside scoring were so overwhelming that they couldn't be left off.