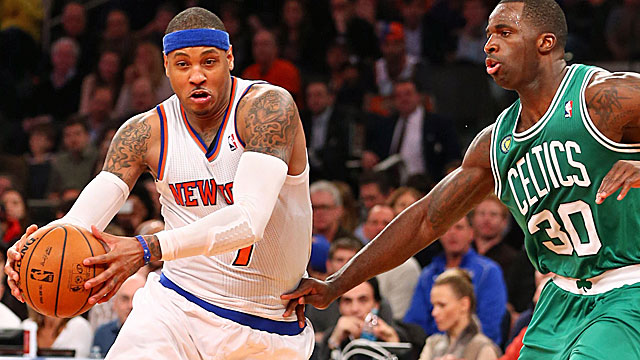 NEW YORK -- With all that transpired in Boston this past week, Doc Rivers didn't know what to expect.
Whatever time the players had on Friday before their final practice leading up to another playoff journey was spent on the phone with family -- pleading with them, ordering them to stay inside.
More Knicks-Celtics
Columns

Related links
It was a manhunt in Boston, one that played out on the network news and social media and in the hearts and minds of a city and nation for hours. Against that backdrop, the Celtics embarked on their most challenging and uncertain postseason trip since Rivers brought three Hall of Famers together six years ago.
"Yesterday was a strange day," Rivers said before the Celtics dropped Game 1 of their first-round series to the Knicks 85-78 on Saturday. "You're going to practice and your guys are on the phone and literally everyone's calling home and yelling at them, 'Stay in the house.'"
At Madison Square Garden, the Boston and New York fire departments united to present the pre-game colors. Knicks fans shhhh'd a few knuckleheads who booed Paul Pierce as the Celtics star said a few words to the crowd with the Knicks' Carmelo Anthony.
And then, basketball. Then, sports. Boston vs. New York, like it's been so many times before.
"Thank gosh it's over," Rivers said. "It was good to see everybody in the city happy, hugging and rejoicing. And I'm sure our players had a chance to exhale because their families are still back there."
There is no equating violence and tragedy with sports, but there's also no doubting that sports always endure. Eventually, the games always go on.
And if this wasn't quite a classic at the Garden, it was the beginning of something that will be special -- and probably lengthy. These are the Celtics, after all, and they do not go quietly.
Game 1 was all about Anthony's 36 points -- including two tough jumpers and a steal and transition layup late in the game -- and it was about the Knicks finding their defensive identity in the fourth quarter, when they held the Celtics to eight points. This was the problem Rivers had lamented before the game, going into a playoff series for the first time without a point guard -- going into the postseason grind without the ultimate grinder, Rajon Rondo.
"Everyone's going to pressure us; it's no secret," Rivers said. "That's what you should do. With Rondo, you have the ability to think your way out of it. First of all, no one pressures Rondo. Secondly, if they do we can figure it out and run our stuff. We don't have that. That's been taken away from us, and that's a big chunk of your offense. We've got to be able to trust the pass. And we've worked on it for eight weeks now, preparing for this. We'll find out if we can do it."
In Game 1, they couldn't. They couldn't overcome Anthony scoring as many points in the fourth as they did. They couldn't overcome Kenyon Martin's 10 points and nine rebounds -- five offensive -- or Jason Kidd's 40-year-old hands in the passing lane. They couldn't run their stuff with Kidd diving on the floor for a loose ball in a two-possession game late in the fourth.
"Just being lucky," Kidd said. "Understanding what's at stake and who's behind me and being in the right place at the right time."
Said Tyson Chandler, who played with Kidd on the Mavericks' 2011 title team, "He has a champion's heart."
But if I'm Rivers? With no point guard and Anthony putting up 36 and my team scoring exactly three baskets in the fourth? I'd feel pretty good about things.
"If you told me before the game that they were going to score 85 points and shoot 40 percent from the field and we were going to shoot a higher percentage," Rivers said, "I'd take it."
And he should.
The Knicks have plenty to feel good about, too. They got nothing from Chandler, whose conditioning wasn't there after a two-week layoff. With little to rely on offensively besides the usual assortment of isolation plays for Anthony and J.R. Smith, the Knicks found other ways to win.
Kind of like the Celtics have for as long as anyone can remember. They'll show up at the Garden on Tuesday night, and again in Game 3 on Friday -- their first home game since the marathon tragedy. The Celtics will keep coming, keep pushing in this, the most challenging of their postseason runs since the Big Three era began and faded away.
And fading away is not something the Celtics do. Hanging around is more like it.