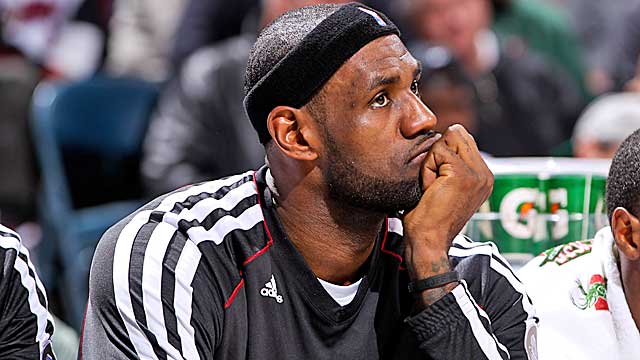 LeBron James could have been the greatest of all time, but we'll never know. We can guess, but we can't know. Anyone who says they do know? They're lying.
About football, I mean.
We know about basketball. LeBron's not the greatest winner in basketball history -- that would be Michael Jordan or Bill Russell -- but the greatest player? The most perfect combination of size and skill, shooting and passing, offense and defense? Absolutely. LeBron's the greatest combination of those things. Duh.
But that's the LeBron we know, and he's not the story here. The story here is the LeBron we'll never know, the professional football player. The greatest tight end in NFL history. That's who he could have been had he not quit football. Most popular sport in America, and LeBron gave it up. Decided, "the hell with it." And stopped playing. That's how good he was in basketball
How good was he in football?
Let me tell you a story. Well, no. Let Indianapolis radio host Dan Dakich tell you a story. He talks better than I do, and anyway, it's his story. He was there, on his deck overlooking a golf course in Bowling Green, Ohio, talking about LeBron James in 2001. Back then Dakich was the basketball coach at Bowling Green, and the school had just hired a football coach. Dakich invited him over.
At one point the football coach looks at Dakich and says, "Hey, you know this LeBron James?"
At the time James was a high school sophomore in Akron, a two-hour drive away, and he was the No. 1 basketball recruit in America. So, sure. Dakich knew this LeBron James. The football coach continued:
"He's the best wide receiver prospect in the country."
Said Dakich: "You do realize, he's not going to play college football."
Said the football coach: "I'm just telling you, this is the best high school wide receiver in the country, and he's a sophomore."
That's the story, minus one fact. The Bowling Green football coach on Dakich's deck? His name was Urban Meyer. Maybe you've heard of him. A few months previously, Meyer had been an assistant coach at Notre Dame. A recruiting ace and a position coach. The position he coached?
Wide receiver.
So, yeah. Urban Meyer knew a little about wide receiver talent in 2001. And he said James was the best in the country, even if he did have two years of high school football left to play. Turns out James used just one of those years, giving it up after suffering a broken wrist playing basketball the summer before his senior season. As a sophomore James caught 42 passes for 820 yards and seven touchdowns. As a junior he upped those numbers to 61 catches, 1,245 yards and 16 touchdowns. He was all-state both years, no small accomplishment in Ohio.
Imagine him now. He wouldn't be a receiver, not anymore. As a high school sophomore LeBron was about 6-foot-7, 220 pounds. Today he's roughly 6-9, 275. The Heat list him at 6-8 and 250 pounds, but those numbers are wrong and everyone knows it. For whatever reason, James is one of those players who doesn't want to admit just how big he is. (Joakim Noah of the Bulls is another. When he was at Florida, Noah told me he wouldn't let the Gators list him at his true height of 7-1. Apparently the same holds true with the Bulls, who have him at 6-11.)
As I said, imagine LeBron now. A 6-9, 275-pound tight end. The tallest player on the field. Outweighing linebackers by 25 pounds. Running the 40-yard dash in the 4.6-second range, a conservative estimate. We've all seen LeBron getting up and down the basketball court, surrounded by some of the most explosive athletes in the world. He's as fast as any of them, and faster than most. The basketball court is 30 yards long. You think he couldn't run the 40 in 4.6 seconds? Please.
Maybe you're wondering why I'm writing this now, of all times. The day after the first round of the NFL Draft. During the NBA playoffs. LeBron ... as a tight end? Huh?
It's Jeremy Shockey's fault. A combination of Shockey and Deadspin.com, if you can believe that. Deadspin had a, shall we say, intriguing headline on a recent story about a Shockey tweet, and that had me looking up Shockey's Twitter address on Google. Type in the phrase Jeremy Shockey twitter yourself. See the handful of Jeremy Shockey tweets churned out by the search engine? This is the first one. I clicked on it, and knew what I wanted to write today:
"everyone trust me Lebron James could not play in the NFL! espn is crazy to even think he could even make a practice squad. hes a 4.9 40 time"
Ignore Shockey's grammar and his egregious mistake at the end -- I ran a 4.9 in high school; I'm assuming LeBron's a bit faster -- but that's the background. That tweet from 2009 is why I'm writing about LeBron James today and bemoaning the fact that we'll never know how great he would have been at football.
All we can do is look at one of the NFL's best tight ends of the last five years, Antonio Gates, and one of the best tight ends of the next five years, Jimmy Graham, and remember that they were college basketball players who couldn't hack it in the NBA so they switched sports. Gates was a great high school football player, but he was no better than LeBron -- and he's not nearly the physical specimen. Graham is closer in size (6-7, 265), but he wasn't an all-state high school football player.
What I'm saying is, imagine the raw athletic ability of Jimmy Graham ... with the experience and skill of Antonio Gates. And then add 2-3 inches, about 10 pounds and another half foot (or more) of vertical leap.
And then imagine LeBron James rewriting the record book in the NFL, just as he's about to do in the NBA.