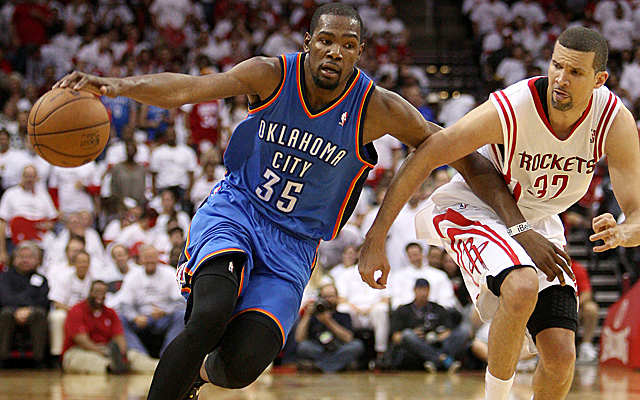 HOUSTON -- The Rockets showed how it can be done. Well, not the Rockets, plural. One Rocket, singular. Francisco Garcia showed how it can be done, sketched the blueprint for the next team that faces Oklahoma City in the playoffs. That would be the Western Conference semifinals.
The dilemma would be Thunder superstar Kevin Durant.
The solution was demonstrated by Francisco Garcia. One possible solution, anyway. There may be more than one way to get inside Durant's head, to slow him down, to make the most efficient scorer in recent NBA history just inefficient enough to change the game.
More on Rockets-Thunder series
Related links
More NBA coverage
Garcia did that Saturday night in Game 3 after the Rockets tried to defend Durant the old-fashioned way, with similarly built Chandler Parsons. The old-fashioned way didn't work, but it never has. Durant has won three scoring titles.
Garcia defended Durant as well as I've ever seen, and I've seen Durant in each of the last three postseasons. I've seen the Spurs try to stop him. The Mavericks. The Heat, with LeBron James himself. I've never seen anyone make Durant look as bad -- "bad" is a relative term for a player this good -- as Garcia made him look in Game 3.
What did Garcia do? He got physical. He got nasty. Dirty? Maybe a little bit.
It started early in the second quarter with Durant playing at a ridiculously high level, even for him. At one point he was beating the Rockets by himself, 20-19. Overall the score was 44-19, and it was 50-24 when Houston moved Garcia to Durant and Garcia did something that changed the game. It happened away from the ball, but I saw it. If you have the game on DVR, see it yourself. Someone else from the Thunder was bringing up the ball -- I didn't see who; I was watching Durant -- when Garcia started thumping him in the chest with his forearm.
It wasn't awful. It wasn't clean, wasn't nice, but it wasn't terrible. It was a foul, had the referees been watching, but it wasn't worth a flagrant or a technical. It was irritating, and Durant got irritated.
And his game deteriorated.
There were other factors too, including the factor I wrote about Saturday night, that the Thunder took the ball out of Durant's hands. Instead of letting him take it 60 feet, build momentum and pick through the Houston defense, the Thunder set up Durant off the ball and asked him to generate offense from a standstill. He has done it his whole career, but he hasn't been taken out of his game as thoroughly as Garcia took him out Saturday night.
It was a 26-point rout when Garcia thumped him and Durant thumped back, then complained to an official. Garcia was in his head -- and Durant resorted to hero ball. First he tried to take Garcia into the lane, where he lost the ball on his way up. Next time, same thing. Another forced foray into the lane. Another difficult shot. Another lost possession. With Garcia shadowing him, Durant closed the second quarter in a 2-for-6 rut, and the Thunder lead was down to 17.
Then came the third quarter, one of the worst quarters I've seen Durant play. He took seven shots and missed six. He had three turnovers, one 45 feet from the basket as he pivoted, pivoted, pivoted until the referee finally called traveling. In the third quarter the Thunder scored just 14 points. The Rockets were within 80-76.
Francisco Garcia did that.
Durant wouldn't admit it. Maybe it was pride, maybe lack of awareness, but when I asked Durant about Garcia's tactics -- about trying to get into his head -- he balked.
"He tried to get physical with me," Durant said. "I'm a veteran now. Words, physical play don't get me out of my game. I'm not trying to have a duel between me and him. Just going out and playing. I don't think anything takes me out of my game."
Brooks didn't see what happened, either.
"He stayed composed," Brooks said of Durant, another example of the OKC coach -- whom I like, very much -- simply not getting it.
Just because Durant and Brooks said it, doesn't make it true. Garcia had him playing out of anger, and anger doesn't work for Durant. It works for some guys, because some guys have that edge. The last thing you wanted to do to Michael Jordan, for example, was make him angry. Same with Kobe Bryant. But Kevin Durant? He's one of the nicest guys in the NBA. When he met the media after Game 3, he brought with him a kid from the Houston area, a boy of about 10 who had befriended the Thunder on an earlier trip to the Toyota Center.
Most of the time Durant meets the media with Russell Westbrook. Since Westbrook was in Oklahoma City having surgery, Durant talked to the media alone. So he brought the kid from Houston to the interview room and encouraged him to sit at the podium.
"C'mon, man," Durant said to the kid. "Come on up."
To the media Durant said, "He's sitting in for Russell."
Nice moment. Nice guy, Kevin Durant. But angry? Anger doesn't seem to suit him. It sure didn't Saturday, when he was 7 of 10 when Garcia made him angry, then 6 of 20 the rest of the way. Garcia scoffed at a media inquiry that he had slowed Durant down by responding, "He had 41. How did we slow him down?"
This is how: In the first half Durant scored 27 points on 16 shots, and the Thunder led by 17. In the second half he scored 14 points on 14 shots, and the Thunder won by only three.
Garcia wormed deeper into Durant's head by playing the best playoff game of his eight-year career: 18 points, five rebounds, three blocked shots. Garcia was snarling and hitting 3s in Durant's face, including one for a 99-97 lead with 45.2 seconds left.
Durant is an all-time great, though, and he wasn't finished. I never said Garcia destroyed him. Just said Garcia took him out of his game as well as anyone has. But Durant answered Garcia's 3-pointer with one of his own for a 100-99 lead, and the Thunder won 104-101 for a 3-0 series edge.
Durant hit the biggest shot of the night, but Garcia showed the way. If he doesn't start Game 4, well, that's on Rockets coach Kevin McHale. Garcia should play every minute he can on Durant, at least until Durant proves that he's finished trying to demoralize Garcia -- and willing just to beat Houston.