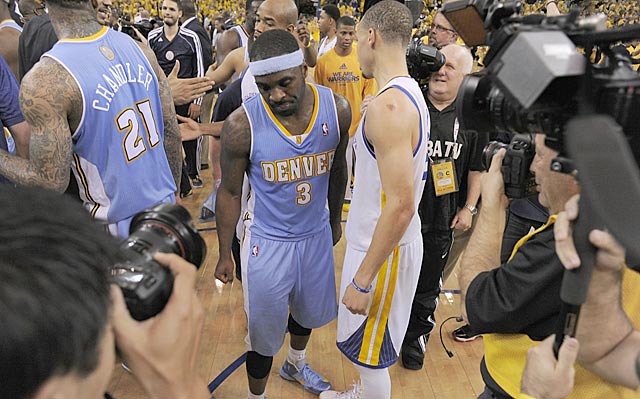 OAKLAND, Calif. -- The party had started at Oracle Arena, and let me tell you, this is a place where they know how to party.
It was an 18-point lead for Golden State with 9:11 left, and 19,000-plus -- all wearing yellow shirts -- were going bonkers. It has been three playoff appearances in two decades around here, so the Warriors' biggest accomplishment since upsetting the 67-win Mavericks in 2007 was worth celebrating early.
Then, chaos. Suddenly, the unthinkable. A 22-8 Denver run fueled by defensive pressure and the shaky nerves of Mark Jackson's young team feeling the playoff walls close in for the first time.
"It was like they were giving us a chance to win the game," the Nuggets' Corey Brewer said. "We just had to take it."
The Nuggets did not, and the Warriors advanced to the second round for the second time in 22 years with a 92-88 victory on Thursday night.
Why am I quoting Corey Brewer in a column about a clinching Game 6 of a first-round playoff series, you ask? Because Corey Brewer had a bird's eye view of the biggest play in this game -- the play that could have tipped the scales in the Nuggets' direction.
While the Warriors were wilting under the Nuggets' defensive pressure -- which perhaps came too little, too late -- they made one last egregious mistake. Klay Thompson's half-court inbounds pass for Stephen Curry with Golden State clinging to a 90-88 lead was stolen by Andre Iguodala, and Denver went the other way with a chance to tie.
Wilson Chandler drove on Jarrett Jack and missed a one-hander in the lane. Then he missed his own putback. Then the ball bounced to Brewer, who leaped in the air and passed to Kenneth Faried for what would've been a game-tying dunk with 11.4 seconds left.
The play was whistled dead, as the officials ruled that the ball bounced on the baseline on its way to Brewer's hands. Replays were inconclusive as to where the ball landed, and it didn't matter; the officials couldn't review whether the ball landed inbounds, only who touched it last. Once the play was dead, it was dead. And so were the Nuggets.
It was Golden State ball, and the party could start again at Oracle.
"I don't think the ball went out," Ty Lawson said. "Corey said it didn't go out at all. It's just a tough call. We've got to deal with it."
Corey?
"I didn't see the ball go out," Brewer said. "It is what it is. They made the call, they reviewed it. But I didn't see where the ball went out. It was right inside the line, I thought. Maybe I'm wrong."
So, all that happened. And if the Nuggets weren't going to get all worked up over a turn of events that could've sent them home for Game 7, then why should I?
If they weren't going to get worked up about JaVale McGee being well outside the restricted area when he was called for a questionable block with 3:55 left and Golden State leading by four, why should I?
"We've got to take care of stuff early so we're not in that position to put the game in their hands," Lawson said.
One Nuggets player did say he heard the officials conferring on the McGee call, and it went something like this: "Did you see it? Did you see it? Block!" But the end result was that the Nuggets won 57 games and were sent home, knocked out in the first round for the ninth time in 10 years. (Can't blame Carmelo Anthony for this one.) The Warriors move on to face the Spurs; Game 1 will be on Monday night in San Antonio.
"For me, my first playoff series win, first for the organization in a while, everybody is relieved to kind of get it done," Stephen Curry said. "It's still a hazy kind of feeling because of the way the game ended, it going down to that last possession. Just a sense of relief with the way the game finished."
Up until that hazy sense of relief at the end, the Warriors showed why they belong here. They're a gift from the basketball gods in this postseason, a high-wire act that's every bit as explosive and edgy as their fans.
Curry averaged 24.3 points and 9.3 assists and shot 43 percent from 3-point range in the series, becoming the first Warriors player since Baron Davis in 2007 to have at least four 20-point games in a playoff series. Andrew Bogut had his best game in as long as anyone can remember with 14 points, 21 rebounds and four blocks.
"I didn't expect that," Jackson said, echoing, well, everyone.
Just as the Warriors were starting to pull away in the third, Bogut was mucking it up with effort plays -- and despite the comedy of errors that ensued, somehow managed to look graceful doing it. He chased down a loose ball in the corner, dished to Curry, grabbed another loose ball, lost it, batted it to Curry in the corner and dove to the paint where Curry found him for a layup that gave the Warriors a 61-53 lead.
Afterward, someone reminded Bogut that he had promised to address all the so-called dirty play and accusations in this series once it was over. Being that it was now over, Bogut had to make good on that promise.
"Sort of a loaded question," Bogut said. "Kenneth Faried, I won't call him dirty, but he plays hard. He's out there hitting bodies and hitting people, so for him to come out and call us overly physical and dirty, that's a bit of a contradiction in my opinion. They have the one guy that makes a living on that, in my opinion."
And in my opinion, this was a heck of a series -- one that could have gone either way with one bounce of the ball.