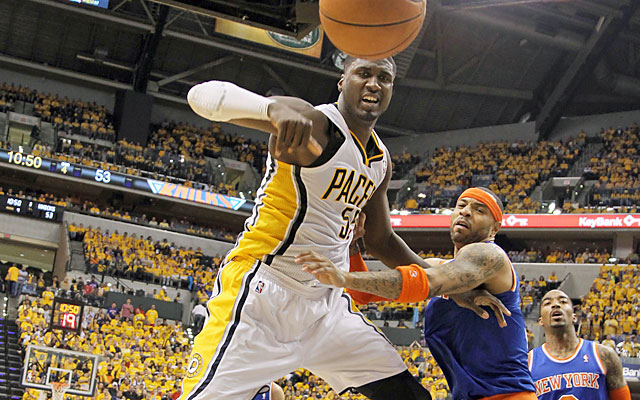 INDIANAPOLIS -- Here we had the best defensive team in the NBA by most measurements, with no player higher than eighth in the defensive player of the year voting. And it brought to mind something Frank Vogel had said in the days leading up to Game 3 of the Eastern Conference semifinals against the Knicks.
Speaking of the timeout he'd called that immediately led to a 30-2 Knicks run in Game 2, Vogel said, "If I knew all I had to do was call a bad timeout to get this team some national attention, I would've done it two years ago."
An inferiority complex, a big-city envy thing was pulsing through that quote, all the way to Game 3 in Indiana on Saturday night. And if anyone was going to have a chip on his shoulder after Game 3, a suffocating 82-71 victory that gave the Pacers a 2-1 series lead, it would have been Roy Hibbert. If anyone was going to be campaigning for credit, telling his critics, "I told you so," it should've been Hibbert.
"I don't think he's built that way," teammate David West was saying in the locker room, after Hibbert dominated the Knicks in the paint with 24 points and 12 rebounds.
The only knock was that Hibbert didn't block any shots, but of course, the Knicks would've had to get near the rim for that to happen.
"He's happy with our team success and feeds off of that more than the individual things that come with being a pro," West said.
But for the second time in three games, Hibbert did the individual things that put his team in control of this best-of-7 series. Those individual things included scoring in the paint with his right hand, with his left hand and on putbacks. They included making the defensive player of the year from two years ago, Tyson Chandler, utterly invisible.
And those individual things led to team things, as is usually the case. Hibbert's dominance in the paint led to a flip-flop in 3-point attempts in this series of contrasting styles. The usually three-happy Knicks managed only 11 attempts from beyond the arc -- making three -- while the conservative Pacers went 10-for-33.
"I think his impact on the offensive end opened up 30 3-point shots for us," said George Hill, who would know, because he took 12 of them -- making five, accounting for all of his field goals.
Hibbert was magnificent at both ends, a walking, drop-stepping, rim-protecting endorsement of the four-year, $58 million contract he signed with the Pacers last summer. The contract that he's now playing up to is the same one that he seemingly didn't deserve for the first two-plus months of the season.
"When everybody was talking about his contract, I thought it was starting to creep in on his psyche," West said. "I thought folks were putting a little bit too much pressure on him and he was putting too much pressure on himself to perform at a certain level. He just wanted to show his growth, his improvement and that he was worth it."
Last July, the Pacers signed Hibbert to a deal identical to an offer sheet he'd received from Portland as a restricted free agent. It was a neat, no-nonsense piece of business accomplished by longtime agent David Falk and Pacers GM Kevin Pritchard, the former GM of the Trail Blazers. No muss, no fuss. The Pacers technically didn't match Hibbert's offer sheet, which he never signed. Thus, the Blazers didn't have to account for Hibbert's salary on their books and could pursue other free agents during what would've been the matching period.
But for Hibbert, living up to those big, public numbers next to his name -- $58 million -- wasn't quite as simple. He was 25, with less than 300 NBA games to his name. Seven-footers take years to develop. Some never do. It was a calculated risk that Pritchard decided was worth taking. In today's NBA, with the spending limitations and rules designed to churn rosters every 2-3 years, isn't it better to commit to one of your own -- to pay the guy you know instead of overpaying the guy you don't?
"We weren't worried," Paul George said. "We knew Roy would come around."
Hibbert has come around in ways that have made an imprint on this series with the Knicks, whose dream matchup with Miami in the conference finals is in serious jeopardy. It's a far cry from those early days of the regular season, when Hibbert was trying to do too much, too soon and striving to play up to his contract -- a momentary lapse into the underworld of NBA culture that Hibbert had to learn to avoid.
"I do a lot of thinking," Hibbert said in the interview room. "And the mantra I had today was, 'Tonight was going to be my night.'"
There were glimpses of this early in the season, such as Hibbert's 11 blocks against New Orleans on Nov. 21. But there were also too many 1-for-7, 1-for-4, 3-for-12 nights with a handful of rebounds and no impact. The Pacers, coming off a 4-2 loss to Miami in the conference semifinals, were a sub-.500 team for the first five weeks of the season. They didn't climb above .500 for good until mid-December, when Hibbert finally started coming around.
"When we started off a little shaky losing some games and people were putting the sole blame on him, I thought he handled it in the best way possible," West said. "He stayed persistent in his work, trusted his work and trusted his preparation and as you see, he turned the corner. ... He was just mature about it and he wasn't in denial about his play and wasn't looking to blame the offense, how we played and things of that nature. He took it square in the chest."
The kind of national attention that Vogel chided the media for over that ill-fated timeout finally is coming. It's absurd, really, to watch the Pacers smother the Knicks and hold them to 35 percent shooting without a single player getting a sniff of the defensive player of the year award. (George was eighth in the voting, and Hibbert 10th. I had George third on my ballot, after Joakim Noah and Marc Gasol. But no Hibbert.)
The Knicks led the league in 3-point attempts and were top-10 in 3-point percentage, yet they did nothing there on Saturday night. The team with by far the fewest turnovers in the league this season coughed the ball up 15 times resulting in 18 points.
"I don't know if he's completely motivated by that," West said of Hibbert's snub. "I do know he's better than 10th defensively in this league."
He's more than that. On Saturday night, for the second time in this series with the star-studded Knicks, Hibbert was the best player on the floor.
"That's the reason why he got the money, why he was an All-Star," George said. "Because he works. He puts the time into it. I don't think I'll see him going back. I think this is the Roy we'll have all postseason."
And that could mean a lot of trouble for a lot of people.