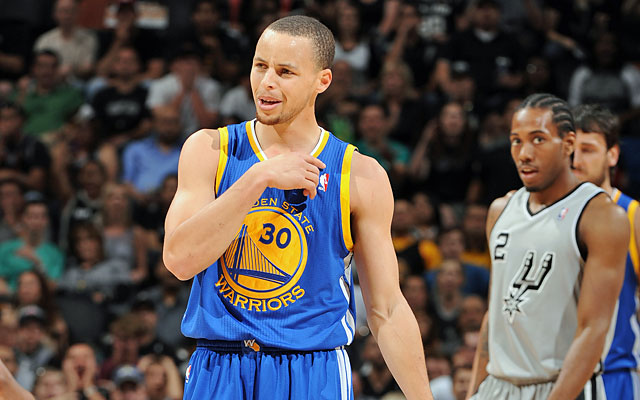 SAN ANTONIO -- There was a point late in the third quarter when Gregg Popovich motioned for Manu Ginobili to come toward the sideline for a talk. All it took was a wave, and Manu dutifully pranced over during a dead ball.
This is how the Spurs operate, with little glances and hand signals and smirks and grimaces. Everybody understands what they mean.
Popovich put his arm around Ginobili, then marched back toward the bench to explain to his assistant coaches what they'd decided. "We're putting Kawhi on Curry," he said.
The Spurs had a nine-point lead at the time, and if there was ever a time when Stephen Curry was going to come to life and shoot the Warriors back into Game 5 of the Western Conference semifinals, this was going to be it. Putting the long, lean Kawhi Leonard on Curry at that point was an attempt to cut off the snake's head.
"The series for us is all about defense," Popovich said after the Spurs took a 3-2 lead in the best-of-7 series with a 109-91 victory on Tuesday night
Leonard didn't guard Curry the rest of the game, but for that 4½ minute stretch to close the third quarter -- when another Curry eruption could've set the stage for a very different outcome -- there was no room for the dynamo of these playoffs to move. No room to breathe.
He curled around two screens and missed a contested 3-pointer, then couldn't get open as Harrison Barnes missed a short jumper and Jarrett Jack missed a 3-point attempt. Then, as Curry dribbled the ball up the sideline near the Spurs' bench, Popovich motioned for Leonard to pressure him. He did, as did Boris Diaw when Curry freed himself with a screen -- only to dribble the ball off his foot and out of bounds, right at Popovich's feet.
By the time Curry went to the sideline to rest for the final seconds of the quarter, the Spurs' lead hadn't been trimmed at all. It had grown to 11.
"I was terrible, plain and simple," a dejected Curry said at his locker after a dismal nine-point performance on 4-for-14 shooting -- including 1 for 7 from 3-point range -- with four turnovers.
"I think I held my own in the first four games, but tonight I wasn't locked in and that's inexcusable," he said. "This is a big game and I kind of dropped the ball."
But it wasn't that simple. The rule that teams live and die by the jump shot in the playoffs, and the perception that the young Warriors are hitting a wall with all their injuries and inexperience -- those things are true. But the ultimate truth is rising to the surface once again in this postseason, and it is the brilliance, preparation and execution of the Spurs –- their ability to find what can hurt them and eliminate it. Through the course of a playoff series, they find your strengths and extinguish them, one by one.
The Warriors' chance in this series rides on the fingertips of their electrifying backcourt of Curry and Klay Thompson, and as bad as Curry was, Thompson was worse -- 2 for 8 with four points as he failed to attempt a 3-point shot for the first time all season.
"It felt weird out there," Thompson said, echoing the thoughts of countless others in his shoes who've had their minds numbed over the years by the Spurs.
"They're making adjustments to try to run you off the 3-point line," Curry said. "The only way I was really able to get a look was just off the dribble, off pick-and-roll, which is a good gameplan for them."
Always.
With this smothering defensive effort -- not to mention precise offensive execution that led to an incredible 30 assists on 40 baskets -- the Spurs may have turned the tide in this series and sucked the life out of the Warriors. The story of the playoffs has been Curry, his fearless shot-making and joyous showmanship. If there is any of it left, it will have to be on display in Game 6 on Thursday night in Oakland, or the ride will be over.
"Me and Klay have to do better for us to get where we're trying to go," Curry said. "No cutting around it."
But this is part of the Spurs' greatness, too. They didn't look at this as a momentum-changing moment or a knockout punch. They viewed it as survival.
Before the game, Popovich had stressed the need to understand the moment and go after loose balls and rebounds "like maniacs." In the fourth quarter, when the Spurs were out of sorts in transition after Curry had missed a corner 3-pointer, it was Popovich who was raving like a maniac -- chasing ref Ed Malloy almost to the Warriors' bench in an effort to call timeout. Red-faced and exasperated, Pop finally got his precious timeout called. San Antonio was up by 13.
In the hallway outside the locker room, a Spurs assistant embraced a friend and said, with more than a hint of relief in his voice, "We're alive." This, after winning by 18 and holding what Warriors coach Mark Jackson has anointed the greatest backcourt in creation to 6 for 22 with one, single, solitary 3-pointer.
"I've got to make plays in other areas of the game and find offense in other areas," Thompson said.
The Spurs find what you are going to use to beat them and destroy it, then force you to do other things you don't like to do and aren't good at. But one thing they don't do is exhale.
"You'd make a bad coach," Popovich said to a questioner in the postgame press conference, when asked about getting this one "over with" on Thursday.
"No one talks about getting this thing over with, like you've got a rash or that type of thing -- like, if you take a pill or put some cream, on it, it's going to be gone," Popovich said. "This is a war. They're a class team. They bust their ass at both ends of the floor. And it's not about getting rid of anything. It's about going and playing, and that's about it."
Something the Spurs do better than anybody -- going and playing and that's about it.