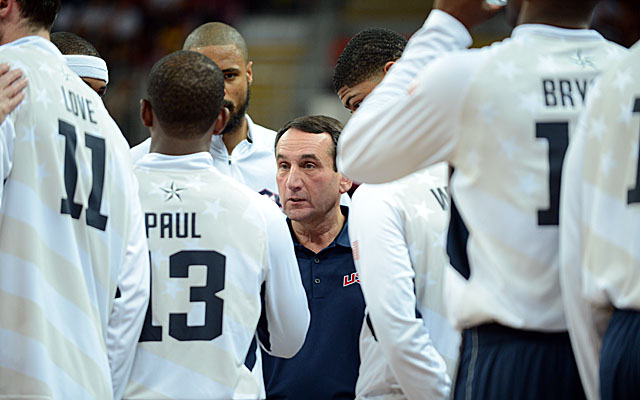 Please, Mike Krzyzewski, don't leave the U.S. Olympic team.
What more is there to say? Coach K is the best possible coach for Team USA. Players want to play for him, but it's more than that. They want to play hard for him. They won't embarrass our country on or off the court, partly because -- duh -- they don't want to embarrass their country, but also because they don't want to embarrass Mike Krzyzewski.
Normally I'd wait a good six or eight paragraphs before explaining why this story is really about me -- shaddup -- but this one requires an earlier start. See, Coach K and I have a history, and that history is irrelevant. That's what I'm telling you now, in the hopes that any of you who dislike Coach K for whatever reason will decide that your own issues with Coach K also are irrelevant when it comes to the matter at hand.
That being, the 2016 U.S. Olympic basketball team.
You want America to win that thing, yes? Me too, and that's unusual for me. Been over this a few times, maybe more than that, but I don't root for anyone in any sport unless that sport is the Olympics and that competitor is wearing red, white and blue. And then I'm rooting. Those colors are magical to me, and probably to you, and nothing is magical to me. My alma mater? Not magical. UFC athletes I've gotten to know and like, and even sparred with in a boxing ring? Not magical. Don't care. Can't, for some reason.
Team USA? I can and do care. And men's basketball is the sport that matters most to me. Which means I want, and want isn't a strong enough word, for Krzyzewski to stay as coach. For months he has said he was finished, that the 2012 Olympics were his finale, and believe me he served his country well. He replaced a series of underachieving (Rudy Tomjanovich, George Karl) or unlikeable (Larry Brown) national coaches and restored Team USA to its spot -- rightful spot, I may add -- atop the world. Under Coach K, we've gone 62-1 in international competition.
Damn right I said we.
That's our team. That's our coach. And he's not just the best coach possible, but the most important coach in the history of USA Basketball. For decades the coach almost didn't matter because our national team was going to win gold, even with amateurs. Know why we didn't use NBA players until 1992? Because we didn't need them. The United States was so far ahead of other countries that we were beating them with our best players, our pros, tied behind our back.
But the world caught up, then passed our collegians. We finished third at the 1988 Olympics and that was unacceptable -- so we allowed our NBA players to play in 1992, and we demolished everyone. But the world caught up again, in part because the world was catching up and in part because Team USA kept picking uninspiring coaches who either couldn't convince our best NBA players to play, or who couldn't convince our best NBA players to play hard.
In a sport graded by pass-fail -- gold is the only passing grade -- we failed. Sixth at the 2002 World Championships. Bronze at the 2004 Olympics, and at the 1998 and 2006 worlds.
Enter Coach K. Two Olympic gold medals. One World Championships gold. His only loss was way back in 2006.
Given the history, Coach K is the best coach in Team USA history. Given his status as the all-time NCAA wins leader -- and a four-time national champion -- he's probably the best coach in men's basketball. At any level. Ever.
And after saying for months that he was finished as the Team USA coach, it turns out this 66-year-old man might stick around for the 2016 Olympics? Yes, please. Pretty please? This is me, Coach K, asking.
And we have a history. A small one. An irrelevant one. But to write this story and ignore that history would invite lots of people out there to raise the issue. The hell with that -- I'll raise it myself.
It started in 1999 when I was writing a book about Coach K and he heard about it -- he heard, because I asked to interview him -- and he sabotaged it. He had his publicist contact former players and coaches, reminding them that Coach K was coming out with his own book soon, and that mine was unauthorized. That message circulated, and my access evaporated. Angry? Yeah, I was angry. Didn't hide it, either. Coach K knew I was angry, my bosses knew I was angry, and this mattered because at the time I was covering Duke for the Charlotte Observer. An angry reporter could be a biased reporter, but everyone knew the deal, and it worked out. By 2004 I was coming around, noting here at CBSSports.com that there was much to like (and also dislike) about Coach K.
In the years since it has occurred to me that, were I in Coach K's shoes in 1999, maybe I'd have done the same thing he did about the book issue. It also has occurred to me that it doesn't even matter. Who cares? Not me, not anymore. Not for a long time. Still, things have happened along the way -- Coach K and I have gotten into a tiff on a conference call, or I've written an occasionally unflattering story about his Duke team -- because that's how this world works. Not everything is always a bouquet of roses.
But this is a fact: Coach K is the best possible coach for our Olympic team. So please stay, Coach K. Please?
This is me, begging.