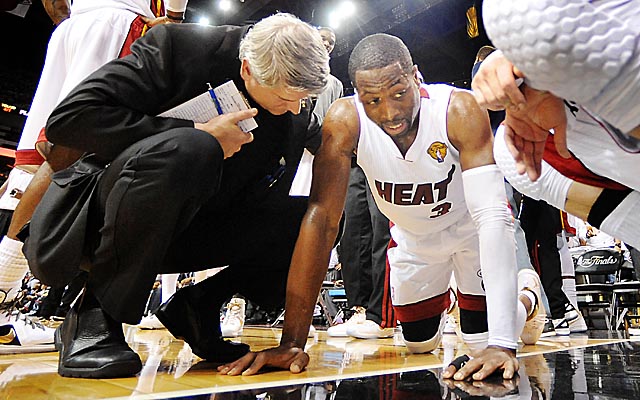 INDIANAPOLIS -- David West leaned against the basket stanchion on Monday and paused for a long time after I asked my question. His eyes gazed toward the roof, and he smiled.
My question: How well has the NBA's anti-flopping policy worked this season?
His answer: Not as bad as the answer from LeBron James.
First, West's answer: "I know fining a guy doesn't really take away a foul at a crucial moment of a game. It's so hard. It's a judgment call by the refs, and sometimes guys get rewarded for it."
Sometimes? The NBA during the postseason has been as flop-tastic as ever. Next, I'm half expecting to read that Tony Parker actually did leave his hotel room that night in Memphis, but never made it to the fancy restaurant in question because someone brushed against him on the sidewalk and he landed in a sewer drain three blocks away.
Now for the disturbing part: LeBron James' answer to my question about flopping on the practice day between Games 3 and 4 of the Eastern Conference finals. Get a load of this.
"It hasn't been a problem for many guys at all," James said. "I don't really pay too much attention to it. I think it's been good, I guess."
And since we're guessing here, I guess LeBron was talking about the policy itself, not the fact that it has proved to be woefully ineffective at stopping the bane of basketball, the trickery and foolishness that are ruining the games.
"It's year one, so you're not just going to go cold turkey," James said. "Guys have been accustomed to doing it for years, and it's not even a bad thing. You're just trying to get the advantage. Any way you can get the advantage over an opponent to help your team win, then so be it."
Here, I was floored. You would've thought LeBron had grazed my shoulder, because I almost went flailing 30 feet across the Pacers' practice court when he said that. If I'd done that while wearing a Manu Ginobili jersey, of course, nobody would've given a second thought.
The biggest star, the most recognizable face of the NBA, says flopping is "not even a bad thing?" He says that "any way you can get the advantage over an opponent ... then so be it?"
Well then, that says everything we need to know -- everything we already understood -- about the ineffectiveness of the NBA's steps to eradicate flopping.
"It's sad to say, but it's not just against the Heat but throughout the whole season," Pacers center Roy Hibbert said. "We all make a substantial amount of money and people still do it."
"Who's the worst?" I asked.
"I'm not going to answer that," Hibbert said.
My colleague, Gregg Doyel, says Dwyane Wade is the worst. Doyel says Wade is the dirtiest player in the NBA, and provides some pretty irrefutable video evidence to back up his claim -- including the infamous forearm to Lance Stephenson's head in Game 2 of this very series. No foul was called on the play, because the referees didn't see it. But Stu Jackson & Co. saw it at the league office in New York and assessed Wade a flagrant foul.
After dodging a suspension, Wade said, "I have no history of that kind of stuff." Read Doyel's column, watch the accompanying videos and judge for yourself.
But I'm not talking about dirty here; I'm talking about cheating. I'm talking about flopping. And Wade has been guilty of that, too, in this series. On this play, Wade was trapped along the baseline when he literally just threw himself out of bounds -- hoping to get a whistle for a foul that didn't happen. The referees didn't buy it, awarding the ball to the Pacers. But it's still a flop, and Wade should be fined.
I asked Wade on Monday what he thinks about the league's anti-flopping policy and how well it's worked. His reaction was telling.
"Um, I don't know, I don't want to get into all that," Wade said, before pausing for a couple of seconds. "I don't want to get into it."
When I pointed out that flopping still happens in the games, he agreed.
"It happens," Wade said. "But we would have no NBA possibly if they got rid of all the flopping."
Hardy-har-har.
The problem is that this isn't funny anymore. The announcers, from Jeff Van Gundy to Reggie Miller to Steve Kerr, get a good laugh out of it when flops happen. But they wouldn't be laughing if they were still in the league and their team was giving up points at the free throw line in a playoff game as a result.
"It's year one, so it still happens," James said. "But it's definitely been less than in years previous."
During the regular season, the NBA issued flop warnings to 19 players. Of those, five were fined for second offenses: Omer Asik, J.J. Barea, Reggie Evans, Kevin Martin and Gerald Wallace. That's 24 total flops that resulted in warnings and/or fines from the league office in the first year of this policy, over a total of more than 1,200 games.
I'm telling you, if Heat vs. Spurs is what we're getting in the NBA Finals, we're going to see 24 flops per game.
In the playoffs, there are no warnings for flopping; the first offense results in a $5,000 fine. Here we are at the tail end of the conference finals and the league has called out four players for flopping: Tony Allen, Derek Fisher, Jeff Pendergraph and J.R. Smith. Each was fined $5,000.
Pacers coach Frank Vogel, who was fined $15,000 last spring for calling the Heat "the biggest flopping team in the league," was reluctant to jump into the debate again.
"I think it's well documented," Vogel said. "I'm not for flopping."
I understand that the NBA has a fine line to walk with the players' association on this one, and so only the most egregious offenses are going to result in penalties. But again, I saw almost as many flops in Game 3 of the East finals alone on Sunday night as the league has penalized throughout the entire playoffs. I saw the Wade play, and I saw this one. I also saw James exaggerate contact on Paul George's drive to the basket in the third quarter, but nobody's made a YouTube video out of that one yet.
That play is an example of something that doesn't rise to the current threshold of flops for which the league office will assess penalties. There was some contact, and James exaggerated it a little bit -- though it wasn't over the top. But he got the offensive foul call via dubious tactics at a key juncture of a potentially series-swinging game. And since James has already told us his attitude about such things is "So be it," then we've stumbled upon an unintended side effect of the NBA's anti-flopping policy.
It's taught the floppers to be better actors.
"It's part of the game," said Shane Battier, and if you've ever watched Shane Battier, you can insert your own flopping joke here. "They're never going to eradicate it, I don't care how severe the penalty is. I think it was on the guys' minds more this year, obviously, because you don't want to lose a portion of your paycheck."
But the portion of the paycheck is so small for the vast majority of NBA players -- ranging from $5,000 to $30,000 depending on the number of offenses -- is it really a deterrent? Is getting called out publicly for flopping and having the NBA release a video of your cheating any more of a deterrent?
"Yeah, you know, it makes for a good YouTube skit," Battier said. "Sometimes the music's pretty funny. But I think the money hurts guys more."
The money obviously doesn't hurt enough, because we're still doomed to watching otherwise thrilling and dramatic playoff games filled with fake and/or exaggerated contact and attempts to unduly influence the officiating. The games are too close -- and the talent is too closely matched -- for this to be tolerated any longer.
I empathize with the league's efforts, because it's not easy. But I do expect the fine system to be accelerated next season, since it's obvious that the first year of this policy wasn't effective enough.
Nominal fines are doing nothing but encouraging floppers to do a better job of it so they don't get caught. There's only one punishment that will have any teeth with the players, coaches and front offices: suspensions.
That's a very slippery slope, and I'm glad it's not my job to decide how many flops should result in a suspension or argue the inevitable grievance from the players' union. But let's be honest: Flopping is so out of control that severe measures have to be contemplated.
When was the last time you saw a player leave the bench during a fight? Nobody does it anymore, because everyone knows it results in an automatic suspension. I don't know if that's the answer; I just know it would work. It would make the games more honest, like the game I watched on Monday.
Monday, you ask? Yes, at the end of Heat practice, I watched an exercise that's been going on all season. It was a 3-on-3 game among Heat reserves who hardly play in the games. On this day, it was Juwan Howard, Mike Miller and Rashard Lewis against James Jones, Joel Anthony and Jarvis Varnado.
Honestly, it was the best basketball I've seen all playoffs. There was plenty of contact, and there were plenty of fouls. But there were no arguments. Everyone on the floor knew what a foul was and what it wasn't. And nobody flopped -- not a single time. There were no referees to fool, and you can't fool the guy defending you.
For anyone fortunate enough to procure a credential to the NBA Finals -- assuming the Heat will be there -- I highly recommend attending practice and watching these 3-on-3 games. Then ask yourself why the real games can't be like this. And start counting all the flops, right along with me.