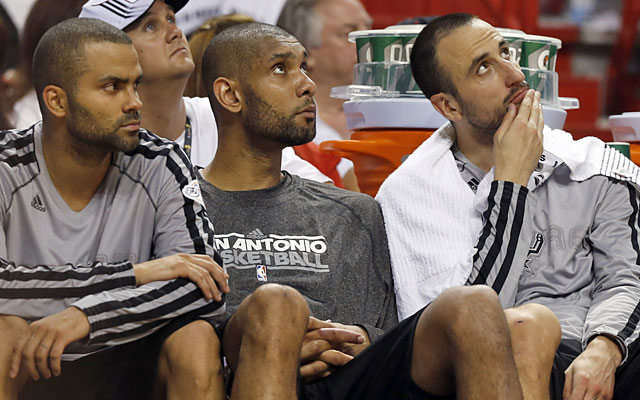 MIAMI -- Kawhi Leonard showed up, but what does he know? He's a second-year pro, just 21 years old. He has no idea what's going on here. Neither does Danny Green, which explains why he showed up as well. He's a journeyman, a guy lucky to be starting for any NBA team, much less one as good as the San Antonio Spurs.
They have no clue, which is why they showed up Sunday night for Game 2 of the NBA Finals as if the Spurs were going to win. They should have looked to their veteran leaders, to Manu Ginobili and Tony Parker and Tim Duncan. Those guys would have set the young punks straight.
The Spurs had already won Game 1 of the NBA Finals -- on the road. They'd stolen home-court advantage from the Miami Heat. They didn't need Game 2. Got it?
The Heat got it. The Spurs don't want this game? The Heat will take it. One minute the Heat were trailing by a point late in the third quarter, and the next, it was over. They led by 27. I mean, it happened like that.
The final score was 103-84, but you wonder how many games the Spurs lost on Sunday night. Did they lose Game 3 as well? Heat star LeBron James was mysteriously bad for almost three quarters, bad like he was in the 2011 NBA Finals when he shrunk and never came back, but when the Spurs rolled over and played dead in Game 2 he roared back to life by blocking a dunk, throwing no-look passes to open teammates and making his final five shots. LeBron was asleep, and the Spurs let him wake up. Don't tell me this was just one game. I'm telling you, it felt like more than that.
Also, it felt like the Spurs had a plane to catch.
Well, not Danny Green. He took six shots and made all six. Five of those were 3-pointers. He scored 17 points on six shots. Ever heard of anyone doing that? Me neither. But Green wanted this game, wanted it so badly that he was chasing Dwyane Wade and Mario Chalmers on defense and blocking a shot by LeBron James and banging into so many bodies that he collected four fouls, more than anyone but Heat henchman Chris Andersen. Green wanted this thing.
So did Kawhi Leonard. He was defending LeBron, and he was blocking out LeBron, and for most of the game he was getting the better of it. He scored just nine points but he grabbed 14 rebounds, a silly number for a skinny 6-foot-7 forward who was usually the sixth-tallest player on the floor. He wanted this thing.
Kids today. What do they know? Ginobili, Duncan and Parker -- maybe the best Argentine player ever, maybe the best power forward ever, and maybe the best point guard in the league this season -- scored 27 points.
Combined.
They were 10 for 33 from the floor. They had nine turnovers and seven assists. They were terrible. Just terrible. And Spurs coach Gregg Popovich was furious about it.
"No matter how you slice it, it's 10 for 33," Popovich fumed. "Missing shots and not shooting well and turning it over is a bad combination."
That was Popovich making a monologue. He treated almost every reporter in the postgame press conference like he treats Doris Burke or Craig Sager at halftime, like an annoyance on his way to doing something else. At halftime, he's on his way to instruct his players. After Game 2, he may well have been on his way to waive them.
Popovich was given the chance to deflect the blame from his best three players, and he refused. He refused fantastically. Asked about his role players possibly losing their rhythm in the second half, Popovich ignored Neal, Diaw and Joseph and went in on Duncan, Parker and Ginobili.
"No, not so much," Popovich said about his reserves being to blame for this. "I think that Tony, Manu and Timmy were the ones that were 10 for 33. Not going to put that on the bench."
The truth is a beautiful thing, and Ginobili was good enough to offer some as well. He was asked by somebody -- OK, by me -- if the Spurs, after winning Game 1, "were prepared to take a split and be happy with that."
Said Manu: "If you would have asked me before heading to Miami, I would say, 'OK, I'll take it. Winning one, and losing the other by 20, not a big deal.'"
He went on to say more, including some stuff I don't believe, stuff like, "But once you win the first one, you forget about that ... You want to win [Game 2], too."
That's what he said, but that's not how he or the other Spurs veterans played. Duncan grabbed 11 rebounds but missed 10 of 13 shots to finish with nine points, his first single-digit scoring game in 24 NBA Finals appearances. (He also failed to block a shot, just the second time he has done so in 24 Finals games.)
And Ginobili? He was so bad, it was painful to watch. He couldn't dribble from here to there without falling down, losing the ball or both. Where was his head? I can give you three guesses, and all three are spelled "San Antonio." That's where this series is headed, and that's where it could end -- one way or another -- without returning to Miami.
The Spurs' veterans will be better in Game 3 because they will be at home, because they will be motivated to actually win, and because they can't possibly duplicate how bad they were in Game 2. They were on the court late in the third quarter when the game hung in the balance and then fell off the cliff. Dwyane Wade wasn't on the court for the Heat. Neither was Chris Bosh. It was LeBron and a bunch of role players: Mario Chalmers, Mike Miller, Ray Allen and Chris Andersen. And those guys ran the Spurs off the court.
A 62-61 lead for San Antonio was a 75-65 deficit at the end of the quarter, and then it just got worse. Popovich pulled Duncan but kept Ginobili and Parker on the floor, but the Heat run continued. It got worse. Pretty soon it was 94-67, which means a 33-5 run for the Heat.
Someone threw Popovich another lifeline in the postgame press conference, asking him if maybe his team was, you know, tired. The Spurs' big three are older than the Heat's big three, and maybe that ...
"Nobody is tired," Popovich said. "We had two days off -- there's no excuse. There's no tired. ... It's not about tired. It's about Miami played their ass off."
So did Kawhi Leonard and Danny Green.
Dummies.