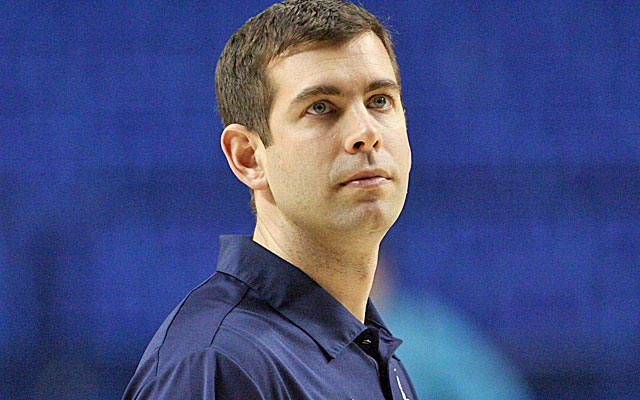 If he fails in Boston, the problem with Brad Stevens won't be Butler. It won't be his college background. It won't be that he doesn't know basketball at the same level as the geniuses coaching in the NBA. If he fails in Boston, the problem won't be Brad Stevens at all.
It will be Boston.
Just like the problem was Boston the last time this didn't work there, when Rick Pitino failed with the Celtics 15 years ago. And the problem was Atlanta when Lon Kruger failed with the Hawks. And it was New Jersey when John Calipari failed with the Nets. And Golden State when Mike Montgomery failed with the Warriors.
What gets an NBA coach fired faster than bad coaching? A bad job.
And those were all bad jobs -- Pitino's in Boston, Kruger's in Atlanta, etc. -- just as this one for Brad Stevens, in Boston, is a bad job.
Understand something: Boston is not, by definition, a bad job. Boston was a great job when the coach had Bill Russell and Bob Cousy. Or Larry Bird and Robert Parish. Or Kevin Garnett, Paul Pierce, Ray Allen and Rajon Rondo.
But Boston in 1997, after the Celtics mercilessly tanked the previous season hoping to win Tim Duncan in the NBA Draft lottery? Terrible job. The Celtics didn't get Duncan. They got Ron Mercer and Chauncey Billups. Rick Pitino didn't last four years there.
Boston next season is another bad job. Maybe Stevens can turn those lemons into lemonade. Maybe he's that good. Maybe he's as good as, to name one savant, Phil Jackson, whose first job as an NBA head coach was at Chicago in 1989, where he turned chicken poop named Michael Jordan and Scottie Pippen into some championship-quality NBA chicken salad. That was Hall of Fame coaching by Phil Jackson, who went to Los Angeles in 1999 and did it again by inheriting a downtrodden Lakers team reduced to Shaquille O'Neal and Kobe Bryant and turning it into NBA champions.
Phil Jackson was brilliant because he won titles with Jordan and Pippen, and with Shaq and Kobe. John Calipari was overmatched because he couldn't win with a Big Three of Kendall Gill, Sam Cassell and Chris Gatling.
Somebody explain that in a way that makes sense. Meantime, a few more words about Brad Stevens:
He might just win in Boston. This story is not a prediction that he won't. Note the first three words: If he fails ...
If.
Personally? I want him to win, and I want him to win big. And given the right players -- the NBA is a player's league; it's not an Erik Spoelstra league -- Stevens could do it. He won't win big next season when his team is led by Rajon Rondo coming off a torn ACL, Avery Bradley and Jeff Green, because those are not the right players. Who has the right players? Spoelstra did this past season at Miami. Gregg Popovich in San Antonio. Scotty Brooks in Oklahoma City.
Next season, Jason Kidd will have the right players in Brooklyn. Spoelstra again. Brooks. Pop. Frank Vogel in Indianapolis. Tom Thibodeau in Chicago.
Players win titles in the NBA. Coaches get invited to the parade. That's oversimplifying it a bit, but not any more than when folks at the other end of the spectrum point to Kruger and Calipari and Pitino and Tim Floyd (who got the Bulls job in 1998, months after Jordan, Pippen and Dennis Rodman left) as proof that college coaches can't win in the NBA. As if college coaches don't know the game as well as NBA coaches, or can't relate as well to NBA players, or whatever the fiction is.
Brad Stevens is the latest college guy to get a bad NBA job, and if he can tell a "pick" from a "roll," this one could work. For one, his general manager is that good. Danny Ainge put together the Big Three, which became the Big Four once Rondo emerged, and it was Ainge who saw something in Rondo that so many GMs missed on draft night in 2006, when Rondo slipped to Phoenix with the 21st pick, whereby Ainge acquired him in a trade.
For another thing, Stevens is that good. Look at what he did at Butler, for heaven's sake. Butler was invited into the Big East because of Brad Stevens, period and end of story. Butler. Not long ago people didn't know who, what or where Butler was. Other coaches have won there too, but Stevens took it to a ridiculous level -- reaching the national title game two years in a row. At Butler.
For years college coaches have fawned over Stevens, men like Calipari and Mike Krzyzewski, legends who have embraced Stevens as an equal, as one of them -- before he turned 35 -- because they knew. He's that good. And in high-level basketball at its imperfect purest, the college game, a great coach defines his team.
In the NBA, a great coach is defined by his great talent. Show me an NBA team that overachieved to win the ring. Seriously. In the last 40 years, show me an NBA champion that, on paper, had no business winning the title. That team doesn't exist.
Maybe it will soon. In Boston.