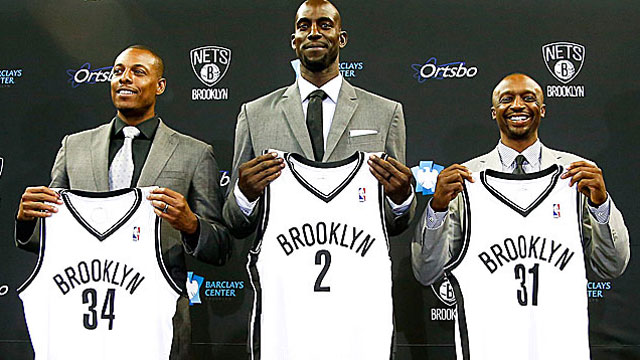 NEW YORK -- The man of the hour took the stage toward the end of this elaborate news conference in Brooklyn on Wednesday. And it wasn't Kevin Garnett, Paul Pierce, Jason Terry or Jason Kidd.
Mikhail Prokhorov, with his hipster-looking Nets T-shirt under a charcoal blazer, was all smiles as he joined his parade of All-Stars on the Barclays Center court. The players rose to shake his hand; it was the biggest, most sincere smile you'll ever see on Garnett's face.
One thing we know is that the Nets won the press conference. Starting in October, we'll find out what else -- if anything -- they will win. Beyond that, all we know about Prokhorov's impersonation of the late George Steinbrenner -- outspend everyone, win the back pages and ask questions later -- is that it's earned the jealousy and ridicule of those who can only see conspiracies behind the revelry.
Methinks they doth protest too much -- if they actually protest at all.
The NBA will not investigate Prokhorov's bold assembly of talent, capped off by the signing of Russian Andrei Kirilenko, unless and until another team files a complaint about it. And since the Cleveland Cavaliers, perhaps the single most aggrieved victim of tampering in the modern sports era, never got around to filing a complaint over the Miami Heat's free-agent recruitment of LeBron James in 2010, something tells me that any outrage over the Nets' signing of Kirilenko also will subside.
"I think old stereotypes, they are very hard to beat and to break," Prokhorov said. "... I respect all the NBA rules and we play by the NBA rules. But I want to stress once again, like with luxury tax, I will do whatever I can in order to win championships -- but under the NBA rules. Please make no mistake about it."
The notion that the Nets did anything untoward to land Kirilenko is something that can only be entertained if you dislike facts. Kirilenko opted out of a contract that would've paid him $10 million in Minnesota next season and went shopping for a multiyear deal paying him in excess of $9 million per season. By mid-July, there were still no takers. The free-agent market had dried up.
"Their ask was crazy," one team executive said of Kirilenko's salary demands during free agency.
Even so, the Nets -- owned the fellow Russian, Prokhorov -- wouldn't have been able to entertain paying Kirilenko more than the veteran's minimum if their deal with Croatian forward Bojan Bogdanovic hadn't fallen through.
On July 6, the Nets had an agreement with Bogdanovic for three years starting at $2.5 million per year. The next day, Nets officials started getting nervous when Bogdanovic was quoted overseas as saying he hadn't signed anything and was 50-50. By the middle of last week, the deal fell apart after Bogdanovic's Turkish club, Fenerbahce Ulker, refused to budge on the $1.9 million buyout it was due. The Nets, under NBA rules, could only pay $500,000.
If there was ever an opportunity for Prokhorov to bend the rules, that was it -- wire the money to some offshore account and bring the Croatian to Brooklyn already.
Instead, the Nets settled for Kirilenko -- or, more accurately, he settled for them, having received no offers that would've come close to the $10 million annual salary he'd opted out of in Minnesota. (Only six teams, including Minnesota, had the cap room to offer Kirilenko anything close to that at the time. The others were Atlanta, Cleveland, Dallas, Philadelphia and Charlotte. All of the above had other plans.)
Nonetheless, the Nets faced sideways glances and unsupported allegations of some mystical side deal that teamed Kirilenko with Garnett, Pierce, Terry, Deron Williams and Joe Johnson on this latest version of an NBA superteam.
"It's bull----," Nets GM Billy King said on Wednesday. "... If it wasn't a Russian owner and a Russian player, the questions wouldn't be asked."
For years, King had been in charge of the 76ers and then a previous incarnation of the Nets while those teams barely dipped a toe into the NBA's luxury-tax pool. King stood by while the Knicks accumulated more than $205 million of tax payments from 2002-2013, according to the website ShamSports.com, which tracks the data. During the same span, Mark Cuban's Dallas Mavericks paid more than $150 million in penalties.
Those teams amassed exactly one championship between them during that time -- the Mavericks' 2011 title.
"There are certain teams that are always going to put themselves in a position to do this," King said. "And then there are other teams that -- I give them credit -- they've been able to do it and not spend as much money and still have a team that's competitive. Each team with this CBA, it allows you to make decisions based on how you think you can build a team."
The only legitimate outrage in the NBA hinterlands this summer was a reaction to Prokhorov's impunity in the face of the massive luxury-tax penalties that owners conspired to impose during the 2011 labor negotiations. With the addition of the stars from Boston plus Kirilenko, the Nets' payroll and tax bill will come in at an estimated $180 million this coming season.
"I've been there," King said. "It's just that with the escalator, it's a bigger number."
But if anyone's truly crying now over Prokhorov's massive spending, shame on them. These are the same teams whose owners willingly approved the Nets' ownership transfer from bumbling Bruce Ratner to Prokhorov and who green-lighted the franchise's move from New Jersey to Brooklyn. They are the same owners who, in a tantrum over being unable to impose a hard salary cap on the players during the 2011 lockout, responded with a draconian schedule of luxury-tax rates -- a scheme that Prokhorov, to no one's surprise, viewed only as a dare.
"When I invest in any kind of business, I expect the growing value of the franchise," Prokhorov said. "And I'm lucky that since I bought the team, the franchise of the team [has increased] minimum five fold. That's why I am willing to invest more to make [the] Brooklyn franchise the best in the league."
(By the way, remember how so many owners whined during the lockout that they needed to be able to make a profit on their teams above and beyond the many multiples they were earning in franchise valuations over time? Finally, an owner who understands accounting.)
No NBA executive with a dog in this fight would do anything differently if his owner were willing to blow through the tax like Prokhorov. No owners on the receiving end of Prokhorov's largesse will turn down the tax payments they'll receive as a direct result of the Russian's spending spree.
And nobody will be calling for any investigations if Prokhorov's concoction falls short -- if the Nets lose to the Heat, Pacers, Bulls or Knicks and fail to reach the NBA Finals. History says you can bet on it.
Since the NBA's luxury tax first was applied in 2002-03, only once has the team with the highest tax bill won the championship -- the 2010 Lakers ($21.4 million). Four teams won a title with a tax bill of less than $1 million --including the 2005-06 Heat, who didn't pay the tax that year.
Prokhorov's tax bill of close to $80 million will far surpass what the ultimate tax-and-spender, James Dolan of the Knicks, has managed to rack up over the past six seasons combined. And as Dolan has taught us all too well, spending doesn't always equate to winning in the NBA.
Of course, this did not stop Prokhorov from taking a shot at his rival across town.
"I am very lucky that my new players, they are familiar to the New York audience," Prokhorov said. "I think it will be great anticipation when the teams meet. And I want to congratulate James Dolan. He's watching us for the time being."
As with the Celtics when they formed their Big Three in 2007-08, and with the Heat when they formed their own in direct response, Prokhorov has raised the stakes astronomically in the NBA arms race. He has gone all in -- determined to topple the Knicks in the battle for New York, and to topple the Heat in the battle for basketball supremacy in the United States.
Nobody knows how it will work, with two imported all-stars on the wrong side of 35 and a rookie head coach on the wrong side of 45. We only know that Garnett and Pierce have done this once before.
Unlike the Heat, who had to wait a year before realizing their championship destiny with James, Dwyane Wade and Chris Bosh, the Celtics fused their talents and egos and won a title in their first year together. There was nothing on display in Brooklyn on Wednesday if not a championship track record, but there also are no guarantees.
"When Danny Ainge did it in Boston, I had no resentment for him," King said. "I thought he did a great job putting it together. I thought the same thing when the Lakers were able to get [Pau] Gasol as the finishing piece to win that year. When it happens, it motivates me."
Now, King is on the other side of it. Nobody else in his shoes would've done anything different, no matter how easy it is to find a vantage point from which to complain.