Sources: Magic narrow GM search to three finalists, considering two hires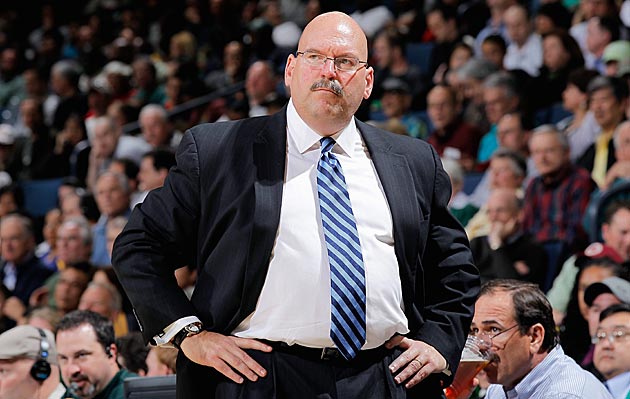 Jeff Bower had two stints as the Hornets' GM, and was their head coach for most of the 2009-10 season. (Getty Images)
OKLAHOMA CITY -- The Orlando
Magic
have narrowed their search for a new general manager to three finalists and haven't ruled out making two hires as they revamp their front office after the departure of GM Otis Smith and coach Stan Van Gundy, multiple league sources told CBSSports.com Tuesday.
Two of the finalists,
Spurs
executive Dennis Lindsey and
Thunder
executive Rob Hennigan, are scheduled to meet with members of the DeVos family in Grand Rapids, Mich., in the next couple of days, one of the sources said. The other finalist, former
Hornets
GM Jeff Bower, has not been scheduled to meet with owner Rich DeVos and other family members yet, but his visit is expected to follow. Orlando is expected to wrap up its GM search by late this week or possibly early-to-mid next week.
The reason for the order of the meetings wasn't clear, but two additional people briefed on the process came away with the impression that the team plans to make two hires -- a president and a GM or a GM and an assistant. Hennigan is a rising star with the Thunder, who will face the Heat in Game 1 of the NBA Finals on Tuesday night, but is only 30 years old.
More on Magic
Related links
The Magic, however, may need to decide among these three finalists for the top job, as it is unlikely that they'd be able to hire two of them. Lindsey may well back out and decide to stay in San Antonio, as he has done on several occasions in the past. In any event, Lindsey almost certainly wouldn't leave the Spurs for a No. 2 job. Despite his inexperience, Hennigan is highly regarded around the league and also would be unlikely to leave the conference champion Thunder for anything less than complete control. The search for the second hire could very well be conducted by the new GM from another field of candidates.
The idea of hiring a tandem of executives to jump-start the Magic's rebuilding plan was first broached with regard to
Pacers
executive Kevin Pritchard and his former right-hand man from Portland, Tom Penn. But Pritchard pulled his name from consideration when Pacers president Larry Bird informed Pritchard that he wanted to promote him to GM last week.
As for a pie-in-the-sky option, the Magic have not asked the
Celtics
' permission to speak with Doc Rivers about a role that would include coaching and final say on personnel decisions as the team president, another person with knowledge of the team's plans said. But while the Magic haven't ruled Rivers out completely, there has been no indication that Rivers -- who signed a lucrative five-year extension last May -- wants to leave Boston or, more important, that the Celtics would let him go.
In Philadelphia, team president Rod Thorn's expected retirement has led to coach Doug Collins pushing for Spurs executive Danny Ferry to replace him, Yahoo! Sports reported. Collins has enormous clout in the organization and with the
76ers
' new ownership group, and league sources believe that Collins' wishes to bring Ferry on board ultimately will be granted.
Also, in a somewhat surprising turn of events, the
Trail Blazers
are expected to conduct an open head coaching search after the draft. How open that search will be remains to be seen. New GM Neil Olshey had all but stated at his introductory news conference that the team would be sticking with interim coach Kaleb Canales, who shares the same agent with Olshey. But league sources say the team plans to interview other candidates, though probably not until after the draft. It would be somewhat unorthodox, but the Blazers seem to want to get their roster settled first before interviewing potential coaches.