Sources: Key Lakers people want Jackson to return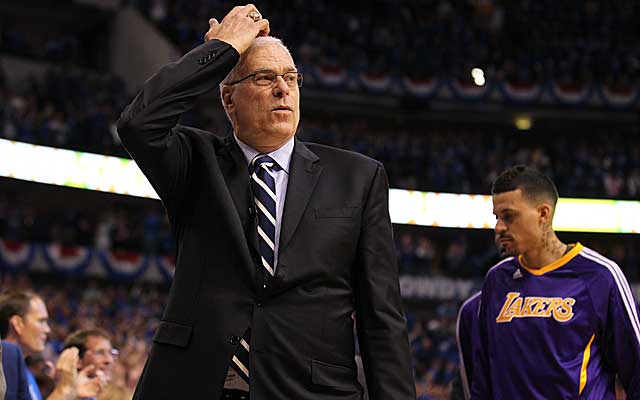 League sources say some inside the Lakers organization want to bring back coach Phil Jackson. (US Presswire)
Prominent figures with sway in the Lakers organization want the team to hire Phil Jackson to return and coach the team in the wake of Mike Brown's firing Friday after a 1-4 start, league sources told CBSSports.com.
The growing belief among supporters of a Jackson reunion is that Jackson is not only the best choice to rejuvenate the team's star-studded but struggling roster, but he may be the only choice that makes sense.
More on Los Angeles Lakers
Related links
More NBA coverage
Jackson, 67, stepped down after the 2010-11 season having won 11 NBA championships -- six with the Chicago Bulls and five with the Lakers. He has remained in Los Angeles with his longtime girlfriend, Lakers executive Jeanie Buss, and is said to be in good health and prepared to re-enter the day-to-day grind of NBA coaching.
In fact, Jackson wanted to get back into coaching last summer if the Knicks hadn't decided to sign then-interim coach Mike Woodson to a long-term deal, according to a person with connections to Jackson. Jackson was prepared to bring former assistant and current TV analyst Kurt Rambis with him to New York if the Knicks had approached him about the job, the person said.
Jackson would have his choice of key former assistants, including Rambis, if his reunion with the Lakers became a reality. ESPNLosAngeles.com reported Friday that Jackson is open to a return to the NBA sidelines and has kept abreast of developments with the Lakers and around the league.
In a news conference discussing Brown's hasty firing -- the coach had three years left on his deal and was without key acquisition Steve Nash for all but a game-and-a-half this season -- Lakers GM Mitch Kupchak left the door wide open to a reunion with Jackson.
"When there's a coach like Phil Jackson, one of the all-time greats, and he's not coaching, I think you'd be negligent not to be aware that he's out there," Kupchak said.
Other names believed to be under strong consideration as Brown's successor are former Suns and Knicks coach Mike D'Antoni; former Jazz coach Jerry Sloan; and former Trail Blazers coach Nate McMillan. Brian Shaw, who was passed over in the search for Jackson's successor, is now an assistant with the Indiana Pacers and is "very happy there," according to a person familiar with Shaw's thinking. Kupchak described the prospect of luring an assistant under contract with another team as "a remote possibility."
"I think it's more likely that we would look to coaches that are not presently employed," Kupchak said.
It's the Lakers' good fortune that one of them happens to be named Phil Jackson. And what better coach to do what Brown wasn't able to do -- fill Phil Jackson's shoes -- than Phil Jackson himself?