Sacramento's bid to keep Kings sweetened as new partner emerges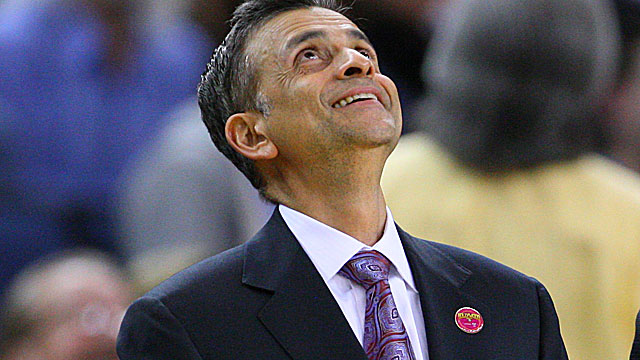 A software magnate from India has formalized plans to become the lead partner in a bid to keep the Kings in Sacramento, potentially bolstering the city's chances of holding onto the franchise.
Vivek Ranadive, who came to the United States with $50 in his pocket, as the story goes, and started a multi-billion-dollar, Silicon Valley software company, has joined Mark Mastrov and Ron Burkle in a three-way bid to buy the Kings and keep them in Sacramento, a league source confirmed to CBSSports.com Thursday. Ranadive, currently a minority partner with the Golden State Warriors, would be the lead partner in the Kings ownership group if successful.
Earlier this month, NBA commissioner David Stern said the Mastrov-Burkle bid to buy the Kings was "not quite there" in comparison to an agreement already in place to sell the franchise to the Chris Hansen-Steve Ballmer group that would move the team to Seattle. Ranadive's involvement presumably would enhance the Sacramento offer.
Ranadive, who partnered with Joe Lacob in beating out Mastrov's bid for the Warriors, would divest his share of that franchise if successful in purchasing the Kings.
Two ownership committees combined to deal with the Sacramento-Seattle issue will meet April 3 in New York to hold preliminary discussions on the competing bids. The full Board of Governors is scheduled to meet April 18-19 to decide the issue.
Ranadive, based on Palo Alto, Calif., is founder and CEO of TIBCO, a real-time and cloud computing giant with a market cap of more than $5 billion. In addition to his deep pockets, Ranadive's candidacy could be boosted by his existing ownership relationships as a partner with the Warriors. Also, Ranadive would be the first majority NBA owner from India, a market the league is committed to exploring and expanding into the next decade.