Larry Bird returning to run Pacers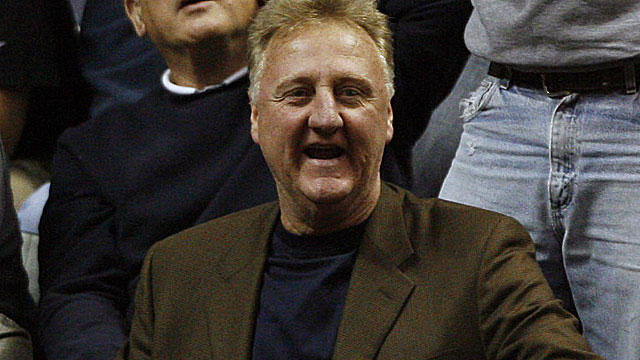 Larry Bird is returning to run the Indiana Pacers after taking a year off, the team announced on Wednesday.
Donnie Walsh will remain with the team in a consulting role, and Kevin Pritchard will continue in his role as general manager.
"We are all very happy to have Larry back," Pacers owner Herb Simon said. "When he left last July, Donnie and I both told him the door would be open for him to come back when he's ready. Larry had a huge impact on this team and where it is now, so it's fitting that he comes back at this time. Donnie has been a friend and a valuable contributor to the franchise and will continue to be both. I wanted him to agree to stay in some capacity as I believe with Larry and Kevin, it gives us three of the best basketball minds in the business."
The Pacers have scheduled a news conference for Thursday morning in Indianapolis to discuss Bird's return.
"The year off gave me a chance to reflect, to rest, to take care of some health issues and it recharged me," Bird said. "Donnie and Kevin did a great job, and I will lean on both heavily as we move forward toward the goal of competing for a championship."
Bird announced last June he was stepping down at the end of August to deal with fatigue as well as shoulder and back ailments. Pritchard was promoted to GM, and Walsh -- who was with the franchise for a quarter century -- returned after taking a year off himself following a three-year run as president of the Knicks.
Walsh, 72, said in the spring that he'd step down from his role with the Pacers if Bird wanted to return, but Simon and Bird wanted him to stay.
"I met with Larry when he wanted to leave last year, and I said I would do this until he was ready to come back," Walsh said. "Well, he's ready and I couldn't be happier. I had a great year last year with this team. It is a great group of guys who have the potential for some great things, and to remain a part of this, with two people who I love to work with and respect greatly is very special."
This season, Walsh's current team met his former team in the Eastern Conference semifinals, with the Pacers eliminating the Knicks in six games. Walsh was a fixture in the courtside seats during warmups before every game, his pride evident in the Knicks' return to contention and the recovery of the Pacers in the aftermath of The Palace of Auburn Hills brawl in 2004 that derailed the team's success.
But Bird's fingerprints were all over the Pacers' roster -- from Danny Granger to Paul George to Roy Hibbert. Bird, 56, will now get to oversee the team's growth as it tries to take the next step in the East after losing in seven games to the eventual NBA champion Miami Heat in the conference finals.
The rest of the Pacers' front office, including Pritchard and director of scouting Ryan Carr, will remain intact. Bird was instrumental in the promotion of Pritchard, who was his teammate with the Celtics during Bird's final season in 1991-92.