Unlike LeBron, Dwight Howard faces no derision after decision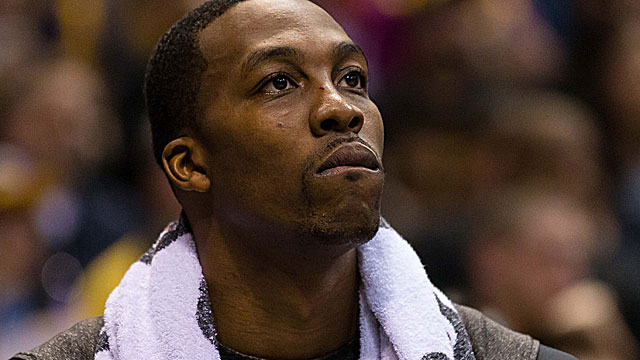 The ill-fated "Decision" stayed with LeBron James for more than a year. The ridicule, the rancor, the vitriol -- it followed him everywhere until he finally realized the error of his ways, went back to enjoying the game and won his first championship.
Now, James is on a path to stratospheric fame in his sport, hurtling toward an inevitable apex that few -- if any -- basketball players have ever attained.
Dwight Howard made a decision, too, this summer. He made a decision with a lower-case 'd' -- deciding to leave the Lakers for the Rockets, where he felt he had a better chance to win in a city and market that better fit his personality.
Nearly six weeks later, where is the fallout? Where is the outrage? When will Howard grab the persona-non-grata baton from LeBron and tote it around shamefully for a year or more?
In my estimation, that's not going to happen, for a couple of reasons.
First, Howard was nowhere close to his usually indecisive, flip-flopping self in carefully plotting this next step in his career. At the 2012 trade deadline, Howard managed to make a mockery of his impending free agency when he decided to waive his early-termination option and stay with the Magic for another full season; then changed his mind and decided not to waive the ETO; and then changed his mind again and ultimately waived it -- only hours before the Magic would've traded the All-Star center rather than risk losing him for nothing in free agency.
At the time, the strong belief in league circles was that if Howard had kept the ETO in place, he would've been traded to the Brooklyn Nets -- his first choice and a team that could have delivered Brook Lopez, massive cap relief and multiple first-round picks in a three-team trade scenario. But Rockets GM Daryl Morey told CBS Sports Radio's John Feinstein recently that Howard might've actually been a Rocket at the 2012 trade deadline instead.
"We were sort of the ugly guy chasing the pretty girl for awhile," Morey told Feinstein. "We [had tried] to trade for him twice. In fact, once we were allowed to talk to Dwight when free agency started off, he told us how – and we didn't know this for sure – but how Orlando basically told him he was going to get traded to us if he didn't re-up with them a couple years back when he resigned. He was almost a Rocket a couple times. Obviously in this business, you've got to be well-prepared, and you have to have some good fortune."
League sources confirmed that the Magic and Rockets did, in fact, tentatively agree to a trade in March 2012 that both sides were prepared to follow through on had Howard forced the Magic's hand and kept his right to opt out after the season and become a free agent. It would've involved at least some of the young assets that were so attractive to Howard this summer when he chose the Rockets as a free agent. (Magic officials, according to sources, later told Rockets officials that they preferred Houston's deal to Brooklyn's.) Thus, while Howard gave up some money in the short term to leave LA, he wound up on a roster that didn't have to be decimated to acquire him.
So getting back to the first reason Howard's Q-rating has not crashed to rock bottom in the wake of his decision to leave the Lakers: He was deliberate, but decisive this time. He didn't string anyone along. He listened attentively to pitches from the Lakers, Rockets, Mavericks, Heat and Warriors, talked things over with his team of advisors at a retreat in Aspen, Colo., and made a decision.
That was it. No TV shows, no waffling, no nothing. The only hiccup was that Howard's decision leaked before he was prepared to announce it -- which he ultimately did, on Twitter. But that wasn't Howard's fault. (In fact, many of the leaks in 2012 that made Howard look like a dimwit weren't his fault, either.)
The second reason Howard has not and will not face months of ridicule in the wake of his decision with a lower-case 'd?' It's a harsh but true reality: The expectations for Howard to win a championship with his new team simply are nowhere near the expectations that James created when he left Cleveland for Miami.
James left his native northeast Ohio with such fanfare and boldness that the only way for him to repair his damaged image was to win. It took him a year, but he ultimately did -- and then he won again. By teaming up with Dwyane Wade and Chris Bosh in Miami -- and by celebrating the forthcoming multiple championships before making a single basket -- James raised the stakes exponentially and invited the scorn. Watching James unburden himself over the past two years has been the most fascinating storyline in the NBA.
Howard's circumstances are much different. Despite the fact that he's on his third team in two years and thumbed his nose at one of basketball's most storied franchises, he has somehow not created the kind of championship-or-bust expectations that LeBron spawned in Miami.
Is that fair? Probably not. If you're one of the game's most dominant players and you say thanks, but no chance to the opportunity to chase a championship with Kobe Bryant and then become the undisputed face of the Lakers when he retires, shouldn't you bear some responsibility to validate your decision? If you're leaving LA for Houston because you feel you have a better chance to win championships there -- with a franchise that has won two championships vs. a franchise that has won 16 -- then shouldn't it be incumbent on you to prove it?
It should be, but it won't be. By pairing Howard with James Harden and a young core of complementary pieces that fit, the Rockets certainly put themselves on the path to championship contention. There is no diminishing the patience, persistence and cleverness they exhibited in their lengthy pursuit of Howard. (Also, there is no ignoring the oddity of Harden -- who like Bryant is a client of agent Rob Pelinka -- being the key recruiting piece that pulled Howard away from Bryant's Lakers. But that's another story.)
But unlike the superteam that LeBron created in Miami, does anyone think the Rockets are, on paper, leaps and bounds ahead of everyone else in the West? Does anyone think the Rockets are indisputably better than the Thunder, Spurs, Clippers and Warriors? Will anyone hate Howard and the Rockets if they win? Will anyone ridicule them if they don't?
The answer to all those questions is no. So in that way, Howard somehow managed to reverse his history of mishandling career decisions and winding up in a worse predicament than the one in which he started. He has the best of both worlds: He gets to play for the team of his choosing without the derision that would've come with botching the delivery of that decision, and without the impossibly high expectations.
For Howard, maybe leaving LA was the right decision. If nothing else, it was a decision that has left him derision-free.