With Knicks' free fall comes chaos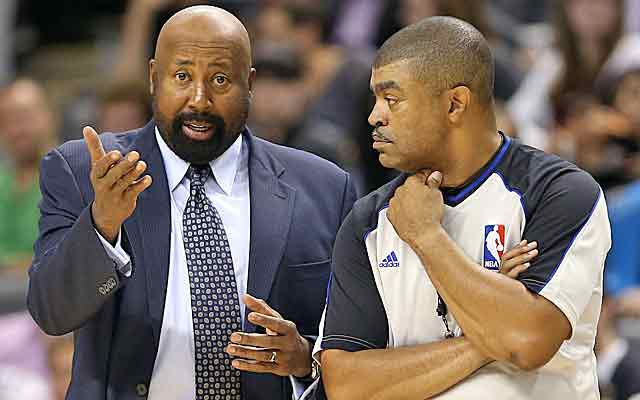 Iman Shumpert scolding Carmelo Anthony. Metta World Peace and Kenyon Martin reportedly getting into a "heated" argument. The Knicks are in free fall, and the headlines are flowing almost as fast as New York basketball is plummeting.
When you're 3-13 and on a nine-game losing streak -- and you're clearly trying to do the opposite of tanking -- this is what happens. Unrest. Bad blood. Worse press.
If it makes anything better, the Knicks play the Nets on national TV Thursday night after what are sure to be a few more contentious practices. (What other kind of practices could you have when you've lost nine in a row?) And in what was billed during the summer as the first installment of a battle to see which team was the best in New York, it's now an exercise in futility to see which one is the worst.
No matter how much the Nets struggle, the Knicks are always going to get the brunt of the ridicule in the Big Apple. The Knicks have always been the city's pro basketball attraction, and more often than not over the past decade, it's been a freak show.
When it comes to fodder for the back pages, there isn't much that moves the needle like chaos and futility at Madison Square Garden.
Can the Knicks get out of this? Sure they can. Tyson Chandler is getting closer to returning from a fractured leg, and as bad as the Knicks have been in his absence, almost everyone else in the East is bad, too. The next six games are all theoretically winnable -- Brooklyn, Orlando, Boston (twice), Chicago (without Derrick Rose) and Cleveland (without anybody). Of course, each and every one of the aforementioned teams has a better record than the Knicks.
One of the biggest questions is how long Garden chairman James Dolan will stick with coach Mike Woodson, whose defensive teachings have fallen flat and whose supposed gift for holding players accountable has never been more lacking. Dolan is a contrarian; the louder the calls for Woodson to be fired, the more steadfast Dolan will be to keep him employed. But one point can't be ignored: It isn't like the Knicks have a whole lot of short-term options.
Assistants Jim Todd, Darrell Walker or Herb Williams each would be viewed in the locker room as a mere placeholder for the next big name Dolan will fall for -- and we told you last month just who that would be.
What about trying to take the plunge now with one of the accomplished job seekers in the head coaching ranks? George Karl or Lionel Hollins anyone? Is there a Van Gundy in the house? Could Phil Jackson coach via Skype from his ranch in Montana?
The Garden offers money beyond most basketball people's wildest dreams, and for some reason being the head coach of the Knicks remains a status symbol. But coaching industry sources agree that this just isn't a viable option. What established coach would sign up to take over a 3-13 team in December, with no obvious way out of the mess and with the team's best player poised to take the free-agent plunge in July?
So the Knicks muddle along, "playing to lose," as Melo said Sunday when experiencing his Yogi Berra moment. It's what will have to pass for basketball entertainment in New York until further notice.