Sources: Silver picks Mark Tatum to succeed him as deputy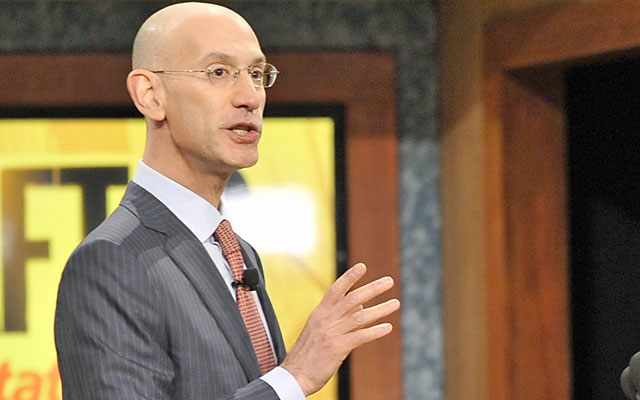 Mark Tatum is Adam Silver's choice to succeed him as deputy commissioner, completing the transfer of power in the NBA office with David Stern stepping down as commissioner this week, league sources confirmed to CBSSports.com.
Tatum, the league's executive vice president for global marketing partnerships, will become one of the highest-ranking black executives in American professional sports once NBA owners approve his promotion.
Silver officially vacates the No. 2 position in the league office on Feb. 1 when he takes over for Stern, who is retiring after a 30-year reign as commissioner.
Tatum is not widely known among team basketball executives, given that his role has put him in regular contact with the NBA's marketing and media partners. Those who know him describe him as a sharp, talented executive and skilled curator of revenue streams.
"Love him," Dallas Mavericks owner Mark Cuban said in an email. "Super smart. Loves the NBA."
A team executive who has had dealings with Tatum said, "I have always enjoyed working with him," and called him a "first-rate professional."
Tatum has worked with the highest authorities in some of sports' most recognizable brands, including Coca-Cola, Anheuser-Busch, Nike, Adidas and Gatorade. He also has handled the NBA's sales strategy with league-controlled NBA.com and NBA TV, as well as its national TV broadcast partners, and been responsible for developing USA Basketball's marketing plan and its overall relationship with the NBA.
A graduate of Cornell University and Harvard Business School, Tatum worked for Major League Baseball, Clorox, Pepsi-Cola and Procter & Gamble prior to joining the NBA in 1999.
The choice of an executive with business ties -- as opposed to one with a basketball or legal background -- has struck some team executives as telling as Silver faces the challenge of growing the NBA's $5 billion business after decades of unfettered economic expansion under Stern.
In contrast to Stern's demagoguery and his often combative relationship with National Basketball Players Association executive director Billy Hunter, Silver is viewed in league circles as someone more interested in growing the NBA's economic pie rather than fighting with the players over how to divide it up. With Hunter ousted last February as NBPA chief, the players' association continues conducting a search for his permanent replacement to engage Silver in the next potential labor negotiation in July 2017.