Nuggets work out Andre Miller, consider reunion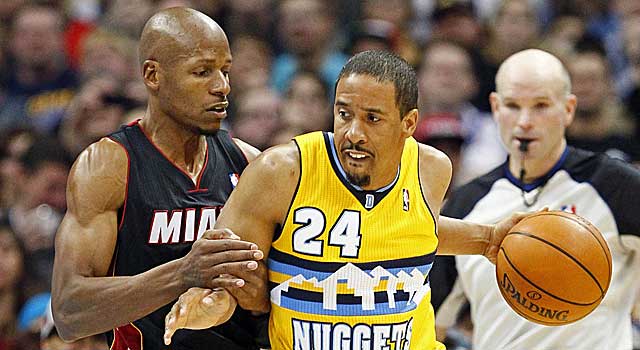 UPDATED 10:31 p.m. ET
NEW ORLEANS -- Facing a difficult trade market and a glaring hole at the point guard position, Nuggets officials worked out the banished Andre Miller this week and are considering bringing him back, league sources told CBSSports.com.
Miller hasn't played since Dec. 30 following a public confrontation with coach Brian Shaw. Despite concerns about the 37-year-old's tendency to put on weight, Miller has lost 12 pounds since being banished from the team, one league source said.
The difficult prospect of smoothing things over between Miller and Shaw has become a possibility given the Nuggets' lack of point guard depth and trade deadline conditions that one executive described on Saturday as "a very difficult market." Even though Miller's $4.6 million salary for next season is fully non-guaranteed, it has still been difficult for Denver to find a team willing to give up assets to take on what's left of his $5 million salary for this year.
However, Yahoo Sports quoted a person connected to Miller as saying the point guard does not want to stay with the Nuggets under any circumstances. "It's a burned bridge," the person said. "... The relationship is irreparable."
The ideal scenario for Denver would've been to move Miller to a contending team that needs point guard help, thus being able to receive an asset in return. Dumping his contract on a team that can absorb it, such as Philadelphia, wouldn't give the Nuggets the return they are seeking in a trade.
Though the Kings had extensive talks with Denver about acquiring Miller in December, those talks have cooled given that the Kings have fallen far out of the Western Conference playoff picture.